Fans of Rocket League esports can rejoice as the RLCS is set to return this weekend after the opening week of Season 9 was cancelled due to a worldwide server outage.
Psyonix has taken the decision to effectively push back the start date of the league so players will play the Week 1 fixtures this weekend and not the Week 2 games as previously thought.
Season 9 marks the first season since the expansion of the European and North America leagues to ten teams having previously been eight - league play is scheduled for Saturdays (NA) and Sundays (EU) and will run for nine weeks.
That's followed by the Regional Championships which determines qualification and seeding for the Rocket League World Championship which will be held in Dallas, Texas on 24-26 April.
RLCS Season 9 Week 1 will kick-off on 8 Feb with North America League play followed by European League Play on the 9 Feb.
So with the server issues resolved, we can now look ahead to the action in what is expected to be one of the most exciting seasons of RLCS yet.
RLCS Season 9 - North America League Play Preview
One of the biggest stories heading into the new season will be how Cloud9 and G2 fare. The two North American powerhouses found themselves in a relegation battle last season and both will be looking to start strong to settle any nerves. 
Cloud9's first match of the season vs eUnited has a little extra spice as they did attempt to replace Kyle "Torment" Storer with eUnited's Colby "hockser" James - that move failed to materialise how Torment reacts to the idea that his team was looking to replace him will have a major impact on Cloud9's season. I suspect Cloud9 to find a return to form him and for Torment to show that thoughts of removing him were misplaced. 
An unchanged G2 will face off against Rogue - who have brought in the unbelievably talented but controversial Jason "firstkiller" Corral. This is the 15-year olds first season in the RLCS and pressure will be on to ignite the Rogue attack. The pressure will undoubtedly be on him and it may well be a full-league season until we see him at this best. The maturity and experience of G2 will see them get their season off to a winning start.
Kicking off the new RLCS season will be Pittsburgh Knights vs the newly promoted Flight. Pittsburgh had a fantastic first season in the RLCS and have improved with the addition of Austin "Ayyjayy" Aebi. Flight have an experienced side with RLCS stalwart Michael "Memory" Moss in their ranks but the firepower of Pittsburgh will be too much for them in Week 1.
NRG start their title defence with a match against the Susquehanna Soniqs and anything less than a clean sweep would be a surprise here.
Spacestation Gaming had a great season last year getting to the semi-finals in Madrid beaten only by eventual winners NRG Esports. There is a feeling that this roster with Tshaka "Arsenal" Lateef Taylor Jr leading the attack has another level to go. Their match against Ghost Gaming isn't the easiest start to the season but their new signing Nick "mist" Costello will take time to settle and this should work in Spacestation's favour.
How can I watch RLCS Season 9 Week 1?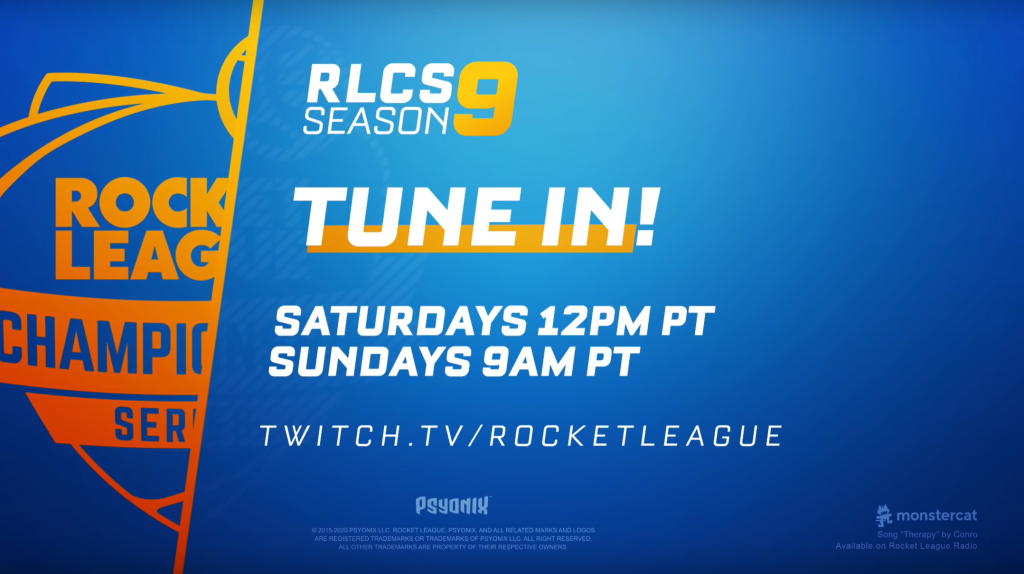 All the action can be watched live from the official Rocket League esports Twitch and YouTube channels. 
Schedule
Saturdays: RLCS (North America) starts on February 1 at 11:30 am PT (7:30 pm UTC)
Sundays: RLCS (European) starts on February 2 at 8:30 am PT (4:30 pm UTC)