The new year celebrations are not over and Rocket League knows it. The Lucky Lanterns in-game event is live once again, celebrating the Year of the Ox and is bringing many goodies to our inventories.
The event will offer a variety of toppers, boosts and more whilst still bringing in classic rewards like 20,000 XP points for every 10 Online Match wins and the Golden Lanterns 2021 edition -- a hot commodity in the trading community.
Festivities are on and the prizes are well-worth your troubles so without further ado, here's everything you need to know about the Lucky Lanterns 2021 event from Rocket League.
Rocket League Lucky Lanterns 2021 schedule
The Lucky Lanterns event will run from 11th February to 1st March 2021.
Rocket League Lucky Lanterns 2021 rewards
The full list of obtainable items from the Rocket League Lucky Lanterns challenges is found below:
Lucky Cat topper

Lucky Devil player title

Ox Horn topper

Ozzy Ox topper

Lantern Lift boost

Cherry Blossom boost

Temple Guardian player banner

Breakout: Dragon decal

Merc: Dragon decal

Paper-cut wheels

20,000 XP points (Repeatable)

Golden Lantern '21 (Repeatable only 5 times)
Rocket League Lucky Lanterns 2021 Golden Lanterns
Golden Lanterns '21 are crates that randomly drop items of all rarities (Uncommon, Rare, Very Rare, Import, Exotic and Black Market) and will have contents from the Velocity, Triumph and Overdrive series of items.
While you can cash in on as much XP as you want for as long the event runs, the Golden Lanterns will have a limit of five per player. 
This is in place in order to maintain the trading economy as the Golden Lanterns can go for 200-300 in-game credits with its chances of getting your money's worth make them a hot commodity.
Rocket League Lucky Lanterns 2021 Forbidden Temple
The update will also bring changes to the well-renowned Forbidden Temple arena with tweaks in design, textures and lighting, adding a Day version of the field instead of the usual Dusk look.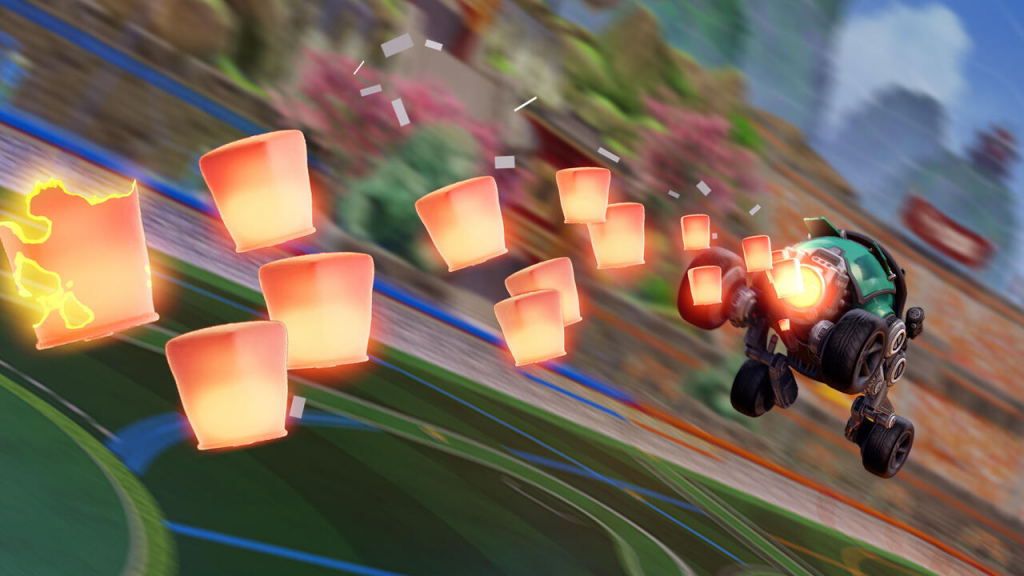 (Picture: Psyonix)
Rocket League Lucky Lanterns 2021 Limited Time Modes
Rocket League will also offer not one, but two Limited Time Modes (or LTMs) during the event. 
Lucky Lanterns will showcase the beloved Heatseeker mode in its 2v2 format from 11-22nd February and an old friend of Psyonix -- Super Cube 3v3 from 22nd February to 1st March.
Super Cube is described as a goofy game mode that hasn't seen the light of day in Rocket League servers since its inception in 2015. It features the game ball being replaced by a cubic shape, and its maximum speed and bounciness have increased.
Rocket League Lucky Lanterns 2021 Item Shop
With a free player banner Short Fuse, a free Shen avatar border up for grabs in the item shop and the return of the highly-exclusive Lantern Lift and Paper Dragon goal explosions (and its painted cousins) to buy for a limited time, the item shop will be loaded to say the least, so keep an eye out for those!
Make sure to catch everything while the Year of the Ox's celebrations are on and tell a friend so you can cash in on as many goodies as possible. Good luck and have fun!