The top eight for Tekken 7 at EVO Japan proved to be full of surprises, setting the stage for a potentially controversial competitive 2020 season to come.
The first surprise came when Japan's Mikio beat Tekken World Tour 2019 champion Yuta "Chikurin" Take in the first match of the winners run - pushing him down to the losers bracket.
Chikurin's slow climb back to the final however was stopped by Soo-hoon "Ulsan" Lim, who beat the TWT champion in a 2-0 clean sweep in the losers bracket to knock him out of the tournament.
After beating Chikurin, Mikio faced Thai player Nopparut "Book" Hempamorn in the winners final. It was a closely fought tussle between the two players, which even saw Mikio celebrate a little too early after believing he'd won 2-1 when it was first to three sets.
His early celebration proved his downfall, with Book coming back to beat Mikio which pushed him down to the losers bracket.
With the crowd on Mikio's side, he managed to pull through the losers bracket to face Book once again in the grand final - hoping for the fairytale comeback at EVO Japan 2020.
Much like their previous match, both players looked evenly matched - with Book (as Leroy) taking the first set before Mikio (as Julia) equalised in swift fashion shortly afterwards.
As Mikio won the second set, the crowd were gearing up for a potential comeback for the ages. Book, however, proved too formidable an opponent - winning two sets in a row to secure a 3-2 victory to win the tournament.
Book was awarded 1 million JPY (£6,980) and seemed shocked himself at the win, saying: "I've never been a champion before so this has surprised me.

"Thank you everyone. Thank you very much."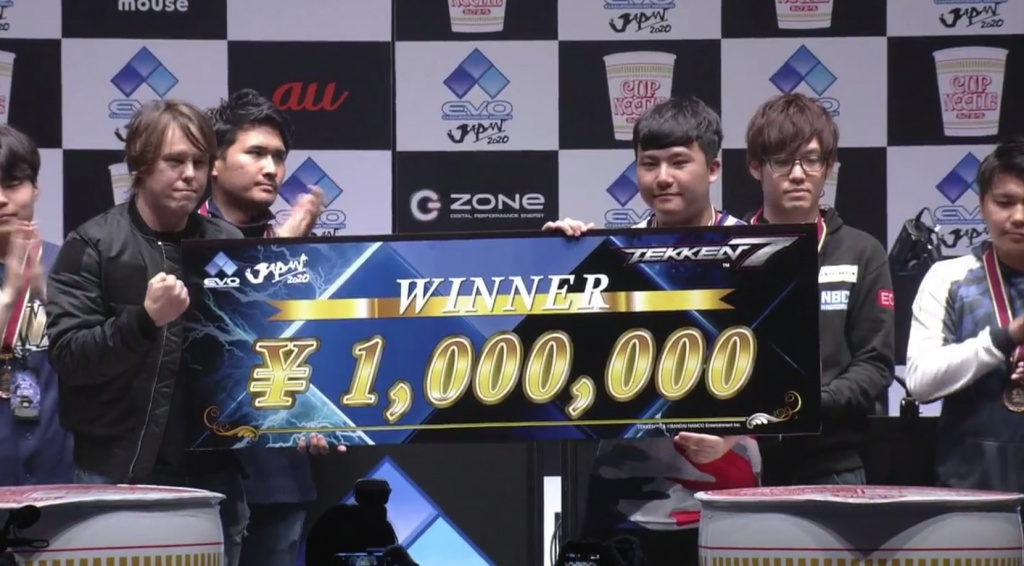 Book wins Tekken 7 finals at EVO Japan 2020 (Picture: Twitch)
His victory wasn't exactly met with praise from the community though. Seven of the top eight competitors dropped their usual characters in favour of recent DLC fighter Leroy, with the latter becoming a villain of sorts as the tournament progressed.
This imbalance could be about to change though, with Tekken 7 producer Michael Murray appearing onstage after the event to state a new update will arrive on 28th January - which will include a patch for character balancing and a My Replay and Tips feature for practise mode.
This update will arrive ahead of the official start of the Tekken World Tour 2020 season, which begins at Tokyo Tekken Masters on 4-5th April.
But will the dominance of Leroy be an issue Bandai Namco are looking to address? We'll have to wait and see. 
You can check out the top eight standings from EVO Japan below:
1. Nopparut "Book" Hempamorn
2. Mikio
3. Takumi "Noroma" Hamasaki
4. Soo-hoon "Ulsan" Lim
5. Genki "Gen" Kumisaka
5. Yuta "Chikurin" Take
7. Masa
7. Zeugal