Four years later, Tekken 7's character select screen resembles a DLC brainstorm from a hungover pitch meeting. Unlike Mortal Kombat which (mostly) sticks to a theme for their bizarre crossovers, Tekken 7 has pulled from every direction — ranging from logical candidates like SNK's Geese Howard or Street Fighter's Akuma, to perplexing additions from Final Fantasy XV and er, The Walking Dead?
Admittedly, Tekken's roster has always rolled in the absurd. It's a fighting game where men are inflated like ripped balloons, given sky-high hair, and placed on equal footing to bodyguard Pandas in winter caps. There's no logic to this universe, no matter how hard Bandai Namco tries to stitch it together in their cinematic story modes.
The arrival of new fighter Lidia Sobieska, then, is weirdly basic for Tekken. She might be the Prime Minister for Poland and simultaneously a karate master in lore, but she's a rare Tekken character who actually looks modelled after a human being. Even her default style is casual and not overtly sexualised, dressed in a sports top and baggy gi karate uniform wrapped around her waist. In contrast to prior DLC characters like Fahkumram, a muscled adonis structured like an upside down wedding cake, it's a welcome dose of reality.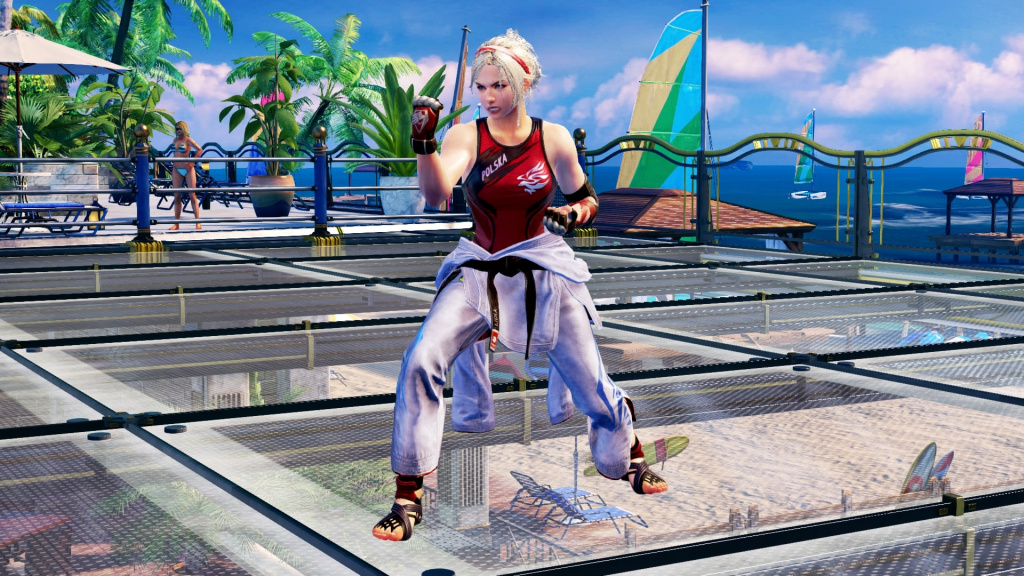 Lidia looks... normal? (Picture: Bandai Namco) 
But is Lidia any good to play? Thankfully, yes. Her move set revolves around two Cat Foot stances and fluid, relatively straight-forward combo strings. Her roundhouse kicks especially are surprisingly powerful, which can prove deadly if pulled off in longer strings. Their damage output will likely be reduced in a future patch, although considering they have a long wind up and can be punished fairly easily, it doesn't feel, at this point, as unbalanced as Leroy Smith's dominant state when he released in 2019.
She's incredibly fun to play as too. The best characters in Tekken toe the line between easy satisfaction for casual players, and possessing the kind of depth you'll want to invest time into and be rewarded dividends for doing so. Lidia has the instant flashy combos to make anyone feel like they know what they're doing, yet requires skill in order to overwhelm opponents. She feels particularly deadly when it comes to wall combos, where her big hits and fluid movements can build to a devastating effect.
Lidia's true potential will shine when Tekken tournaments make their LAN return, but it's the simplicity which feels like the main takeaway here. Tekken 7 is one of the best fighting games around due to the methodical intricacies of its mechanics, and Lidia's inclusion feels like a back-to-basics gear shift that hasn't been centre stage for some time. Even her Island Paradise stage is a throwback to Tekken stages of yore, featuring remixes of tracks from Tekken 4 and 5.
As the final character in Season Pass 4, and with no news on any potential fifth season, Lidia could be the last fighter added to Tekken 7. If she's the last bow before the inevitable sequel, this is both an exciting new addition for Tekken's legacy and a fitting swansong to one of the best fighting games ever made. 
Tekken 7 is available on PS4, Xbox One and PC.