Asides from new Agents, the most exciting new things that Valorant can get are new maps.
Unlike many other competitive games of its type, Valorant has launched with a surprisingly small amount of maps. Haven, Bind, and Split were the only three maps available on the release day, with Ascent and Icebox added in later updates.
And while many of these maps have undergone significant updates and layout changes, both to keep them balanced and fresh, it still seems that the game could definitely benefit from more maps.
Riot Games has a cautious approach in regards to its cadence of map releases and wants to make sure that maps are ready before being released, but with some recent changes, it seems that they are now willing to shake up things more radically and at a faster rate.
With the v2.06 patch, we've seen some of that new approach with more drastic balance changes, and underneath the patch, leakers have discovered that we might get a brand new map sooner than expected.
Foxtrot/Breeze , new Valorant map
A renowned leaker behind the Valorant Leaks Twitter account has found the name of the sixth Valorant's map: Foxtrot.
The name is simple, with just one word, which is in line with the previous map names - they all consist of just one word.
While Valorant Leaks confirmed that this is not a part of the April Fools' joke event, it is still not sure if Foxtrot is the real name or just a working title.
The letter F is the 6th letter in the alphabet, and F in the NATO phonetic alphabet is Foxtrot, which means that this is might just be a codename, or the new map will have some military elements in it.
It seems that the new name is actually Breeze, which has been confirmed with Breeze postcards.
Breeze loading screen music
Another piece of leaked evidence is loading music for Foxtrot, datamined by Twitter user Valorant Express.
This is the music that plays while the map is loading, and judging by the sound of this one, the map might definitely have some tropical and exotic elements, but that's all just speculation.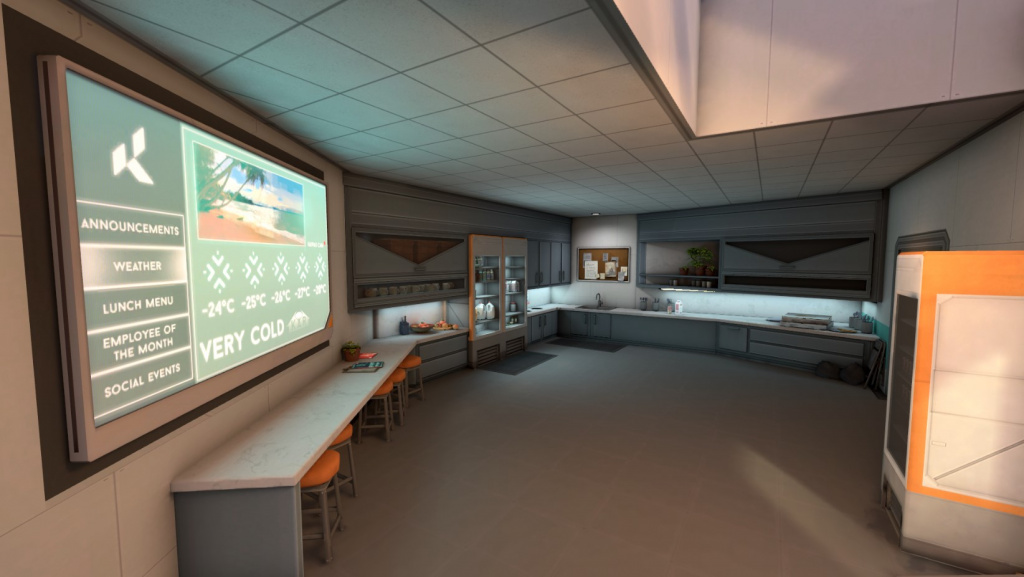 Could this location on Icebox's TV be a teaser for a new map? (Picture: Riot Games)
It is also interesting to note that Valorant latest released map, Icebox, has a tropical location shown on TV in the kitchen, so that might be another clue as well.
Then there's also the "pirate/invasion" card from the current Act's battle pass, which might be another teaser for the future map.
Finally, the real clue might be hidden within the current April Fools' event, Agents of Romance.

Is this the new map in the background? (Picture: Riot Games)
As a part of this joke, some background art has been changed, and while most of them are showing already known locations, the one featuring Cypher shows a mysterious tropical place with palm trees and a nice sand beach. Could this be Breeze?
Another teaser has leaked on 20th April, showing a sunny beach and seemingly relaxed atmosphere, but with the gunshots in the background
Next Valorant map release date
Since the release of Valorant (9 months ago), only two new maps have been added to the game, but Riot Games wants to accelerate their plans for new maps, and this time around we might get a new map much earlier.
Icebox launched on October 13, almost six months ago, which means that we can expect a new map to be added very soon.
The most obvious release date is probably 21st April, as that's when Episode 2 Act 3 kicks off.
In the end, keep in mind that all this is just speculation based on leaks and possible teasers, and nothing is certain until Riot officially confirms it.
Make sure to check out this article again, as we will be updating it with all the new information that comes in the meantime.