After a long tenure of over thirteen months with 100 Thieves, it has been announced that Nick "nitr0" Cannella has been transferred from the organisation. This also comes just one day after it was announced that Joshua "steel" Nissan would be leaving the org to join T1.
As we continue to reshape our VALORANT roster for the future, we are announcing the transfer of @nitr0 from 100 Thieves.

Nick helped to create a winning culture and lifted us to championship heights. We'd like to wish him the best in his next chapter. pic.twitter.com/8XUN8tYrEq

— 100 Thieves Esports (@100T_Esports) December 7, 2021
In his time with 100 Thieves, nitr0 managed to bring his team to four grand finals appearances, including a win at both First Strike: North America and VCT NA Stage 2: Challengers 1. As well as a top-four finish at the team's first LAN, VCT Stage 3: Masters Berlin.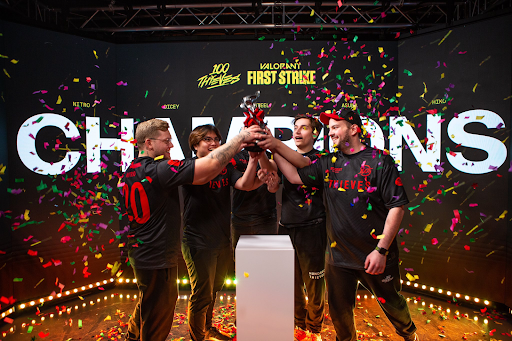 Following 100 Thieves' respectable performance at Berlin, the team had one final chance to qualify for Valorant Champions at the Champions Tour North America: Last Chance Qualifier. However, they came up short, needing to win the tournament but falling to Cloud9 Blue in the lower final, ending their year in defeat.
Now, less than a month after that loss, the team is lossing two members and a coach. The future of 100 Thieves Valorant is certainly up in the air. 
100 Thieves' Valorant roster is now:
Spencer "Hiko" Martin
Ethan "Ethan" Arnold
Peter "Asuna" Mazuryk
Johann "seven" Hernandez (Sub)
Jovanni "Jovi" Vera (Analyst)
Featured image courtesy of 100 Thieves.