Being Riot's first foray into the tactical shooter genre mixed with abilities, expectations are high for Valorant, and while a proper reveal will happen in just a few days with multiple streamers showcasing the footage they captured from the game, some has already leaked online, giving us our first look at several mechanics and modes.
The first thing the footage - recorded by streamer CzechCloud - and shared via Reddit shows us is the various weapon skins we'll be able to get ranging from sidearms to SMGs, rifles, snipers, shotguns, heavies, and even melee-based weapons.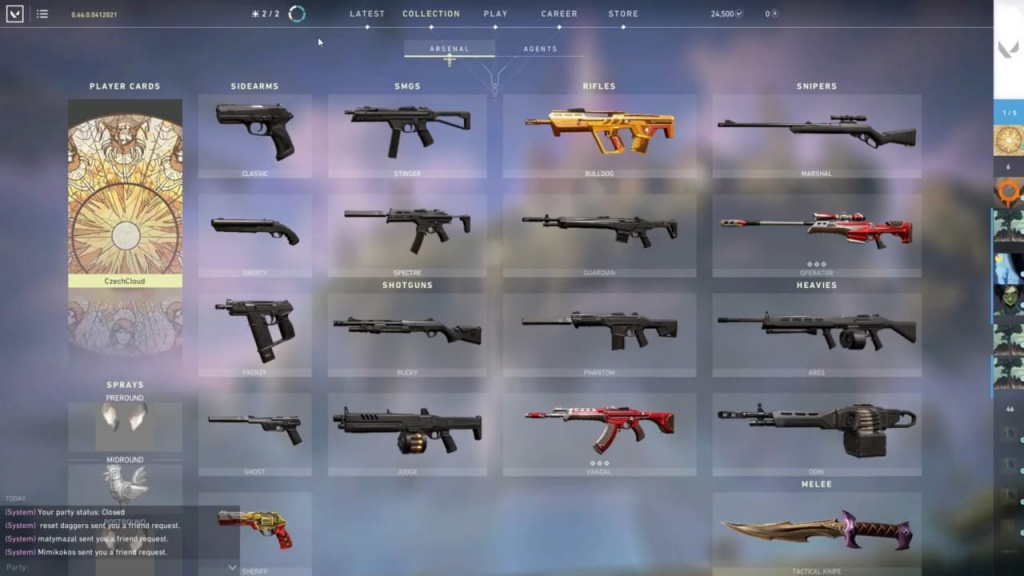 On the bottom left of the screen, we can also get a quick glance at the spray selection.
Next up, is Valorant's practise mode, which gives us access to four different types of training.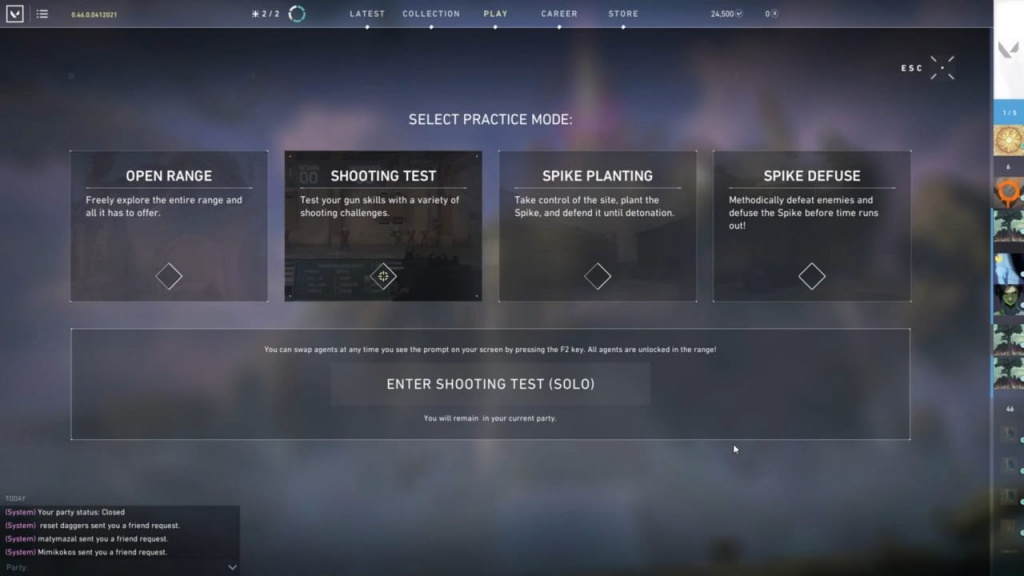 Open Range: Freely explore the entire range and all it has to offer.
Shooting Test: Test your gun skins in a variety of shooting challenges.
Spike Planting: Take control of the site, plant the Spike, and defend until detonation.
Spike Defuse: Methodically defeat enemies and defuse the Spike before times runs out.
The first two are designed to get you familiar with the games various weapons and your characters abilities, while the other two recreate the end-game of planting or defusing the Spike bomb - but with bots. You can also select the difficulty from easy to hard.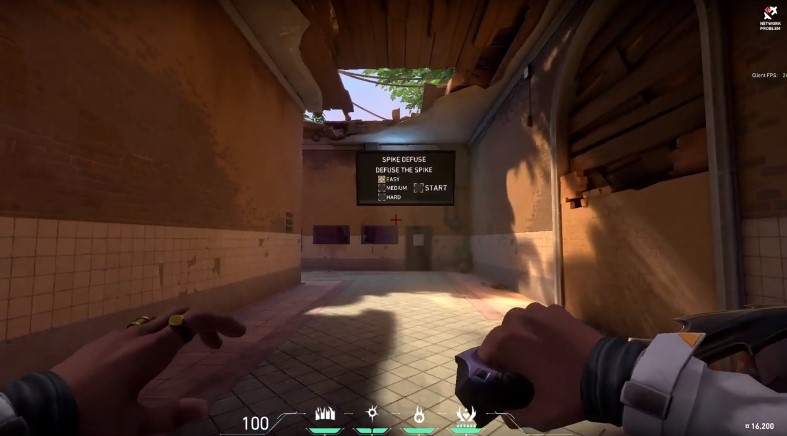 The Open Range has a variety of options for players, new and experienced, to toy around with and look to be effective in-game maintaining similar to the popular KovaaK's aim trainer.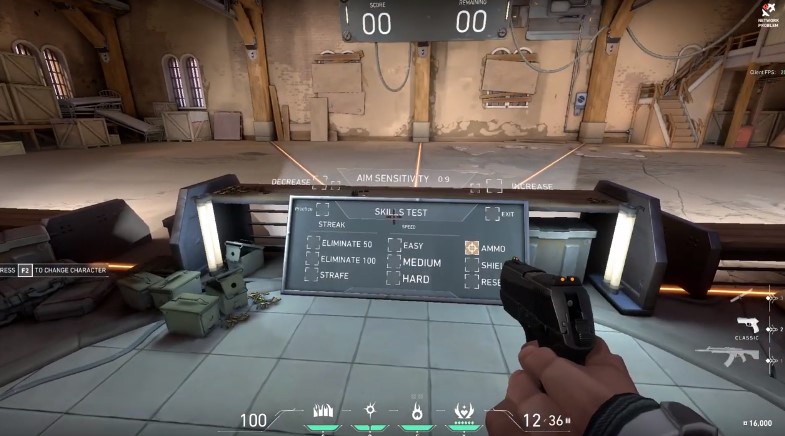 Players will be able to choose Streak options - such as eliminate 50, eliminate 100 or strafe, and various speeds such listed as easy, medium or hard.
You can also adjust your aim sensitivity in-game meaning you don't have to back out to a menu to make this key adjustment.
According to CzechCloud, it actually poses quite a challenge even for FPS veterans, serving as the perfect playground to find the perfect aim sens.
You can also change which Agent you have selected by pressing F2 meaning you can quickly get to grip with the various Agents in the game.
CzechCloud also noted several interesting impressions during the video.First off, it's possible to jump out of the map in the training mode, but not in an actual game - furthermore, he talked about the Agents, noticing that characters like Jett are harder to play with than Phoenix, for example.
We also got a look at the agent selection screen with these two beautiful images of Agents Phoenix and Sova.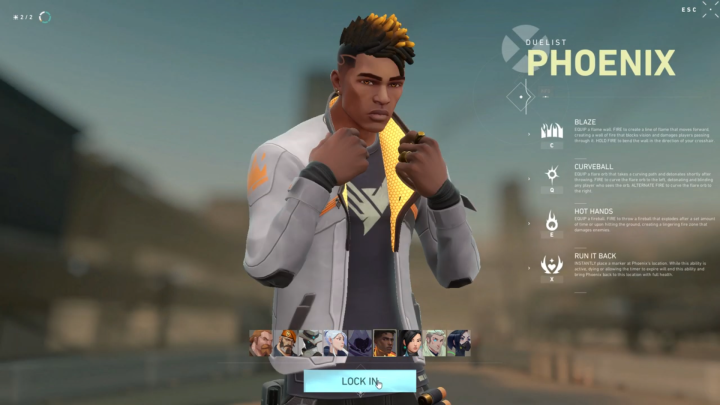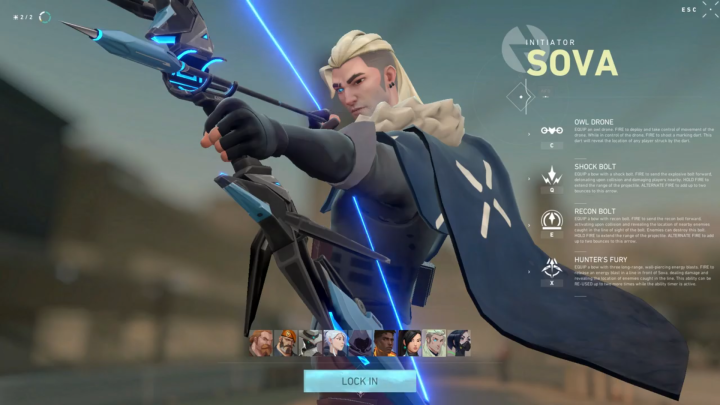 For more info on Valorant, don't forget to check out our Agent Guide and Weapons Guide before the games closed beta which starts on 7th April.