A month has passed since the release of Valorant's latest agent, Skye, and fans are already theorizing about who could be the next agent to join the roster of Valorant's characters.
These speculations are fueled by leaks and rumours, but it seems that with Valorant's v1.14 patch, Riot Games decided that it's time to tease the next Agent in the game itself.
A player that goes by the name "Colagraag" has spotted a puzzling visual effect on Icebox while he was preparing to play a custom game.
Before the start of the round, he was jumping around Defenders' starting zone, when suddenly an anomalous sight appeared in front of him: someone (or something) was walking from the direction of A Screen all the way to B Hut, when it abruptly disappeared.
The strangest thing is, whatever that was, it was completely invisible. The only things visible were the footsteps, some kind of a dark blue fluid forming footmarks that were quickly disappearing, accompanied by loud, splashy sounds.
While this might be some kind of a visual bug, it definitely looks more like a teaser purposely placed there by the developers.
According to leaker Constant Valorant, in the game's files, he has found evidence of a new character, Johns Latte (Jlatte) and those files are directly referring to the things we have seen in the video.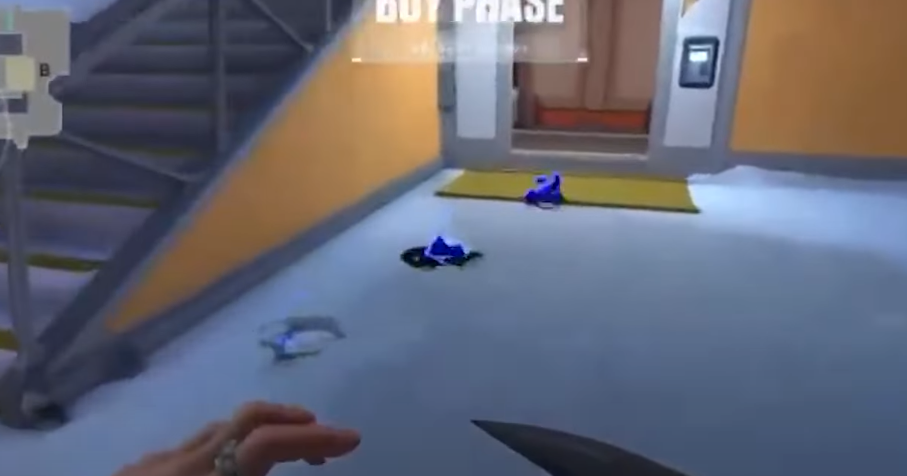 Squishy sounds that these footsteps are making might be used as a misleading ability (Picture: Riot Games)
According to those files, the footsteps might be a decoy ability, to trick the enemy into thinking that the Agent is going into a particular direction with the sound effect of walking.
Of course, this also might be a character that can become completely invisible with some kind of a cloaking ability, like Ghosts from the StarCraft franchise.
Given that Episode 1 Act 3 will end in about a month, around mid-January, there's still a long way to go before Riot officially announces Agent 14.
While we are still quite far away from the reveal, these kinds of teasers are definitely intriguing and a great way for Riot to slowly start building hype for the next Agent.
What are your thoughts? Who could this next agent be and with what abilities?