In the weeks prior to the Season 3 release, weapons such as
CR-56 AMAX
,
Grau 5.56
and
Kilo 141
had been favourites amongst many Assault Rifle player. 
To some degree, they are still popular, but one underappreciated AR can prove to be just as deadly. The FAL, originally introduced to Call of Duty in Modern Warfare 2, has the capacity to down opponents in 3-4 shots and can be used from short to medium-long distance. 
The FAL is not a top-tier Assault Rifle but with the right attachments, you can drastically improve its lethality making it a viable weapon in Verdansk.
FAL loadout Warzone Season 3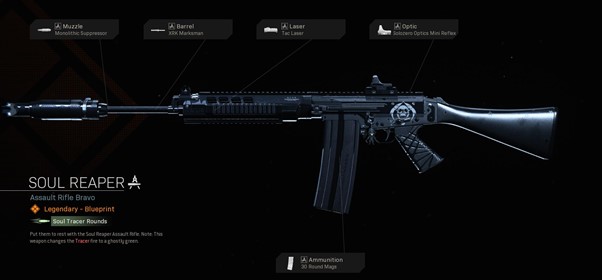 (Picture: Activision Blizzard)
Muzzle: Monolithic Suppressor
Barrel: XRK Marksman
Laser: Tac Laser
Optic: Solozero Optics Mini Reflex
Ammunition: 30 Round Mags
With the base FAL having issues with its recoil, we aimed to fix that, while also looking to reduce the gun's time-to-kill (TTK).
To that end, we choose the XRK Marksman which improves the gun's damage range, bullet velocity, and recoil control.
We have also opted for the Monolithic Suppressor which again increases damage range and improves sounds suppression at a small cost of ADS speed and gun steadiness.
The Tac Laser will also aid you more in close range gunfights if you choose a more aggressive playstyle. 
If you prefer to take fights at longer ranges, Solozero Optic can always be changed out for a VLK 3.0 Optic.
Finally, 30 Round Mags are a must as you burn through ammunition fast. If you stumble across multiple enemies, those few extra bullets will be a blessing.