Only a day after Paradox announced Hardsuit Labs have been
kicked from developing Vampire the Masquerade: Bloodlines 2
, Bioware have announced they are halting development on beleaguered project Anthem NEXT.
An update on Anthem from Christian Dailey: https://t.co/twmWXAXj3B

— BioWare (@bioware) February 24, 2021
The announcement was made via a post on Bioware's website, penned by Christain Dailey, Studio Lead for Anthem. "In the spirit of transparency and closure," he wrote, "we wanted to share that we've made the difficult decision to stop our new development work on Anthem (aka Anthem NEXT)." Dailey did go on to confirm that Bioware and EA would continue to maintain the current live service, however.
Anthem NEXTen was intended to be a "more fundamental restructure" of the existing Anthem game that entered development towards the end of 2019. The announcement points to the hardships of 2020 and the ongoing COVID-19 pandemic as the main culprit behind the decision, stating that it was putting undue stress on the development teams.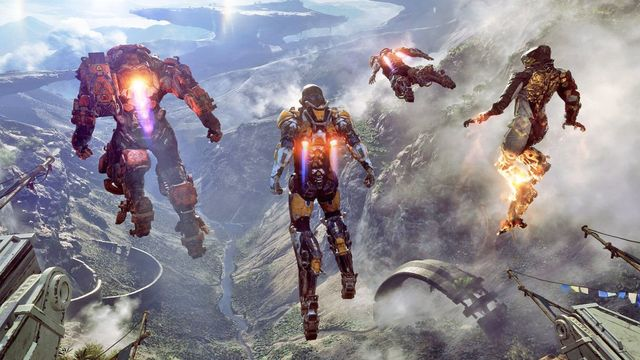 (Picture: Bioware)
For Anthem fans hoping to see a game that held promise, and a number of solid mechanics to build on, turn into something truly great will now be left wondering what if. Anthem's notoriously troubled development process saw it release as a remarkably uninspired game, plagued by constant redesigns, lack of decisive game design leadership, and technical failings around EA's Frostbite engine. Sadly, there will be no No Man's Sky-esque redemption ark for Anthem.
Instead, Bioware is planning to "laser focus" on their upcoming Dragon Age and Mass Effect titles, alongside updates to MMO Star Wars: The Old Republic. Considering the lukewarm response to Dragon Age: Inquisition - and outright disastrous launches of Mass Effect: Andromeda and Anthem itself - focusing on core projects rather than overreaching might prove to be a wise decision.
Much like Bethesda and more recently CD Projekt Red, Bioware's reputation has taken several hits in recent years with the poor critical reception of their latest games. The studio can ill-afford to allow their latest projects to continue in on that tracjorty. Whether their professed laser focus on upcoming projects will ensure the quality standard that has been lacking in recent titles is something the jury is still out on.