Marvel's Avengers will add Black Panther to its hero line-up later this year, through a War for Wakanda expansion.
Developer Crystal Dynamics made the announcement during the Square Enix Presents showcase,  after showing off gameplay for new addition Hawkeye who arrives alongside the next-gen console versions of Marvel's Avengers.
A trailer for Black Panther features mentions of Klaw (played by Andy Serkis in the MCU version), who looks to steal Wakanda's most valuable resource Vibranium.
The expansion is also set to include new enemies and the Wakanda biome, although it's unclear whether this will be a free or paid update. 
Marvel's Avengers 2021 roadmap
During the showcase, Square Enix also debuted a 2021 roadmap for Marvel's Avengers, which starts with Hawkeye's Operation Future Imperfect available.
In the Spring, the game will add Tachyon Anomaly where you can play as any combination of your favourite heroes, and Red Room Takeover, which promises themed HARM room content.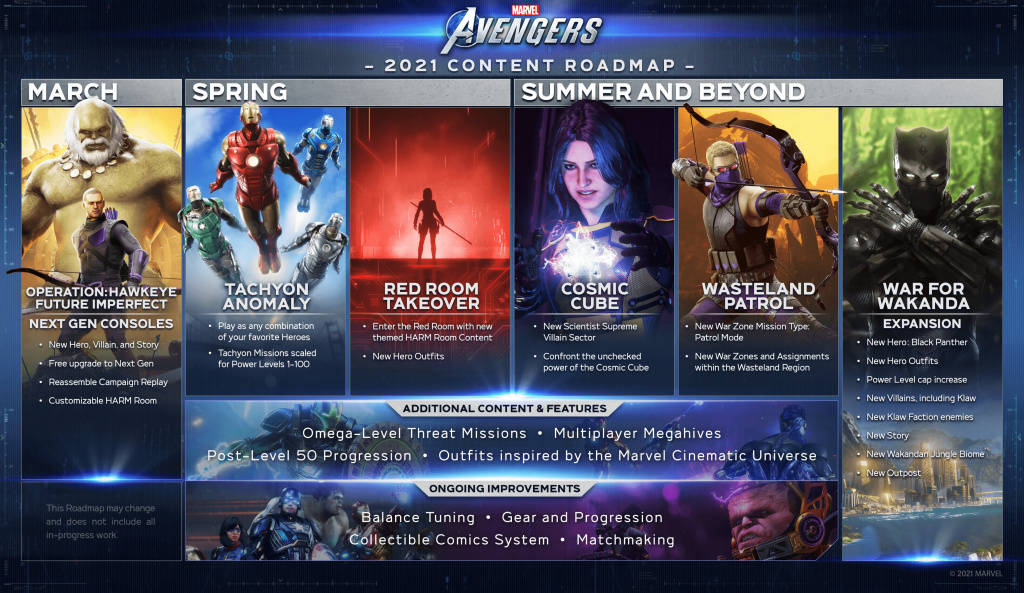 The 2021 roadmap for Marvel's Avengers (Picture: Square Enix) 
For Summer and beyond, there'll be a new Scientist Supreme Villain Sector around the Cosmic Cube, new War Zone mission type in Patrol Mode in Wasteland Patrol.
Other additions to be rolled out include outfits inspired by the Marvel Cinematic Universe, post-level 50 progression, and improvements to balance tuning, gear and progression, collectible comics system and matchmaking.
It's a thorough roadmap but it does beg the question of whether this is enough to entice players back to Marvel's Avengers, with no word yet on the whereabouts of the PlayStation exclusive Spider-Man DLC.