Everyone loves free stuff, and the latest free game from Indiegala will satisfy realistic, real-time strategy cravings. The free game from Indiegala is called Real Warfare 1242, and you can pick it up right now.
Free game from Indiegala
All you need to do to grab this free game from Indiegala is to head on over to the Real Warfare 1242 page. Then, proceed to add the game to your library. If you don't have an Indiegala account just yet, you can create one in five minutes or less.
There are no strings attached to this free game from Indiegala. If you claim the offer before it expires, the game will be yours to keep forever, and play at your leisure. There is no exact date and time for the freebie expiring, so claim the game as soon as you see this post.
What is Real Warfare 1242?
Real Warfare 1242 is a realistic real-time strategy game based on authentic historic events. The game is a bit old, releasing all the way back in 2010. However, it is still worth playing, since it is completely free.
Read Warfare 1242 was developed by Unicorn Games Studio, and published by 1C Entertainment. The game is set in Russia during the 13th century, and is based on real, historic battles, as the player controls the forces of Prince Alexander Nevsky.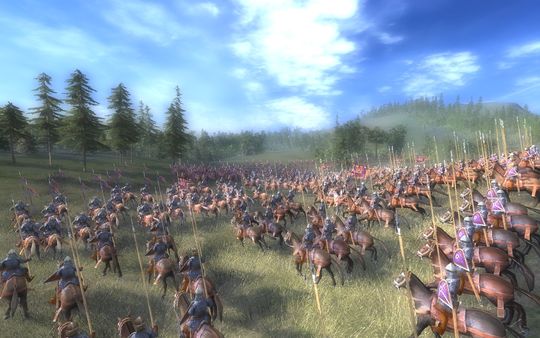 Real Warfare 1242 looks great for its age (Picture: C1 Entertainment)
A description of Real Warfare 1242 reads:
"Russia during the XIII century was a huge state, much larger than any other European country. Split by internal conflicts, and yet standing strong against numerous outer threats, it was attacked by the infamous Mongol Horde.
They came suddenly and pierced through the country like a blazing arrow. The native people fought valiantly, led by a fierce warrior and prince, Prince Alexander Nevsky. Real Warfare: 1242, is a realistic real-time strategy game based on authentic historic events. It invites you to experience the glorious times of princes, knights and vast battles.
The player's goal is to direct Alexander Nevsky through meticulously recreated historic battlegrounds and achieve the greatest of victories by repelling the attacks of Teutonic and Swedish knights, bringing Lithuania to peace and eliminating every single invader in 1242."
Real Warfare 1242 features:
The engine incorporates state-of-the-art technologies used in real-time strategy titles
Vivid, lifelike real-time graphics
Carefully maintained historic realia
Vast territories to conquer and control
Significant level of depth and in-game freedom
Improved unit animation (with the transition to motion capture)
Check out a trailer for Real Warfare 1242 below if you aren't convinced yet to pick up a free game.