The Last of Us Part 2 has had its fair share of controversy in the months up to and since its release. for months leading up to release, and every day seems to throw up a new and ever-more bizarre story of the game's development.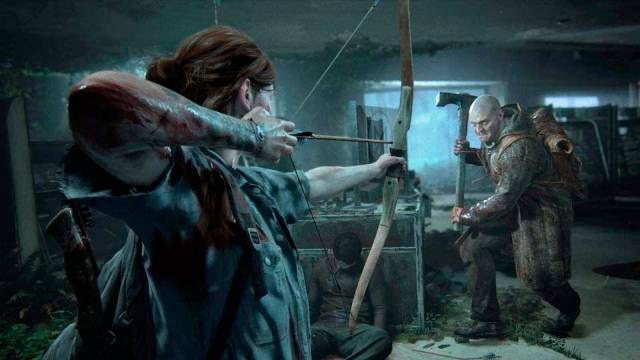 The Last of Us 2 has its fair share of gore. (Picture: Naughty Dog)
Hot off the heels of voice actress Laura Bailey having to deny baseless allegations that claimed Neil Druckmann, vice president of Naughty Dog and game director for TLOU2, did the mocap for a sex scene, now a character concept artist has debunked rumours of employees being forced to watch grisly videos to use as a reference to depict the violence seeing in-game.
"Just out of curiosity, where did the 'forced to look at videos of human mutilation' line come from? Cause it's not in the same article a lot of this other stuff is from so just wondering what the source is on that," Alexandria Neonakis tweeted out.
The confusion comes from an interview Druckmann did with Kotaku at E3 in 2018, in which he acknowledges the use of reference videos, however, at no point, he states it was a mandatory rule while developing the game.
"We want to treat this as realistically as possible. When you stab someone—if you watch reference videos, which we have, it's gross and it's messy and it's not sanitized like you see in most movies and games. And we wanted to get the player to feel that."
Soon after Neonakis' tweet, Emilee Kieffer, former NetherRealm Studios employee, responded with an article about a Mortal Kombat developer suffering from PTSD while working on the latest title in the franchise, MK11, stating that "it (mandatory viewing of gruesome content) happened" during her time at the studio.
In said article, an anonymous source stated: "You'd walk around the office and one guy would be watching hangings on YouTube, another guy would be looking at pictures of murder victims, someone else would be watching a video of a cow being slaughtered."
In a follow-up comment, Alexandria would confirm the dev team at Naughty Dog did in fact watch gory videos while conceiving The Last of Us 2, making it very clear it was at no point a thing they were pushed to do obligatorily.
"For the record, I concepted quite a bit of brutality against humans. I looked at ref. And at every assignment, my leads checked with me. Are you sure you're okay to look at this? Do you want us to put someone else on this? Let us know if this gets too heavy. Every single time."
Neil Druckmann himself would address the concerns by adding his own thoughts to the matter, clearly frustrated at the way critics are trying to spread misinformation for the sake of it.
"Maybe the same source as... you fight homophobic Christians? Or that Anita (sarkeesian) worked on the game? Or that Abby is trans? Or that I was scanned and mocapped anything in the game? Or that we paid for reviews? Or... I'm exhausted."
The Last of Us 2 is now available, exclusively for the PlayStation 4.