Rocket Arena is a new 3v3 third-person shooter which takes more than a few cues from Fortnite's aesthetic, while throwing in lots more rockets. 
Mechanically, it's more akin to hero shooters like Overwatch and Apex Legends - featuring a roster of 10 characters at launch all with their own unique special abilities. 
To coincide with Rocket Arena's launch on 14th July on PlayStation 4, Xbox One and PC, Twitch is hosting a special tournament featuring a number of top players. Here's what to expect and how you can catch all the action. 
What is the Rocket Arena Twitch Rivals Crater Cup? 
Like previous Twitch Rivals events, the Rocket Arena Crater Cup will see a number of top streamers and pro players compete for a $100k cash prize. 
It'll also act as a showcase for Rocket Arena itself, debuting as the game launches.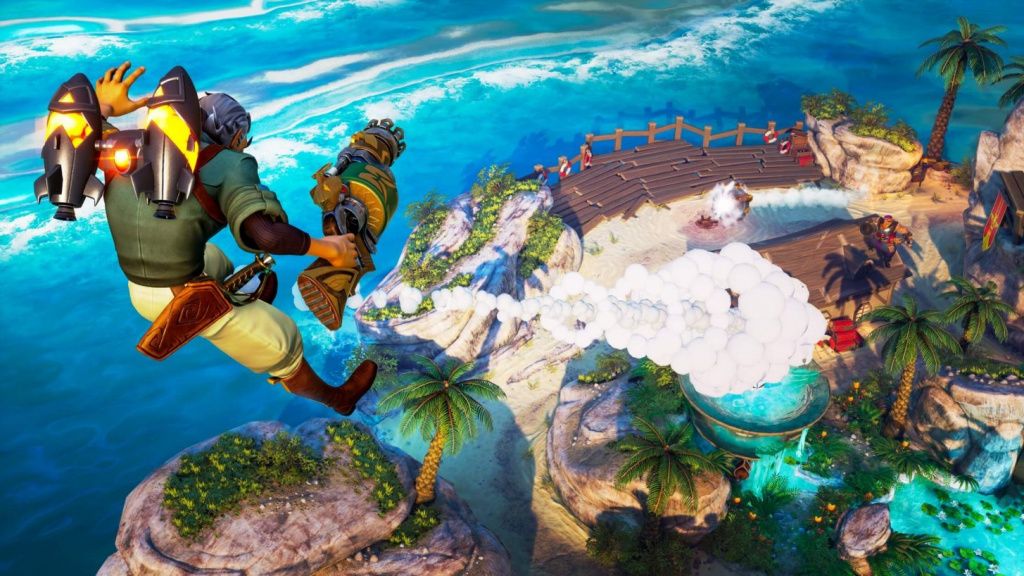 Rocket Arena launches on 14th July (Picture: EA) 
What is the format and prize pool split? 
Eight teams will be assembled for the tournament, which will follow a round robin format before heading into a playoffs stage. 
The $100k prize pool is divided between the round robin stage, playoffs and special bonus prizing if certain criteria is achieved over the course of the event. You can check out a breakdown of the prize distribution below. 
Round Robin stage 
$600 per round robin game win (total of 28,800)
$150 per round robin game loss (total of $7,200)
Playoffs
1st place: $15,000
2nd place: $9,000
3rd place x2: $4,500
Bonus prizes
Most cumulative KOs over all games (on one player)
1st: $2,100
2nd: $1,500
3rd: $1,000
Highest margin of victory (treasure hunt)
1st: $3,000
2nd: $2,100
3rd: $1,500
Fastest victory (rocketball) 
1st: $3,000
2nd: $2,100
3rd: $1,500
Fastest victory (megarocket) 
1st: $3,000
2nd: $2,100
3rd: $1,500
Most wins in unique combinations of maps/modes 
1st: $3,000
2nd: $2,100
3rd: $1,500
Who is competing? 
Eight teams will be led by all-star captains from the gaming and streaming worlds. The confirmed captains are listed below. 
AfroSenju XL
AvaGG
BigCheeseKit
Bugha
MrFruit
NickEH30
Ninjayla
SypherPK
When does the tournament start? 
You can catch the Rocket Arena Twitch Rivals Crater Cup on Tuesday 14th July at the below times depending on your region. 
UK - 9pm BST
Europe - 10pm CEST
West Coast US - 1pm PDT
East Coast US - 4pm ET
How can I watch the Rocket Arena Twitch Rivals Crater Cup? 
The tournament will be streamed on the Twitch Rivals channel.