Earlier this week, we reported about a record that Steam broke. Last Sunday, for the first time in the history of Steam, more than 20 million concurrent users were online at one point.
Just six days later and that record is now beaten by almost two and a half million. At the time of writing this article, Steamdb says that there are currently 22,379,088 users online. At the same time, more than 7 million people are in-game, playing games.
The most popular game is, expectedly, Counter-Strike: Global Offensive with 1,065,790 players at one point today, and Dota 2 is holding the second place, with 712,955 concurrent users. Around 525 000 are playing PUBG currently, and then there are few games sitting between 200,000 and 100,000 simultaneous players. That includes Football Manager 2020, which is free to play right now, and DOOM Eternal, which we have a lot of fun with.
Here are 15 most played Steam games today, taken directly from Steam. They are not in order, as you can see by the numbers.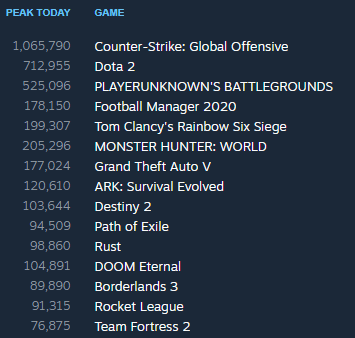 It looks like the outbreak, unfortunately, won't end anytime soon, so we might see even bigger numbers, possibly as soon as tomorrow.
Are you using this time to play some games from your backlog of games? Tell us in the comments which games are you playing this weekend!