Last Thursday we finally got a chance to see some new gameplay elements
from Cyberpunk 2077.
Given that Cyberpunk 2077 is one of the most anticipated games of this generation, it comes as no surprise that cyberpunk genre as a whole might become quite popular in this decade, and people are already starting to call it "new zombies".
Tencent Games, one of the biggest Chinese video game companies, held their annual Tencent Games press conference this Friday and there they have shared real-time Unreal Engine 4 tech demo of their new project called CODE: SYN.
CODE: SYN is Tencent's upcoming Cyberpunk open-world FPS in development for PC and console, with a focus on MMO aspects.
The developer working on this game is Tencent-owned Lightspeed and Quantum Studios, which previously developed PUBG Mobile.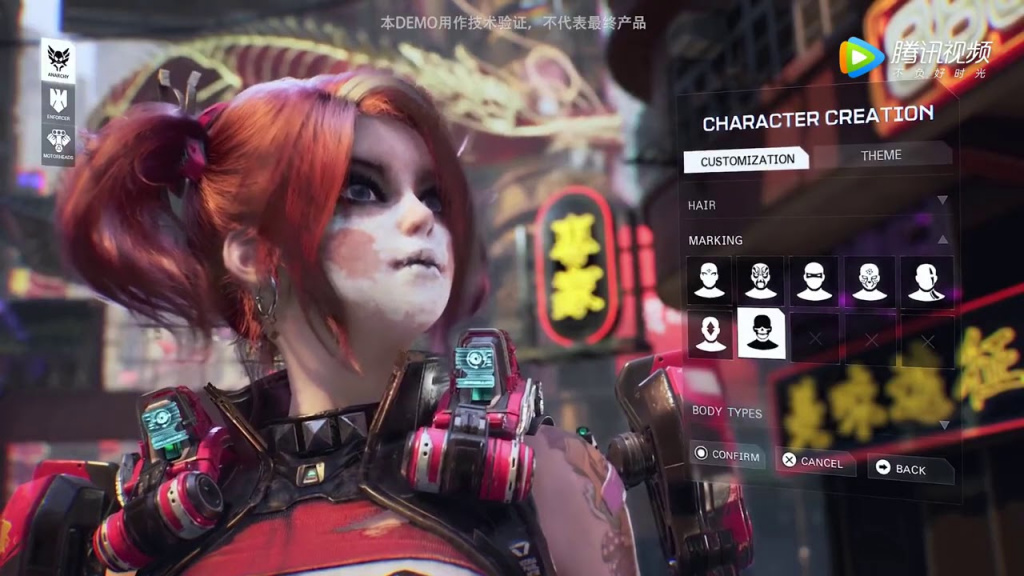 Character design is "realistic, yet stylish" (Picture: Tencent)
In a 3-minute demo, we can see some truly stunning visuals of the game, as well as some options for characters creations and customization, but without any gameplay or story elements.
In the demo, we can see three currently available factions, but the game is still in the early stage of development, and this will probably change or more will be added in the future. Those three factions are Enforcer, Anarchy, and Motorheads. 
Characters look a bit anime-ish, but quite realistic and there will be a lot of customisation options for your character in the game.
"Our characters are realistic, yet stylish, with various customization features including cosmetics, skins, and extremely realistic effects achieved with our strand-based hair system through cooperation with Epic Games," says in the video.

Cyber-pets will be a big part of the game (Picture: Tencent)
What's particularly interesting is that you can have your own cyber pet, and in the demo, we saw a cyber-bear and a cyber-leopard.
You can also use and own vehicles, which can be customized as well, from the different types to little details such as parts and decals.
There is currently no information about the release date, but it is confirmed that the game is being developed for both PC and consoles.