This February it will be three years since Apex Legends' surprise launch which has taken Twitch and the gaming world at large by the storm.
And three years after, Apex Legends is still one of EA's most successful games, and undoubtedly one of the most popular battle royale titles of today.
Respawn Entertainment created a fantastic first-person shooter experience that blends battle royale style of gameplay with the hero shooter design of characters. The final result is a fun, engaging, and creative game that has managed to stay popular in a highly competitive battle royale landscape.
To celebrate Apex Legends' third birthday, Electronic Arts and Respawn are bringing you a full month of celebration but don't worry you don't need to buy them a birthday present, they are the ones giving free gifts!
Here's what can you expect during the Apex Legends 3rd Anniversary Event, as well as all the important dates and times, so that you don't miss free rewards.
Apex Legends third Anniversary rewards and dates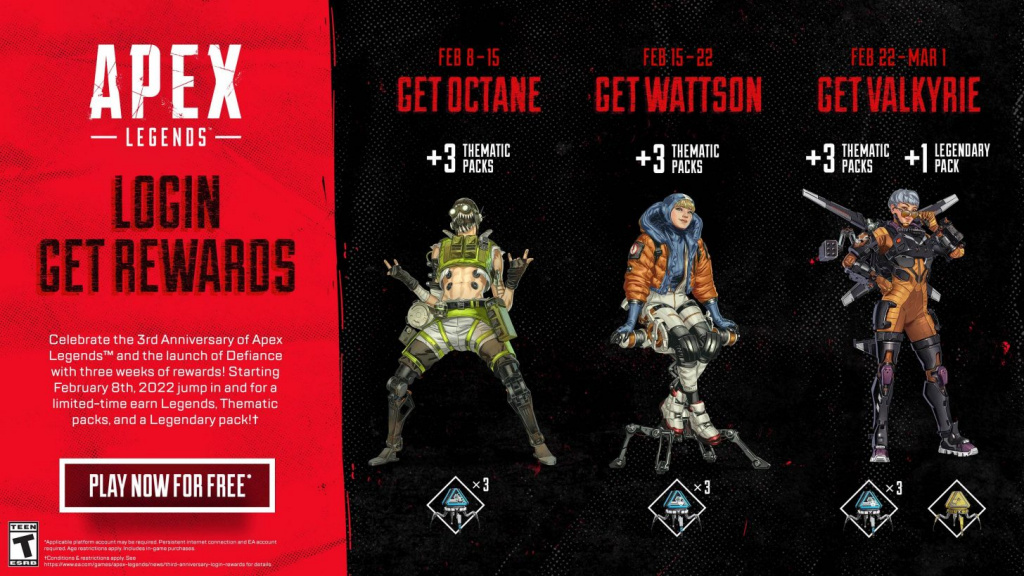 Although Apex Legends' birthday is on 4th February, when the game was originally released back in 2019, the third-anniversary celebration will kick off a few days after the birthday, in order to launch alongside Apex Legends Season 12 Defiance.
This means that rewards will become available starting 8th February and they will arrive in three phases, so make sure to claim them all.
Here's when and which rewards will be available:
Week 1 (8th - 15th February)

Permanently unlock Octane plus Three Thematic Packs



Week 2 (15th - 22nd February)

Permanently unlock Wattson Character plus three Thematic Packs



Week 3 (22nd February 22 - 1st March)

Permanently unlock Valkyrie plus three Thematic Packs and one Legendary Pack
If you already have these Legends unlocked, you will still be eligible to get the thematic packs and the legendary pack.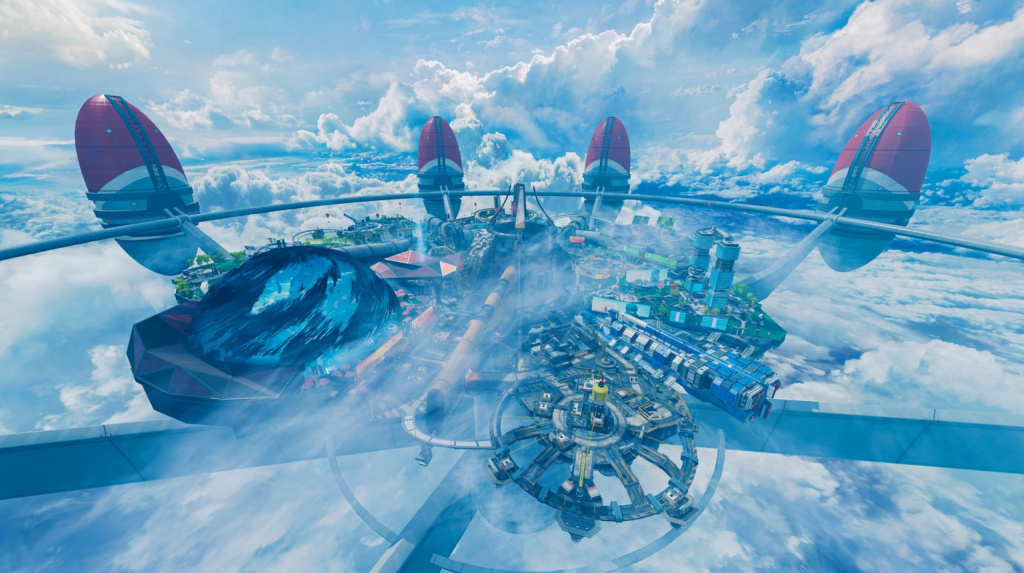 Each of these offers will become available at 10 am PT / 1 pm ET / 7 pm CET on their starting day, and it will expire at the same time on their ending day.
The hird Anniversary celebration also marks the launch of  Apex Legends Season 12 Defiance, with a slew of new content prepared for fans to dive right into it, including a brand new Legend, Mad Maggie, a new limited-time "Control" mode, major changes to the "Olympus" map, and much more.
Featured image courtesy of Respawn Entertainment and EA.