Apex Legends' Legacy update has introduced a number of new features and content for fans to enjoy, but that's not all!
As announced earlier, this season will, for the first time, bring community-created content into the game!
Respawn and EA want to celebrate the creativity and passion of the community, and that's why they are partnering with some of the most talented members of the Apex Legends community to bring their work directly into the game as cosmetic items!
This is the list of all Apex Legends creators and artist involved in this project: 
Respawn has been working with them for quite some time, and now for the first time, some of their content will be featured in the game.
Apex Legends Season 9 Legacy Community Created items include six loading screens, which will be earnable starting today, 1st June.
Apex Legends Community Created items schedule
From 1st June until 3rd August, players will be able to earn 6 loading screens in total, one in each week.
Loading screen 1: 1 June - 8 June (Horizon & Valkyrie) 
Loading screen 2: 8 June - 15 June
Loading screen 3: 15 June - 22 June
Loading screen 4: 22 June - 29 June
Loading screen 5: 20 July - 27 July
Loading screen 6: 27 July- 3 August
How to get Apex Legends Community Created Twitch drops?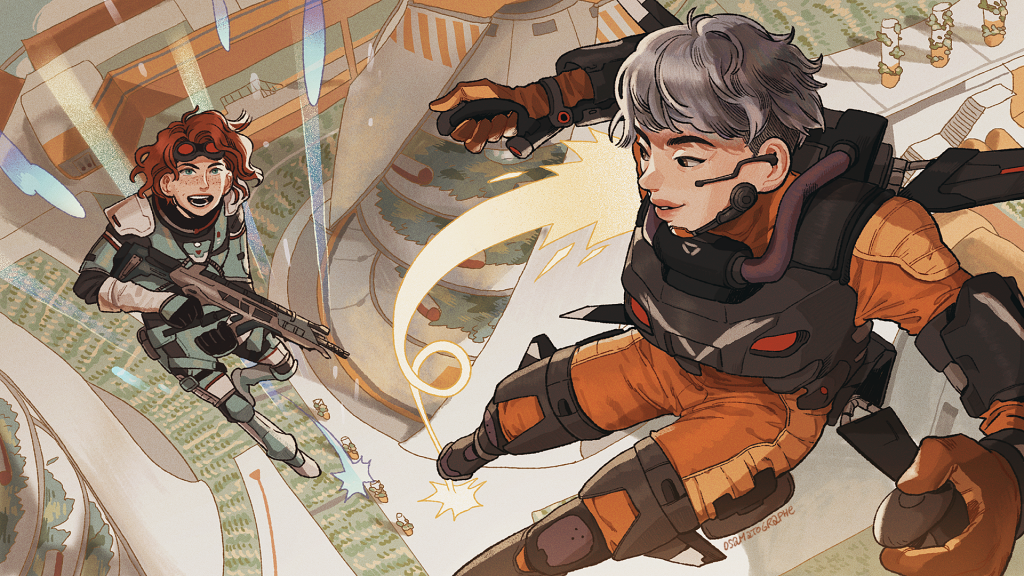 Horizon & Valkyrie loading screen, earnable during Week 1(Picture: EA)
Community Created content will only be available through Twitch via Twitch Drops.
Each week, for each Loading screen, a different set of eligible streamers will be presented, and by watching them you will be able to earn that week's Loading screen.
Each loading screen will be available one at a time and for a 7-day period.
To earn each screen, be sure to watch one of the designated Twitch streamers for one consecutive hour (switching between streamers for an hour won't count!).
For the first week, in order to earn Horizon & Valkyrie loading screen Twitch drop, you can watch any of the streamers listed in the Tweet below:
To earn this week's screen, watch any of the following streamers for 1 hour:

-@Ninjayla
-@jelliedcorn
-@apexalelu
-@iiTzTimmy
-@HisandHersLive
-@sweetanita
-@fuinhafps
-@kandyrew
-@stylishnoob
-@BoomRazzle

Streamers rotate, be sure to check here for who to watch next!

— Apex Legends (@PlayApex) June 1, 2021
Of course, you will need to have your Apex Legends and Twitch accounts connected in order for this to work.
How to link Twitch and EA Account for Apex Legends Twitch drops
Make sure your Gamertag, Nintendo Switch Online Account, or PlayStation Network ID is linked to your EA Account.
Go to Twitch and sign in or create an account.
Make sure you're logging into the Twitch account where you want to watch the streams and get rewards.
Enter your EA Account info on the Connect with Twitch screen and click Next.
And that's it, now you are all set!
Watch any of the eligible streamers for a full consecutive hour and the loot is yours!