Every season of Apex Legends always brings with it a tonne of new content but no season has been quite like that which has arrived with Season 9 aka Season Legacy.
Not only have the developers move away from the numbering convention for new seasons, but they have also introduced a brand new game mode, Arenas, as well as a new Legend, a new weapon, and the usual array of map changes.
Some of the game's weapons have also received buffs and nerfs, with some even being re-categorized as the game now considers certain guns as marksmen rifles. With all these changes it can be hard to keep up so that is why we have made it that bit easier for you. This Season 9 weapons tier list will give you the lowdown on all the weapons and tell you which are the best to be running.
Take note though, this is a weapons tier list for Season 9 AND for the battle royale mode, the new Arenas mode is a different beast, and we have two separate tier lists for that covering both the Legends and the weaponry.
Apex Legends Season 9 weapons tier list
There are now 25 unique weapons in Apex Legends and, as of Season 9, six weapon categories with the newest being Marksmen rifles which include the G7 Scout, 30-30, the Triple Take, and the game's newest weapon, the Bocek Bow.
Description of the tiers
(Picture: TierMaker)
We'll be grading them with a letter format, going from S-Tier to D-Tier. Here's what each rank means:
S-Tier: The absolute best of the best, regardless of attachments. If you see these, pick them up.
A-Tier: With decent attachments, can lead you to victory.
B-Tier: You need some purple attachments. Slower time-to-kill (TTK) can hurt you during engages.
C-Tier: Requires you to stock up with great attachments, if you can't get your hands on a better gun, it's not the end of the world.
D-Tier: Leave it on the ground on which you found it.
Apex Legends Season 9 weapon tier list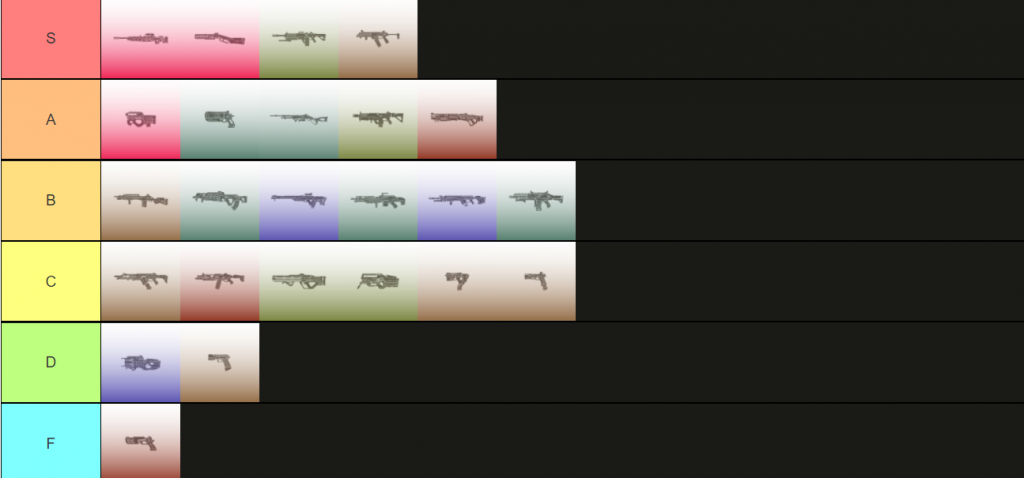 (Picture: Tiermaker)
S-Tier
Bocek Bow - Marksman Rifle
M600 Spitfire - Heavy Machine Gun
Kraber .50 CAL - Sniper Rifle
Devotion - Energy LMG
R-99 - Light SMG
30-30 Repeater - Heavy Assault Rifle
Update: As of 11th, both the Bow and Spitfire have taken some nerfs, however, it's hard to say if they'll be enough to drop as the absolute best guns in the game. 
With a set of really strong buffs, the 30-30 Repeater climbs up on our tier list as potentially one of the strongest weapons in the game. Give it a go and you will see how easy is to melt your enemies in Season 9.
However, it's clear the current best weapon in the entire game is the new Bocek Bow, with the entire community pleading for an immediate nerf.

(Picture: Respawn Entertainment)
The Devotion and R-99 are just as strong picks as they were in Season 8, while Kraber .50 CAL stays the best sniper rifle you can get in Apex Legends,
A-Tier
Prowler Burst PDW - SMG
Wingman - Heavy Pistol
Volt - SMG
Mastiff - Shotgun
Triple Take - Sniper Rifle
G7 Scout - Light Assault Rifle
Another fantastic set of weapons.
The Triple Take is one of the most buffed weapons in Season 9 and thus it rightfully finds its place amongst A-Tier weapons. As a crate weapon, it will come with a 9 ammo clip and 63 reserve ammo, and now it has increased fire rate, increased ADS move-speed, and time to full charge reduction.
Another new weapon in the A-Tier is the G7 Scout, which now comes with the fastest ADS move-speed compared to all other snipers in the game.
Guns like the Wingman require precise aim and thus are harder to use than most since you can't spray and pray or rush down teams with weapons like the Mastiff or the Prowler, but if you manage to control it, it's perhaps the best in this tier.
B-Tier
VK-47 Flatline - Heavy Assault Rifle
Longbow DMR - Sniper Rifle
R-301 Carbine - Light Assault Rifle
Hemlok - Heavy Assault Rifle
Very good and reliable guns. They can't compete with direct upgrades in their respective categories against guns in the A and S-Tier categories but with the right attachments, they won't let you down.
Keep a special eye on the Flatline, as it has had some relatively unknown buffs that could help you secure the win in dire scenarios.
The Wingman and Longbow both received headshot multiplier buffs, which makes them even more deadly in the hands of skilled players.  
C-Tier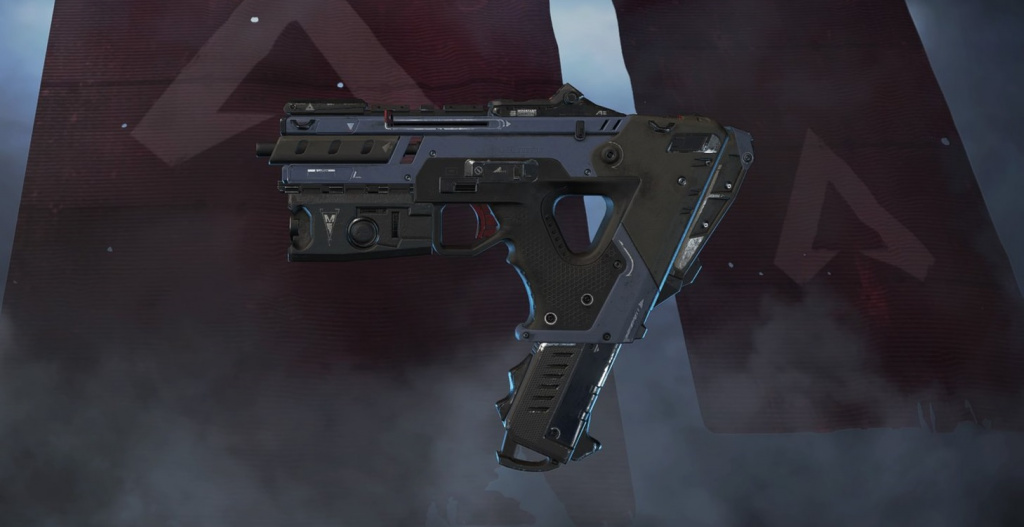 (Picture: Respawn Entertainment)
Eva-8 Auto - Shotgun
HAVOC - Energy Rifle
L-Star - Energy LMG
Alternator - Light SMG
RE-45 - Light Pistol
Peacekeeper - Shotgun
Being heavily nerfed, the Peacekeeper is not as potent as it was in previous seasons, and thus we don't recommend it unless you are good at playing with it.
D-Tier
P2020 - Light Pistol
Charge Rifle - Sniper Rifle
Mozambique - Shotgun
Very poor almost bottom of the barrel weapons. Simply put, their TTK is awful, the Charge Rifle has a startup time that can make you miss easy shots, and the P2020 isn't even worth it as a last resort. Although Mozambique and P2020 both received buffs with the latest update, we think that's still not enough to move them from the bottom tier.
If you want to learn more about Season 9, check out our guide to the new game mode, Arenas, our battle royale weapon tier list, and a look at the game's newest POIs.