With the impending release of Apex Legends Season 7, many new players will look to jump into the free-to-play Battle Royale developed by Respawn Entertainment.
A new Legend, Horizon, and a new map, Olympus, will make their respective debuts, adding a lot of excitement for returning players as well.
In preparation for everything that's coming to Apex Legends, we're sure plenty of people are looking for the perfect mouse settings to kick-off Season 7, and we're here to help! 
Apex Legends - Best mouse settings

(Photo: Respawn)
The process of choosing the right settings for Apex Legends is one that ultimately you'll have to find by yourself as you mix and match the different settings that the game offers you, however, we can point you in the right direction to start your journey.
Let's start by talking DPI, or Dots Per Inch, this is how sensitive your mouse is to the movement you're making. Simply put, a lower DPI means you'll have to make longer motions to move around, while a higher DPI means you can flick your mouse and get faster movement in-game.
For beginners, the recommended DPI should be set around 400 and slightly increase it until you reach 800, as it's perceived by many veterans as the sweet spot in Apex Legends.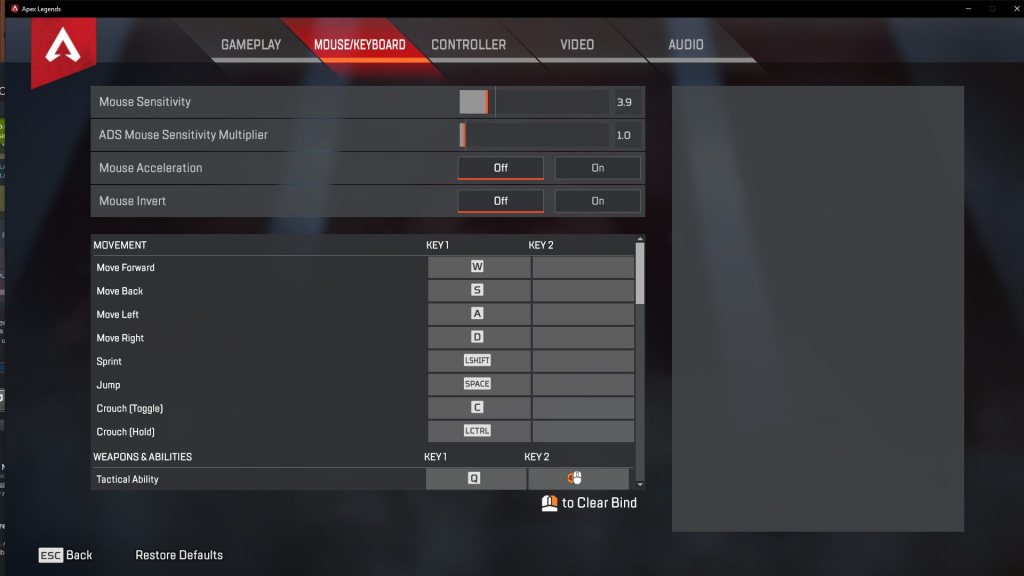 (Photo: Respawn)
Using 800 DPI on your mouse will likely mean that the default 5 sens inside the Apex Legends settings will feel too unpredictable, so be sure to lower this to get yourself started, or give going for 400 DPI as we recommend a shot! Try everything from 2, moving to a higher sense as your muscle memory improves. 
Next up, the ADS sens, or Aim Down Sights sensitivity. This is a tough one, as the ADS in Apex Legends involves different types of scopes, and the 1:1 option the games gives you doesn't match your unscoped sens as the initial stat would imply.
The vast majority of players choose not to depart too much from the 1 setting, with some slight tinkering at best, as a portion of the community prefers to have an ADS sens of 1.2 or 1.5, even 2.0 in some extreme cases.
If you're new to Apex or PC shooters, 2.0 might seem too jarring, so definitely stick to 1 until you feel comfortable adapting to a more fast aiming style.
As for Mouse Acceleration, turn it off. This option enables Windows to mess with your mouse movement, a clear no-no in our list, simple as that.
So, in conclusion, if you're new to Apex Legends jumping into Season 7, here are the recommended mouse settings for you to toy around with:
Mouse DPI: 400-800
Mouse Sensitivity: 2
ADS Sensitivity: 1
Mouse Acceleration: Off 
We hope this guide is useful to you and helps you enjoy Apex Legends Season 7 much more!