Thea Budgen, better known as Zelina Vega in the WWE Universe, is a wrestling superstar by trade, but she's also a passionate gamer. Thea streams on Twitch alongside her husband, Tom Budgen, who also happens to be WWE Superstar Aleister Black.
However, Thea's passion for gaming runs a little deeper than that. She also cosplays her favourite video game characters on Instagram. If you have a quick look through her gallery, you'll find her dressed up as everything from D.VA from Overwatch to Jade from Mortal Kombat.
If her latest post is anything to go by, it seems like she's absolutely bonkers about Loba Andrade from Apex Legends.
Even someone who knows nothing about cosplay can tell she's absolutely nailed the outfit. Not only does it look identical to Loba's, but the pose, the expression, the make-up, and even the theme blaring in the background are all on point. It even impressed a developer, who replied in the comments, saying "Okay Loba, we see you!"
Thea is the perfect person to cosplay Loba, and it seems like she agrees. "Gold goes so well with a diamond like me," she wrote in the caption. It sounds like something she would say when performing as her character, Zelina Vega, on WWE.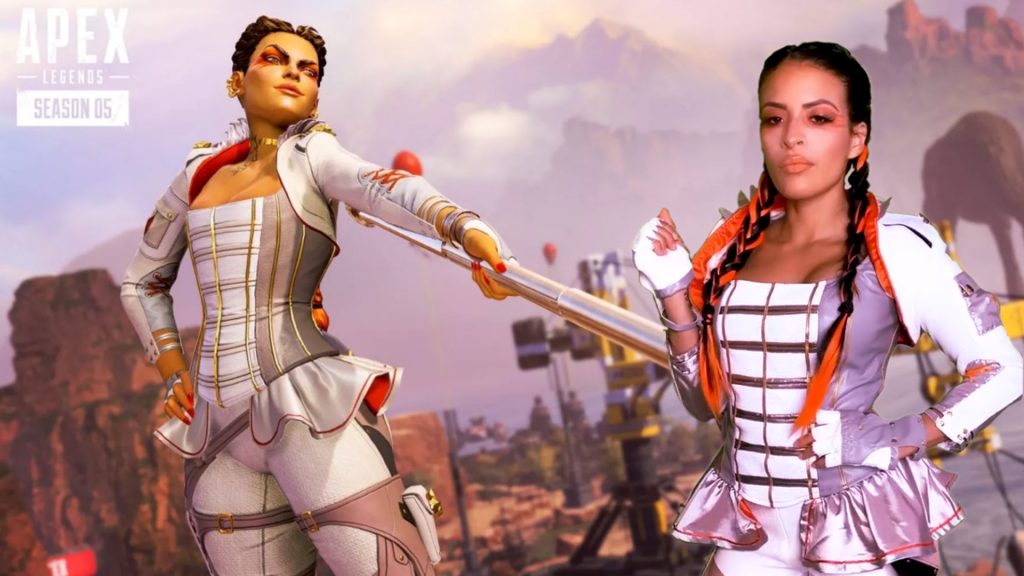 (Picture: Respawn Entertainment / Zelina Vega)
But the parallels between them don't end there. Thea and Loba are both strong and proud Latina women. They also have the same attitude, boldness, elegance, and demeanour. 
It's no surprise then that Tom Casiello, the Apex Legends writer who co-wrote Loba, said he was inspired by the women he worked with at WWE. Female superstars told him they "wanted to be equal" to and "on equal footing as men" but didn't want to be written like men "because they're still women."
"I really wanted to introduce a female character who kind of owned her sexuality," he said. He also wanted to write one who "owned who she is and liked to look good when she wakes up in the morning."
Loba Andrade perfectly encapsulates his description. But more than that, she also closely resembles female WWE Superstars like Thea Budgen. That's probably one of the many reasons why Loba appealed to her.
If you're interested in keeping up with Thea Budgen's escapades in the gaming world, be sure to follow her on Instagram, Twitch, and YouTube.