Animals were a very important part in the lives of Vikings and that's true for Vikings in Assassin's Creed Valhalla as well.
Eivor, the main character in the game, can mount both horses and wolves, and he has a trusty raven to scout from above and reveal secrets of the unknown lands, but did you know that you can also have a wolf companion?
Yes, it is possible to have a pet wolf in Assassin's Creed Valhalla, and it is not particularly hard to unlock it, but it is not as obvious as some other things.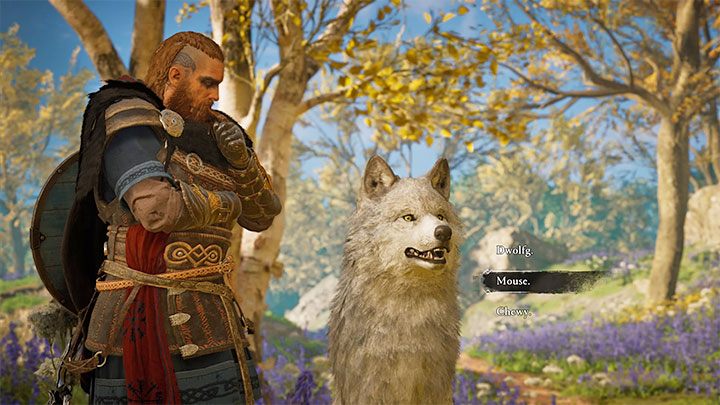 (Picture: UbiSoft)
Your wolf can fight alongside you, he can sense and track particular targets and he can go hunt wild animals for you.
He's very useful and it's awesome to have him by your side, and it is definitely something you will want to add to your Assassin's Creed Valhalla experience as soon as it is available.
If you are not sure how and where to get him, worry not, read further to find out what you should do.
WARNING: Minor spoilers ahead.
How to unlock Assassin's Creed Valhalla's wolf companion
You personal wolf companion in Assassin's Creed Valhalla becomes available around ~4 hours into the game, because you need to play the game until you form the settlement of Ravensthorpe in England, which is a part of the game's main story.
At one point in Ravensthorpe, a boy named Knud will approach Eivor.
Talk with him and he will ask for help. Accept to help him and by doing that, you will start a side quest called "A Little Problem".

(Picture: UbiSoft) 
At one point during this quest, you'll kill a boar which will drop a key.
Use that key to unlock the door of a hut there, and in the basement of the hut, you will find an imprisoned wolf.
Destroy the cage that holds him, and free the animal.
You will soon notice that the wolf is quite friendly and tame, and he will follow you back to the settlement, where you will earn "Man's Best Friend" ability as a reward for completing the quest.
The ability will allow you to summon your wolf at will to attack your foes. And you can also choose one of three names to name your new pet.
And there you have it, this is how to get your wolf pet!
Enjoy with your new friend and have fun playing Assassin's Creed Valhalla!