While past entries in the franchise have featured upgradeable settlements, Assassin's Creed Valhalla offers arguably the most robust toolset of the bunch. 
Set in England during the ninth century, Assassin's Creed Valhalla is the follow-up to Assassin's Creed Odyssey which swaps swords and sandals for angry, raiding Vikings. 
But why are you raiding in the first place? For sweet, bountiful upgrades, of course. Here's what you need to know about assembling your settlement in Assassin's Creed Valhalla. 
When can I start upgrading my settlement? 
After a lengthy introduction in Norway, Eivor and his band of Vikings move to England and settle in an area they dub Ravensthorpe. 
It's once you've arrived at this settlement you're tasked with upgrading and creating buildings for your community. You won't be able to build everything straight away however, with certain buildings locked behind level progression.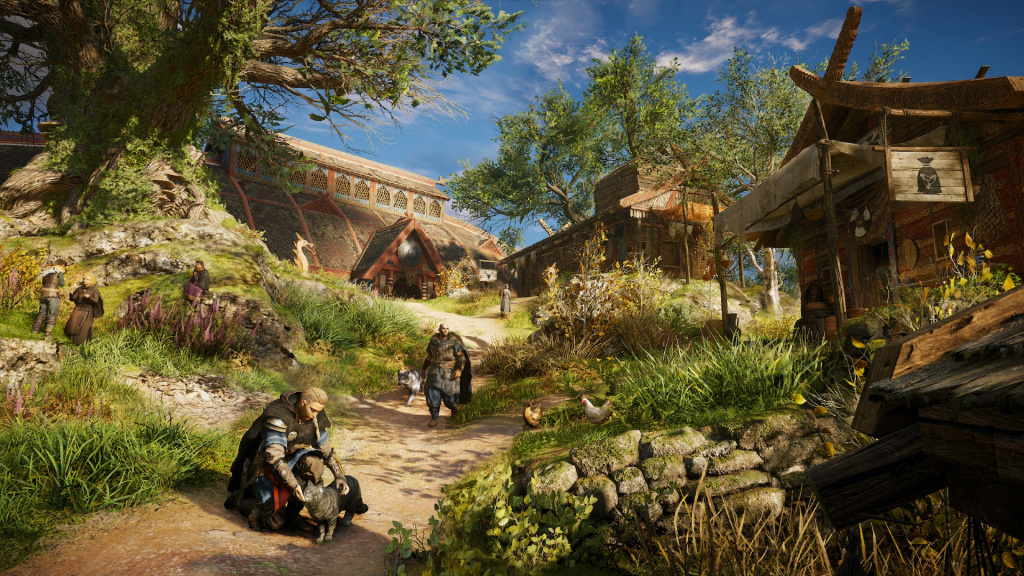 Your settlement is a big drive in Valhalla (Picture: Ubisoft) 
Settlement upgrade list for Assassin's Creed Valhalla
We've outlined below each building you can construct and what they provide for your settlement, with some, like the Hidden Ones Bureau and Barracks, more important than others. 
These upgrades are also split between three separate tiers. The first selection is available from when you first arrive at Ravensthorpe, with each building costing 400 supplies and 30 raw materials to construct. 
Rank one
Hidden Ones Bureau: This is where you'll embark on missions for Hytham as part of the Hidden Ones storyline, where you'll be tasked with assassinating specific targets. It's where you'll also learn the Leap of Faith.
Stable and Aviary: This is where you look after your horse and raven, and apply cosmetic items to both.
Trading Post: You can purchase resources like arrows, materials and new weapons here, which you'd usually find around the world.
Barracks: This is where you can manage your Viking crew and also create a Jomsviking, a special soldier which can be recruited by other players online, or you can recruit others to join you. 
Once you've built two of these (not including the Blacksmith run by Gunnar as part of the story), you'll level up to rank two. Now you'll have access to the following set of buildings, which are available for 600 supplies and 45 raw materials.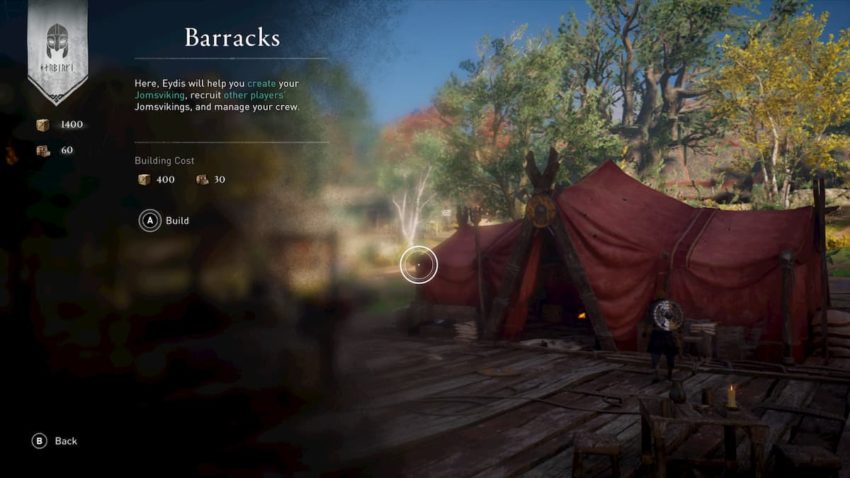 The barracks open up some cool online features (Picture: Ubisoft) 
Rank two
Museum: A place where you can trade Roman Artifacts for rewards.
Brewery: Increases the Feast buff for Eivor to give them 25+ health.
Shipyard: Customise and buy cosmetics for your Viking ship
Fishing Hut: Gain access to the fishing line, where you can trade fish for material resources.
Tattoo Shop: Apply unlocked tattoo designs and hair to Eivor
Bakery: Like the Brewery, this also boosts the Feast buff for 25+ health
To hit the next level, you have to build four more upgrades. You'll then unlock the following buildings, which cost 800 supplies and 60 raw materials. 
Rank three
Cattle Farm: Increases the Feast buff, giving +3 ranged damage
Grain Farm: Increases the Feast buff, giving +3 bonus for Eivor's armour
Cartographer: Provides you with maps and collectibles like Roman Artifacts
Alvis and Holger's House: Increases the Feast buff, giving +3.8 assassination damage
Fowl Farm: Increases the Feast buff, giving +3 melee damage
How to gain raw materials and supplies to upgrade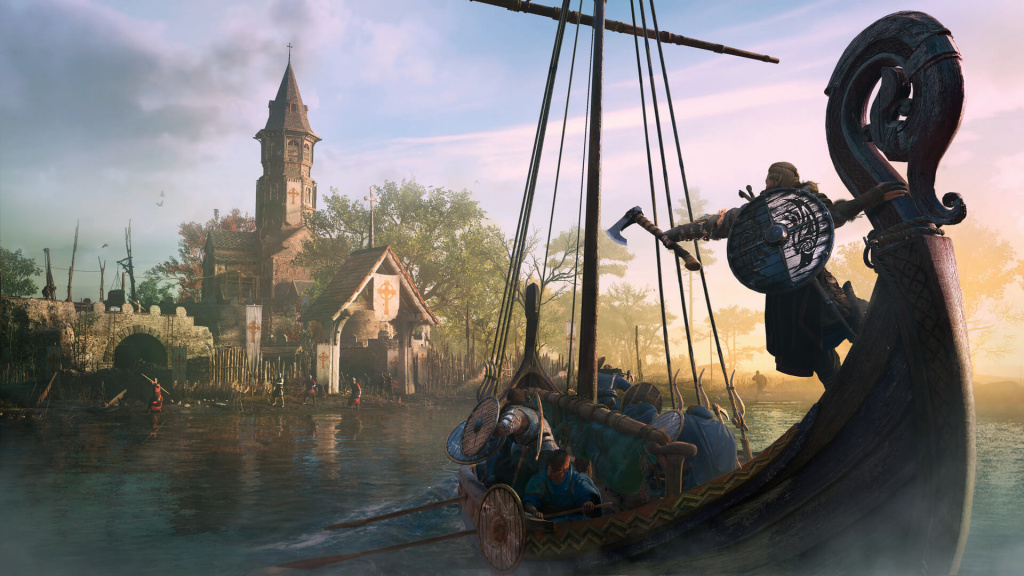 It's time to raid (Picture: Ubisoft) 
The quickest way to acquire raw materials is by completing Raids (the red crossed axes on the map), with the resource always contained inside the big metal crates within buildings.
It's important to keep an eye on the levels of each Raid, shown in the description when highlighted on the world map, as some from the outset (those level 90 or above) will prove especially difficult at the game's outset when you haven't upgraded your gear much. 
Supplies however are obtained throughout the world, with gold dots on the map likely to house an abundance of materials. These are often found by looting smaller chests, pots and boxes. You'll also gain a lot of supplies by completing Raids and being very thorough with your looting. 
Assassin's Creed Valhalla is available on PlayStation 5, PlayStation 4, Xbox Series X, Xbox One, Google Stadia and PC.