The Clash Royale Season 14 patch, which balances units and spells for the next season, is almost here. Supercell has revealed the release date, as well as the patch notes for Clash Royale Season 14. In this update, there are some interesting balance changes. Here's what you need to know.
Clash Royale Season 14 patch release date
While Season 14 officially kicks off on 3rd August at roughly 11:00 UK time, the Clash Royale patch, making several balance changes to the game, will release a bit later. 
The Clash Royale Season 14 patch is set to release on 4th August between 10:00 and 12:00. Supercell generally makes several balance changes at the beginning of each season, and the Clash Royale Season 14 balance patch definitely holds some big ones.
Clash Royale Season 14 balance changes
Arguably the biggest balance change coming with the Clash Royale Season 14 patch is how Supercell nerfed damage-dealing spells against towers.
Across the board, there's a 5% decrease in damage from spells against towers. This is from 35% to 30%.
The spells effected by this nerf are:
Arrows
Giant Snowball
Fireball
Freeze
Lightning
Poison
Rocket
The Log
Zap
While 5% might not seem like a lot, it could very well be the difference between a tower kill to tie things up, or a loss.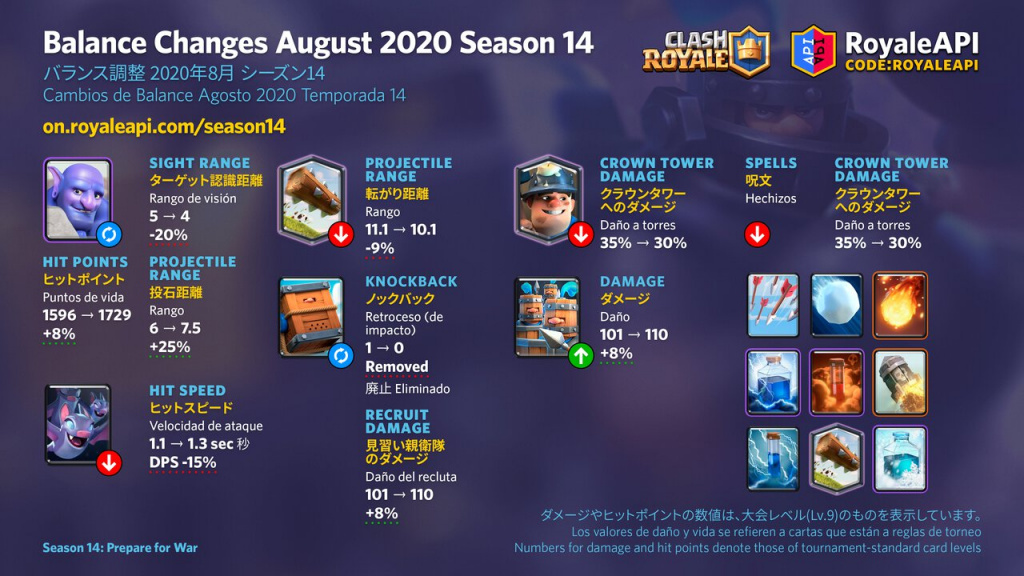 All the balance changes (Picture: Royale API)
Supercell explains the nerf to spells: "Spells have been the most popular and effective cards in the game since time immemorial. While we think it's cool for spells to have really healthy use rates, they provide a bit too much value if used to destroy a Troop next to the opponent's tower.
"This, coupled with the creation of sometimes stale and frustrating 'Spell Cycle' strategies, sees them get a slight reduction to Crown Tower Damage this Season."
Alongside the Clash Royale Season 14 spell nerfs, the Miner card also received a 5% reduction in damage when hitting towers.
Apart from the spell nerfs, there are a few extra balance changes in the Clash Royale Season 14 patch notes. Check them out below.
Bats
Hit speed 1.1sec > 1.3sec (slower Damage Per Second)
The Log
Royal Delivery
Knockback removed
Royal Recruit damage +8% (the same buff for the Royal Recruits card)
Royal Recruits
While you wait for the Clash Royale Season 14 patch to get released, you can always spend some time watching the latest episode of our Lockdown video series.
Lockdown: LEC ends controversial partnership and Marvel's Avengers beta (31.07.2020)