COD Mobile Season 6 has just arrived, and everyone is still trying to figure out what works best in the new meta.
During the first few days of Season 6, we had a lot of fun testing the guns, and one of the best weapons in COD Mobile Season 6 is the good old Chopper, most certainly still the best and most well-rounded LMG.
The weapon offers the punching power of an LMG while also being surprisingly precise and with really low recoil for its class, which is why many pros like to use the Chopper almost like an SMG, especially since the weapon can perform well at any range.
Simply put, it's a strong and reliable weapon that's relatively easy to use, and on top of it - it's fun!
To make sure that you will use this beast to its maximum, check out below the best Chopper class setup in COD Mobile.
Best Chopper gunsmith loadout for COD Mobile Season 6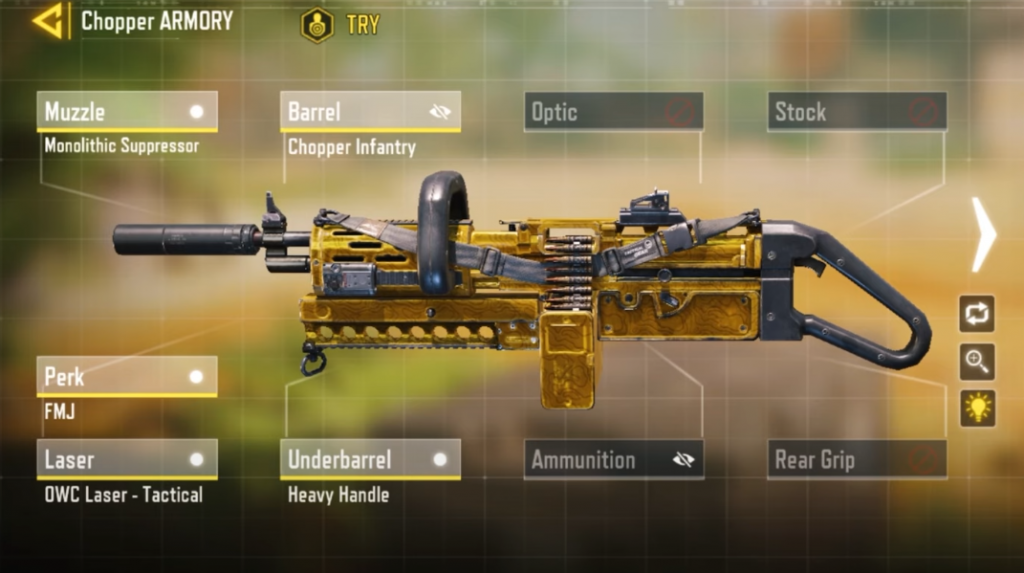 The build with these attachments is the best Chopper loadout in Season 6
Muzzle: Monolithic Suppressor
LMGs are not exactly known for being quiet, and that's why we need the silencer effect, but the real deal here is a 25% damage range boost.
Barrel: Chopper Infantry
It will reduce ADS Bullet Spread, making it even more reliable, while further increasing damage range (+20%) and reducing Horizontal recoil - more power and more control.
Underbarrel: Heavy Handle
The Heavy Handle provides maximum control, as it will reduce the bullet spread across the board, as well as vertical recoil while providing some movement speed.
Laser: OWC Laser - Tactical
It will bring you back some of that lost ADS Time, while additionally reducing ADS Bullet Spread, making it even more laser-focused.
Perk: FMJ
Bullets will penetrate through almost anything like it is a piece of cake, which means there is no place to hide from this monster of a gun.
This build will provide an extremely precise LMG gun with packs a lot of power and is able to perform well at various ranges.
You will be able to shred enemies into pieces from mid-range encounters as well as in close-quarter combat.
Don't forget to check out our dedicated COD Mobile section, featuring all the news, guides, weapon tier lists, loadouts and more.