Activision released one of the most awaited Zombies modes called the Undead Siege in Call of Duty: Mobile Season 6 that became immensely popular among the players. 
Recently, the devs released the latest COD Mobile Season 7 community update in which they talked about all the new maps, modes, events and more that are available in the game or will be arriving in a few days. 
In the comment section of the official post on Reddit, a user asked Activision if they will bring turned, grief, or traditional round-based Zombies modes to COD Mobile in the future.
In response, the devs replied that they have "no plans for a different type of zombies mode at the moment". Instead, they aim to do more for the Undead Siege mode.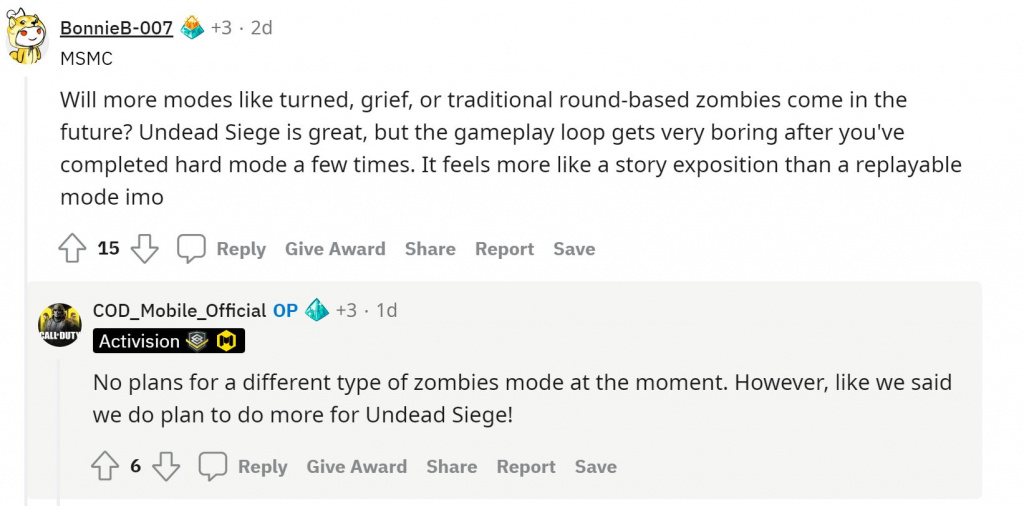 Activision has extended the Undead Siege mode to COD Mobile Season 7 and might look into making it a permanent one based on players' feedback. 
"We've talked about Undead Siege a few times and the limited time aspect of it, and today we are happy to share that it will extend into Season 7!" devs stated in the community update on 21st August. "We are still continually examining the mode and the reception to it to determine how long it should stay and what we can do in the future to make it even better, but for now, it is here with no immediate end date."
Call of Duty: Mobile Season 7 will run for about a month before the anniversary season kicks in. Activision has already confirmed that beta test build will be arriving for COD Mobile Season 8.
Check out our dedicated section filled to the brim with COD: Mobile news, weapon tier lists, guides, leaks, and much more.