Following the release of The Heat update, Activision has planned many events for Call of Duty: Mobile in August. The Aether Hunt is one of the many events that will be a part of the Season 6 patch. However, it will be a bit different from other COD Mobile events as it will feature a whole new set of rules, objectives, missions, and more.
Before we dive into its complete details, it's worth noting that the event information is leaked by a well-known COD Mobile data miner. For those who are interested in the upcoming Aether Hunt event, here's everything you need to know about it, including its start date, objectives, rewards, and more.
COD Mobile Aether Hunt event start date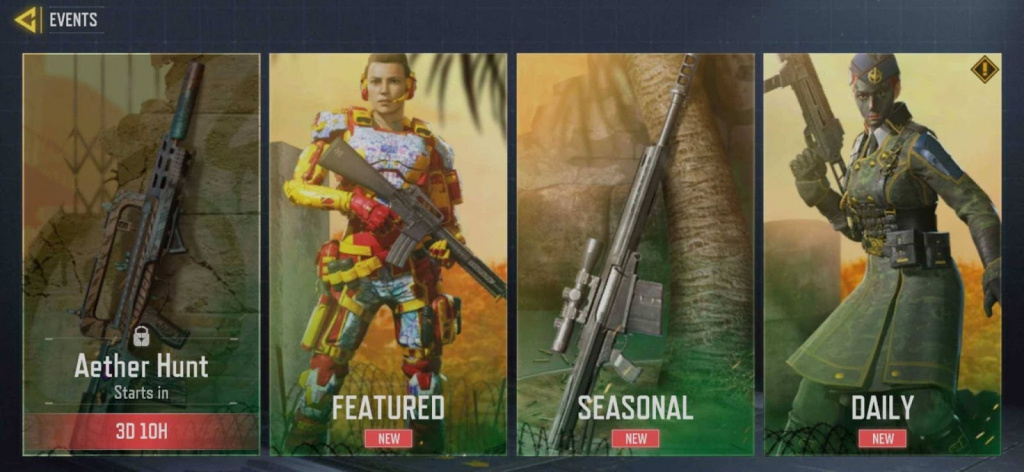 As per the in-game countdown, the Aether Hunt event will begin in Call of Duty: Mobile on 5th August. Furthermore, the developers have created a separate section as well under the events segment for the Aether Hunt event to make it easy for the players to locate it. 
While we don't have official information yet, the event is expected to last for a few weeks, during which players have to complete the daily missions to bag the glorious rewards.
COD Mobile - How to play Aether Hunt event
In the Aether Hunt event, your ultimate goal is to collect aether by exploiting the ores. The ores are further divided into two categories: yellow and purple. The yellow ones are basic and will contain a typical amount of Aether. On the other hand, purple more are more radiated and will offer more Aether.
Players can get the ores by completing event tasks that will be refreshed daily. In addition to this, one can also complete one time challenges to earn those ores. 
Once you have enough ores, simply extract them at the event page and get your rewards. Since Aether is a highly volatile substance, the output from every ore is random though irradiated ores generally yield more. 
If you equip certain weapon sets in your loadout, you will have a bonus buff while extracting aether that eventually improves the output in every extraction.
Call of Duty: Mobile - Aether event missions
The below-listed missions and rewards are according to the leaks that surfaced online. Hence we suggest taking this piece of information with a pinch of salt. Here's the list of missions:
Daily Tasks
Complete three matches in any mode.

Win 5 matches in any mode.

Daily Login for Aether Hunt.

Kill 50 zombies in Undead Siege.

Win 1 match in Undead Siege Hard.

Earn 1 MVP title in MP matches.

Repair Armor 5 times in BR matches.

Achieve one triple kill in MP matches.

Win 1 BR match.
One Time Challenges
Headshot 50 times in any mode.

Rescue teammates ten times in Undead Siege - Hard.

Complete 20 MP ranked matches with a K/D ratio over or equal to 1.
Mainline Tasks
Break 3 Aether Crystals in Undead Siege Hard.

Kill one zombie in Undead Siege - Hard with a Molotov Cocktail.

Drive 100 meters in Undead Siege Hard.

Upgrade a turret to the max level in Undead Siege - Hard.

Kill three zombies with a vehicle in Undead Siege - Hard.
The event rewards are unknown at the moment and will be revealed once the event goes live.
Don't forget to check out our dedicated COD Mobile section, featuring all the news, guides, weapon tier lists, loadouts and more.