Call of Duty: Mobile is loaded with a ton of different medals that can be earned by completing specific tasks in the battle royale and multiplayer mode. While these medals are usually used to exhibit achievements, sometimes they turn out to be pretty helpful in completing events and challenges. And that is the case with the upcoming Machete Just Leaving challenge, in which players are required to earn several Bloodthirsty medals in the second stage.
Since the Machete challenge features the sequential task completion system, COD: Mobile players can't skip the "Earn 15 Bloodthirsty Medals in multiplayer matches" mission. Even though it's pretty easy to complete it, many players are baffled about the process to earn Bloodthirsty medals. Therefore, here's a comprehensive guide for the same.
COD: Mobile - how to earn Bloodthirsty medal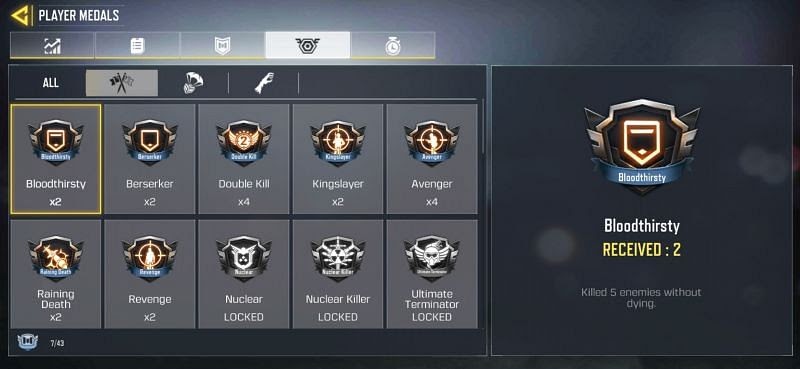 In COD: Mobile, the Bloodthirsty medal can be earned by killing five (5) enemies without dying. Since it falls under the multiplayer section, players can get it by completing this objective in multiplayer mode only. 
Now in order to complete this task for Machete Just Leaving challenge, one will have to start a multiplayer match in Call of Duty: Mobile and complete the objective mentioned above 15 times to accomplish the task. 
However, earning the Bloodthirsty medal 15 times is quite a lengthy process and may prove hard for many players, especially for newcomers in the game. Hence here are some tips and tricks that players can use to complete the task in a short space of time:
Choose your weapons wisely
Use the drones available in Multiplayer mode to scout nearby enemies
Use scorestreaks to have an upper hand
Crouch and slide to your advantage
Keep moving around and reposition yourself whenever possible
So there you have it, an essential guide for the COD Mobile's Bloodthirsty medal. Meanwhile, also look at this dedicated guide to get the Medic medal in COD Mobile.
Don't forget to check out our dedicated COD Mobile section, featuring all the news, guides, weapon tier lists, loadouts and more.