COD Mobile Season 6 has been released and has brought brand new content and features to the game, including new maps, modes, events and more. In addition to this, a brand new battle pass has also been introduced along with Ranked Series 3.
Among these, Alcatraz Anarchy is the latest featured event added to the game that is offering Battery - Mosaic, Parachute - Mosaic, and more for free to all the players who complete a few simple tasks. There are a total of ten missions in this event, and one of them can be completed by earning Life Saver Medal and here's how you can get it.
COD Mobile - How to unlock Life Saver Medal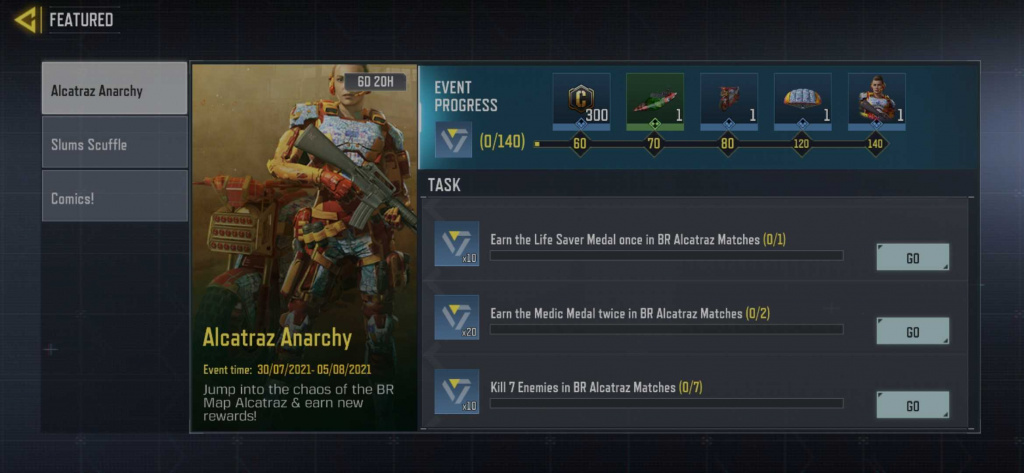 In COD Mobile, the Life Saver Medal can be earned by reviving teammates four or more times (excluding Warfare mode). Now, in order to complete this task in the Alcatraz Anarchy event, you will have to do play on the Alcatraz map.
However, you should keep in mind that in order to complete the Life Saver Medal mission and progress in the event, you will have to complete all the previous tasks. In addition to this, the Alcatraz Anarchy event will be available till 5th August, so make sure that you complete all the missions before that to unlock all the free goodies.
Check out our dedicated COD Mobile section to stay updated with the latest news, guides, leaks, and much more.