Though it may often be left out of the esports discussion, Africa is no stranger to the topic. South Africa has been home to one of the if not the most isolated Counter-Strike scenes in the world. Despite the remoteness, it's the home of a prodigy in the making, a diamond in the rough.
Aran "Sonic" Groesbeek.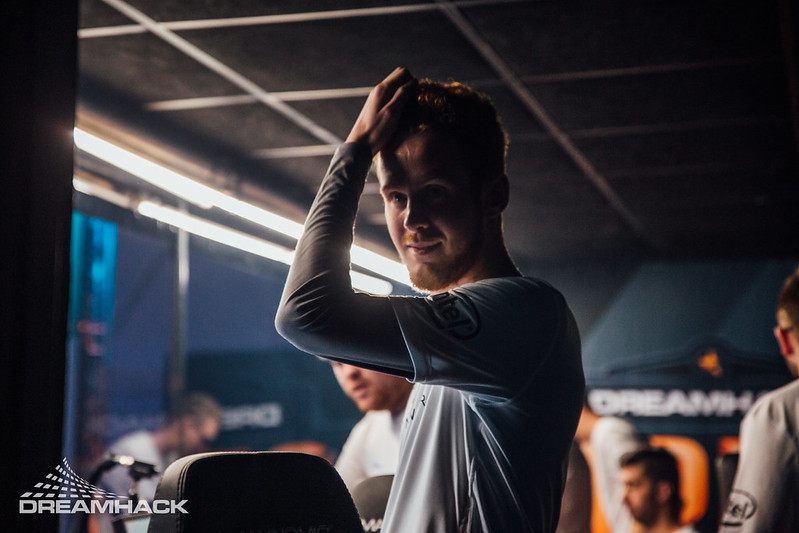 (Credit: Adela Sznajder/DreamHack)
Sonic picked up his first Counter-Strike at the age of seven in 2006 in the form of Source. Though his first experience with esports was with competitive Team Fortress, Groesbeek began his CS:GO career with nAv Gaming and eNergy eSports in 2014, quickly making a name for himself in the local community.
However, it wasn't until he joined Bravado Gaming in 2015 that the young player really showed just how far ahead he was of the competition. Sonic found immediate success upon joining Bravado, stomping any opposition that stood in his way as he helped the team establish an era of domestic dominance, the likes of which South Africa has not seen since, winning the first five seasons of ESEA: Open Division-South Africa, the first ESL African Championship and a dozen other domestic LAN titles.
To say Sonic was head and shoulders above the opposition would be an understatement as he'd won his first 21 matches in a row and averaged a 1.36 HLTV rating during said run.
The only team to challenge Bravado's reign was the aforementioned eNergy, even though the odds were often stacked in the former's favor. Despite this, eNergy managed to contest some titles over the years and a rivalry slowly formed between the two squads. The main benefit from their matchups was the "iron sharpens iron" effect which is very crucial to isolated scenes like South Africa as teams elevate each other's levels of play.
At the beginning of 2018, however, Bravado announced huge changes for its CS:GO team: Project Destiny. The plan was to move the roster to North America, where the players could compete and showcase the talents of South Africa, in the hopes of attracting new sponsors.
It goes without saying that the move allowed the roster to reach new heights a lot quicker with possibilities to practice against stronger opposition and attempt to qualify for more events than before. Even though the very loose and aggressive brand of NA CS took some getting used to, Bravado eventually adapted and did quite well for themselves. They managed to win Season 28 of MDL, DreamHack Mumbai Invitational 2018 and had a respectable second place finish at DreamHack Winter 2018.
The beginning of 2019, however, was plagued with problems for Sonic and co. as Bravado announced that it was unable to continue Project Destiny due to lack of funding, despite trying to run a fundraising campaign.
Rather than moving back to South Africa and losing all the progress they had accomplished, the squad opted to sign with Denial Esports, but the stint with the North American organisation was short lived as it had failed to pay the players on multiple occasions, among other contract breaches.
Though the team then found a new home in South African organisation ATK, Sonic was quickly picked up by NA powerhouse Team Envy, who was looking to replace it's AWPer Josh "jdm64" Marzano. After spending three months with the boys in blue, Aran's time was briefer than expected as his vision for the future differed to that of the rest of the team.
Sonic decided to rejoin ATK and reunite with his fellow countrymen Johnny "JT" Theodosiou and Tiaan "T.c" Coertzen in a new South African and American roster, this time joined by former Team Singularity members Ian "motm" Hardy, Ricky "floppy" Kemery and Josh "oSee" Ohm.
This new roster was steadily improving and even managed to sneak itself to #18 on the HLTV World Ranking after a notable 7-8th place finish at the ESL Pro League Season 10 Finals in December.
After a rough year of roster instability and having just sold its core of players to Gen.G Esports, Cloud9 was looking to sign a new, stable and upcoming roster, one that matched the exact description of the ATK lineup. The signing, which was finally announced at the beginning of 2020, will prove to be very beneficial for the young and growing roster as C9 can provide all the resources the team needs and has already begun to do so with the addition of assistant coach Joshua "m1cks" Micks.
Playstyle
Sonic is an incredibly talented player and can take on nearly any challenge thrown at him.
Having been a primary AWPer in the past, Aran is now tasked with picking up the scoped weapon on a secondary basis, a task he is more than capable of doing as he's amassed over 26% of his career kills with the gun. Sonic is also a very capable rifler equipped with very precise crosshair placement and fluid movement.
He's flashy at times, but he mostly just hits his shots and makes calculated decisions. To classify him as simply a hybrid player just wouldn't do him justice as he's really more of a jack of all trades, able to fill in any gaps his team needs.
Sonic mostly anchors on CT sides, sometimes with an AWP, often times with his trusty M4A4. When it comes to T sides, he tends to go for basic map control with a rifle, not necessarily lurking or entry fragging but rather trying to dwindle down the utility on the opposing side and trading engagements once his team commits to a site. His gamesense and experience, however, make him a really deadly foe in clutch situations, especially when combined with his sharp crosshair placement.
He's a good player to look up to when trying to improve as he's well-rounded in so many different spheres of the game.
What's next?
With DreamHack Leipzig 2020, IEM Katowice 2020 and the rumored "B Site" League coming up, Sonic has a busy schedule ahead of him. That being said, he's backed by a huge and iconic organisation and is part of a very promising lineup of players, so tournament wins are a definite possibility for the South African.
He has the skill set required to become a world-class player and 2020 will be a huge year for him. With a lot of eyes currently set on floppy, Sonic will be looking to turn heads his way as well as pop heads on the server in the months to come.
He's a player that, given enough time at a tier one level, could easily reach the levels of Timothy "autimatic" Ta and Keith "NAF" Markovic.