According to a report from DBLTAP, multiple sources close to the team have said that Xyp9x has not been practising with the team recently, with coach Danny "zonic" Sørensen playing in his absence.
The news follows only a week after Astralis' in-game leader Lukas "Gla1ve" Rossander, announced he was stepping down from the roster for three months reporting stress and burnout.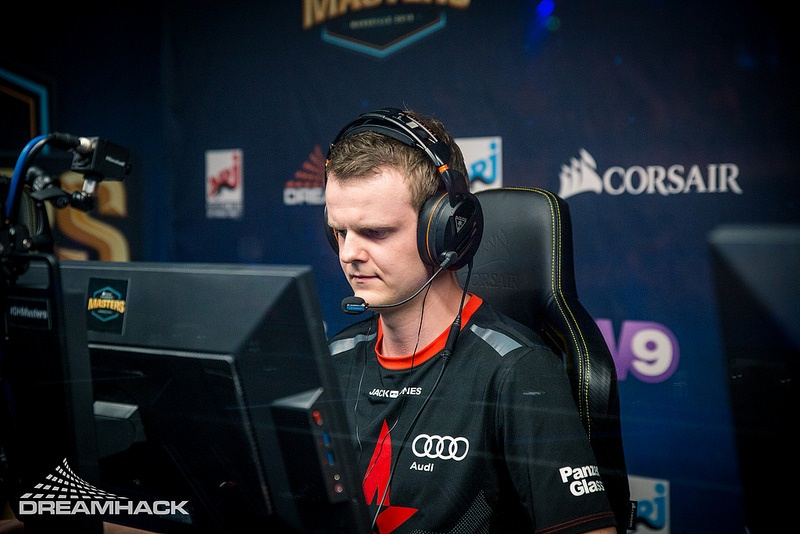 Yxp9x has been a fixture of the Astralis roster since 2016. (Picture: DreamHack)
Jarek "DeKay" Lewis of DBLTAP reports that the reasons for Xyp9x's departure are unknown and that it is likely Højsleth will miss the BLAST Spring Showdown.
The Danes had signed Jakob "JUGi" Hansen earlier this month to fill in for Gla1ve, with his IGL responsibilities being passed on to Emil "Magisk" Reif.
In their first few games without Gla1ve, the team managed to finish 2-1 at the DreamHack Masters Spring group stage, beating North and Heroic respectively, but falling short against G2 Esports.
The next stage of the tournament will continue in two weeks, but in the meantime, Astralis will have to make preparations for the BLAST Spring Showdown. 
Astralis have reportedly attempted to sign Jonas "Lekr0" Olofsson of Ninjas in Pyjamas and have signed Patrick "es3tag" Hansen of Heroic, in a bid to replace the clutch minister.
Astralis and NIP failed to come to an agreement on a transfer fee for Lekr0, and whilst es3tag has agreed to join, Astralis must wait until his contract expires at the end of June.
The next match for Astralis is scheduled for June 1, and if the organisation cannot acquire a replacement within the time frame, we might see coach zonic stepping in to fill this void.