It was a weekend to remember for Astralis fans, as the Counter-Strike: Global Offensive division triumphed during the European edition of season 12 of the ESL Pro League. The final series against Natus Vincere was certainly one of the most exciting matches to watch in the last couple of weeks. The Danes came back from a 0-2 map deficit, to complete the reverse sweep and ultimately win 3-2.
The victorious five mostly consisted mainly of the players who won 3 Majors straight, with one exception - Patrick "es3tag" Hansen, who was playing in the place of "clutch minister", Andreas "Xyp9x" Højsleth.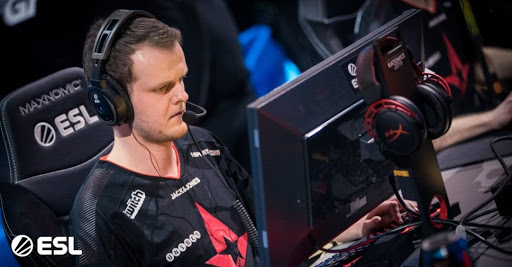 (Credit: ESL/Helena Kristiansson)
The 25-year-old has remained inactive since he announced his departure from the active roster due to stress and burnout in May. But now, as he announced on Twitter, Xyp9x is back. 
I am back 😊

— Andreas Højsleth (@Xyp9x) October 5, 2020
This decision will definitely cause a headache for the team's coach, Danny "zonic" Sørensen's, as Astralis now boast a 7-person roster.
Many speculate that Lucas "Bubzkji" Andersen won't be a part of it for a long time, since the young talent hasn't played an official game for almost a month now. Still, having a squad consisting of six people, which just won one of the most important tournaments in the region, is bound to prompt some tough decisions. 
Luckily for zonic, he still has some time until he has to make those decisions. The next tournament that the team will take part in is the DreamHack Open Fall, which starts on 15th October 15th. As we know from the team's captain, Lukas "gla1ve" Rossander Twitter, those matches will be played with the championship roster, with es3tag in its' ranks. 
Welcome back my friend @Xyp9x ❤️

Due to valve rules about the RMR the first tournament with the clutchKING will be at blast in November 🙏

— Lukas Rossander (@gla1ve_csgo) October 5, 2020
That means that we will have to wait for the return of the clutch minister until 29th October, as the aforementioned BLAST Premier Fall Series starts on that day. Nevertheless, Astralis' fans can be certain that the team will show up well-prepared, as members of the roster made clear, they have already started to practice with Xyp9x. 
So excited to see @Xyp9x back in practice again. Looking forward to go into tournaments with the clutch master again.

— Nicolai Reedtz (@dev1ce) October 5, 2020
It is still uncertain as to how many games Højsleth will play in. Zonic is free to rotate his players as much as he wants. Yet, CS:GO fans still should be excited for the return of one of the greats.