It's not often you see such an incredible moment of brilliance that you need to rewatch it a few times just to appreciate every single second. In CS:GO, a clutch is where a player wins a 1vX situation, and Heroic's Casper "cadiaN" Møller pulled off one of the best clutches in recent memory to close out ESL Pro League Season 13 for his team.
cadiaN's CS:GO clutch against Gambit
In the grand finals of ESL Pro League Season 13 with a prize pool of 750,000 USD for the tournament, Danish organization Heroic faced off against Gambit.
It was one of the best grand finals we've seen in a while, with two maps going into overtime, and the best-of-five going the distance into the fifth and final map.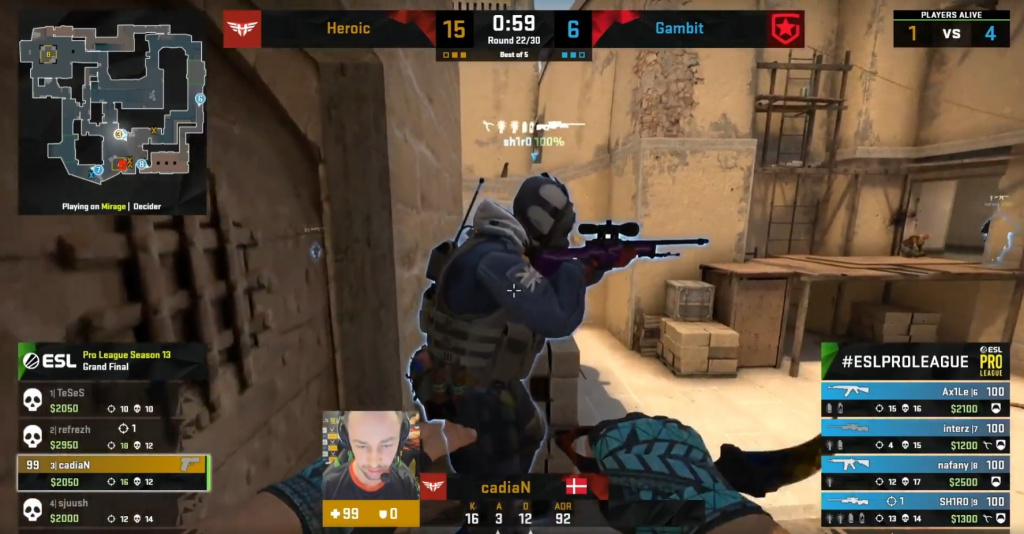 (Picture: ESL)
On the final map, Mirage, Heroic took a rather commanding lead (15-6). However, even one round loss could have seen Gambit start mounting a comeback.
To close out ESL Pro League Season 13, Heroic's Casper "cadiaN" Møller. Heroic was on an economy round, which means they were playing with pistols and at a clear firepower disadvantage on the round. 
After some quick kills, Gambit was up 4vs1, and cadiaN had to clutch on the A Bombsite of Mirage. Instead of just fighting and taking the round loss, cadiaN snuck up and took out Gambit's AWPer, sh1ro, with a knife kill. From this point, cadiaN picked up sh1ro's AWP and killed all three remaining Gambit players, making it look easy in the process.
In the clip above, cadiaN explained he wasn't even thinking about a round win and just wanted to build some economy for the next round. However, after killing sh1ro and the second player, he knew he had it in the bag.
ESL, as well as some fans, are even calling for cadiaN's clutch to be immortalized on Mirage.
This is arguably the best CS:GO clutch in the past few years, and when you consider this move closed out the ESL Pro League Season 13, with Heroic winning 175,000 USD and a spot at the BLAST Premier Global Finals, the clutch had a whole lot of impact.
While some might argue Heroic had the map and match in the bag already, it is important to note Heroic's economy was poor at this stage, and Gambit could have definitely strung some round together, if not for cadiaN's incredible intervention.
Header image via ESL.