Not everyone is happy about the new CS:GO Trusted Mode, which Valve launched in the early hours of 9th July. This new anti-cheat feature blocks incompatible third-party files from interacting with the game, but it also causes CS:GO performance issues for some. Valve has quickly addressed these performance issues in a new update.
New CS:GO update and Trusted Launch
It looks like some players have already found a workaround for Trusted Mode, avoiding the CS:GO Trusted Launch by running the game without Steam. With the new CS:GO update, Valve has stepped in, removing the ability to run the latest version of CS:GO outside of Steam. 
While the CS:GO Trusted Launch and Mode are meant to fight cheaters, some legitimate players have run into issues. First up, some legitimate apps don't seem to work, such as mouse accelerators and even video recording software.
We have updated Trusted launch to address performance issues and display an error when launching outside of Steam. Full info in today's Release Notes: https://t.co/7qKCfGgw1h

— CS:GO (@CSGO) July 9, 2020
It is a bit of a technical mess, and even when your third-party app is from a trusted source, you might still have issues. This is why Valve has addressed performance issues in CS:GO with the latest update. 
This is more than likely just the first in a long line of updates to CS:GO to fix teething issues with the new Trusted Mode and Trusted Launch. 
For those who want nothing to do with the new anti-cheat feature, you can follow the five steps below to disable Trusted Mode / Launch in CS:GO.
Launch Steam.
Right-click on CS:GO and select properties.
In the "general" tab, click on "set Launch options".
Type in -untrusted in the text box (see image below).
Run CS:GO with Trusted Mode disabled.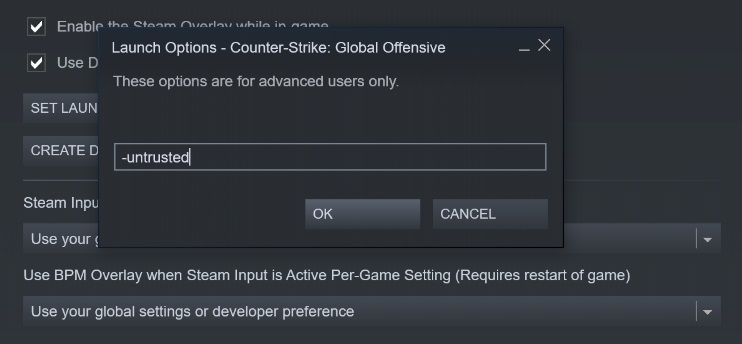 What your CS:GO launch options should look like to disable Trusted Mode. (Picture: Valve)
Keep in mind you won't be able to matchmake if you disable it, and you should probably check out our full article on the matter.