A new era is about to begin within the competitive scene of Counter-Strike: Global Offensive, as women worldwide will have the opportunity to compete for lucrative prizes in a new all-female tournament circuit.
As part of their #GGFORALL initiative, ESL released all the details about Impact, a competition exclusively aimed at female players. ESL Impact is expected to start in March 2022 and distribute up to $500,000 across different tournaments.
"This is an important first step towards a more diverse CS:GO ecosystem as we seek to attract more women to the game through a safe environment to compete," ESL said in their press release.
ESL Impact CS:GO - Format and Schedule
ESL Impact will comprise three different tournaments with two league seasons each for the North American, South American and European regions. Each tournament will feature two invited teams from ESL for its inaugural season, along with a further six to be determined via open qualifiers.
The eight teams per region will be divided into two groups of four that will play in a round-robin format, with each team playing each other twice to create more frequent game days.
Once the regular season ends, the winning team from group A will face the second-placed team from group B and vice versa, for one of two places in the Global Finals. At the same time, the bottom teams from each group will be relegated by the top teams from the following open qualifiers.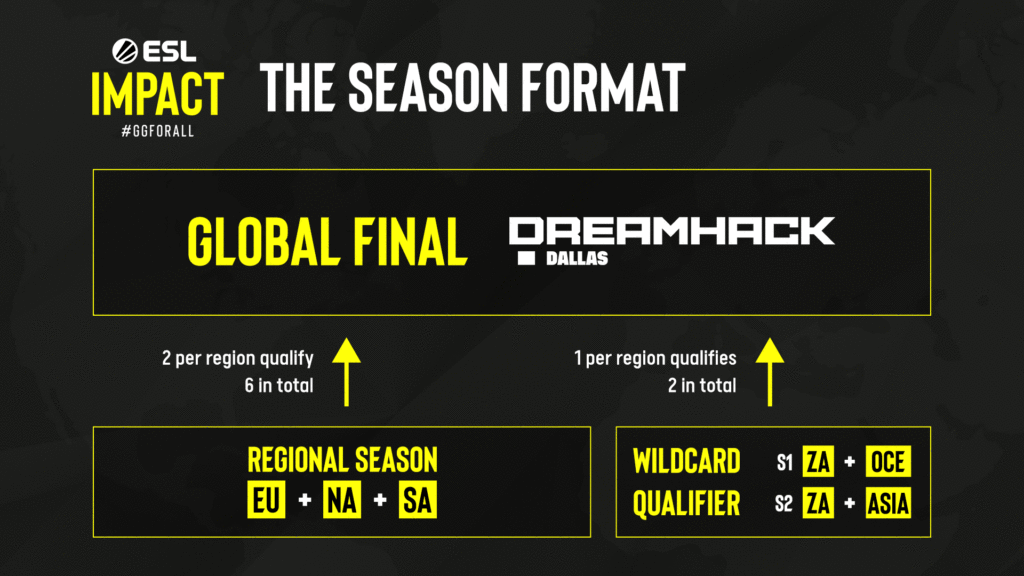 The ESL Impact League Season One Global Finals will take place at DreamHack Dallas from 3rd to 5th June 2022, welcoming the top six teams from all participating regions. In addition, two wild card teams will be added from the open qualifiers in South Africa and Asia or Oceania.
How to register for ESL Impact CS:GO?
Qualifiers for the ESL Impact League will begin on 8th March, and interested players can now register for North American, South American and European tournaments.
Furthermore, ESL will broadcast all matches of the main tournaments every Thursday and Friday across the ESL CS:GO Twitch channels.
Featured image courtesy of ESL.