King of Nordic is an important part of Europe's Counter-Strike ecosystem, with many now-iconic players in the region, such as Fredrik "REZ" Sterner, Aleksi "Aleksib" Virolainen and Emil "Magisk" Reif, getting their start in the league. It's been a great way for debuting players to get experience and exposure.
Fredrik "roeJ" Jørgensen is no exception to that.
Humble beginnings
He kicked off his career with Danish organisation Odense Esport in mid-2017, playing in KoN, Dust2.dk Masters and other small online cups. The team placed averagely in tournaments, but roeJ had shown to be a very promising and explosive rifler despite struggling to find consistency in his playstyle.
By March 2018, Fredrik had left Odense Esport with a 1.12 average HLTV rating and had picked up wins at Thy Party #9 and Swnx Ligaen Season 2 with the lineup. He drifted around the lower echelons of the Danish scene for a while, playing with a variety of mix teams and managed to stabilise his individual results.
Six months after leaving Odense, roeJ finally found a new home in the newly-rebranded Copenhagen Flames. The roster was composed of a variety of promising talents such as AWPer Asger "farlig" Jensen and rifler Sebastian "Basso" Aagaard and saw roeJ make the leap from playing against lesser-known Danish teams to facing tier two and three European squads.
The Flames may not have set anyone's world on fire, as they never managed to qualify for a large event, but the lineup participated in a large number of online cups, gaining invaluable experience and winning a respectable 50.3% of their matches. The players showed their potential and the team even peaked at #57 in the HLTV world rankings, solidifying them as a solid tier three squad with tier two upset capacity.
As for roeJ, he had really stepped up to the plate against this stronger opposition, averaging a 1.19 HLTV rating.
At the end of August 2019, Tricked Esport was a member down as Johannes "b0RUP" Borup had left for Heroic and an opportunity had presented itself for roeJ. Though CPH Flames showed promise, Tricked was a clear upgrade for the Dane and would allow him to take his career to the next level. Frederik "acoR" Gyldstrand, Rasmus "sjuush" Beck and Lucas "Bubzkji" Andersen are all young, talented and promising players with a fair amount of experience between them.
Perhaps the biggest factor in this team's potential, however, is its leader, Nicolai "HUNDEN" Petersen. An old guard of Danish Counter-Strike, HUNDEN has a long history of leading and developing talent.
Upon joining Tricked, roeJ survived a baptism of fire unburnt, with the UCC Summer Smash and V4 Future Sports Festival Budapest 2019 trophies in hand and a respectable second-place finish DreamHack Open Winter 2019.
Ahead of DreamHack Open Sevilla 2019 in December, MAD Lions, who had just merged with Splyce, announced its acquisition of the Tricked roster and the lineup managed to place 3-4th under the new banner. Their recent success began with and can largely be attributed to roeJ's addition, as he's risen to the occasion and boasted a 1.15 average HLTV rating since joining.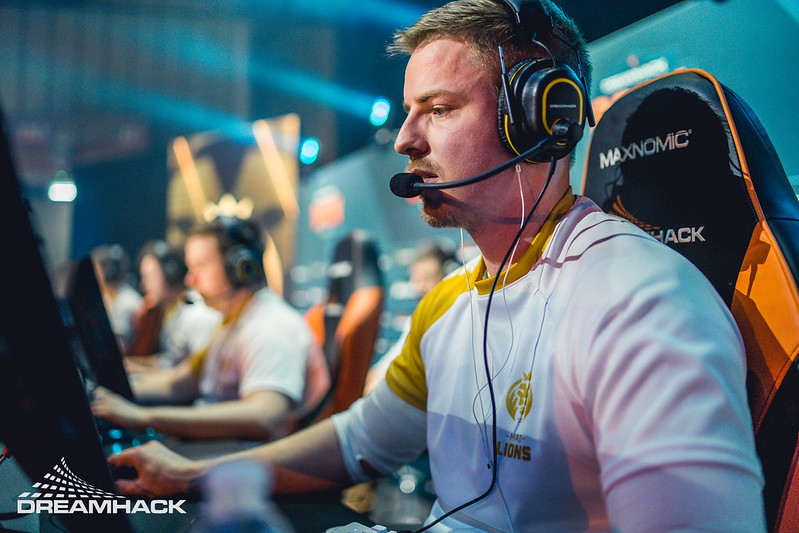 (Credit: Joao Ferreira / DreamHack)
Playstyle at a glance
With the capacity to put up crazy numbers, roeJ is someone to watch out for on the server.
On the T side, he's an interesting hybrid between an entry fragger and a lurker, sometimes leading the charge to the bombsite, other times playing alone and applying pressure in the enemy camp's backlines, cutting off rotations and being a disruptive force. On the CT side, he's the first point of contact and you'll often find him in very upfront positions, shutting down his foes when they get too brash.
Perhaps due to his older age, he's remarkably composed and possesses good game sense, despite his seemingly unruly playstyle. Though his teammate, sjuush, is usually the dedicated entry fragger, roeJ has built up an impressive opening kill ratio of 1.19 since joining this lineup.
He's someone who is aware of his strengths and weaknesses, usually not being as confident in late-round situations, so he puts all his eggs in one basket and focuses on early-round aggression to throw off the opposing team. In many ways, his playstyle resembles that of Issa "ISSAA" Murad, in that they both excel at gaining map control and dictating the pace of the engagements. It's also worth noting that he's very much a rifler as, at the time of writing, he's only amassed 28 sniper kills throughout his entire career.
One for the future
With DreamHack Open Leipzig 2020, ICE Challenge 2020 and IEM Katowice 2020 coming up, the Dane is exactly where he needs to be. He's on a roster full of promising players, led by one of Denmark's most experienced IGLs (GODHUNDEN, no less), backed by a huge organisation and has plenty of international tournaments coming up. He's always been able to match the level of play his opponents throw at him and further international exposure will only see him grow stronger.
His skill floor should be that of the aforementioned ISSAA while his ceiling could be that of the Jordanian's new OG teammate, Valdemar "valde" Bjørn Vangså. The future looks promising for Jørgensen and the only way to go from here is up, especially after such a strong end to 2019.
Given enough time, roeJ could even replace one of the greats on Astralis, with roles more-closely resembling that of the legendary Peter "dupreeh" Rasmussen. He has the maturity, he has the skill, all he needs is the experience which he is currently obtaining to surpass expectations and establish himself as not just a talent to watch, but a top prospect to sign in the future.