Fans of CS:GO esports have been waiting a very, very long time for a return to LAN events. IEM Cologne 2021 hosted by ESL, is the first big event to return to a LAN environment and has some strict COVID protocols in place. Unfortunately, with more than 120 players from over 20 countries in attendance, one player, from the Danish squad Heroic, has now tested positive for COVID-19. Here's what we know so far about the positive COVID case on a team participating in IEM Cologne 2021.
Please note: The player tested positive as part of IEM Cologne 2021's standard testing required to exit quarantine. 
IEM Cologne 2021 - COVID case in Herioc camp
The play-in stage of IEM Cologne 2021 completes on 7th July, and Heroic did not participate since they already qualified for the main event. Ahead of the main event group stage starting on 8th July, it was announced via the official IEM Twitter account that one player has tested positive for COVID-19. 
The tournament organizer did not reveal the player's name but did indicate that the player had no close contact with any ESL staff or other players. The player was, however, in contact with his fellow teammates, with whom they travelled to Germany in order to attend IEM Cologne 2021.
The good news is that the player is "in good condition" and Heroic fans will be happy to know the team will still compete from their hotel rooms in quarantine. 
Heroic took to Twitter moments after the announcement from IEM to share their own statement on the matter: "One of our players has tested positive for COVID as part of ESL's standard testing routines. We would appreciate it if the community and our fans would respect our players' privacy in this situation, so they can focus on the tournament."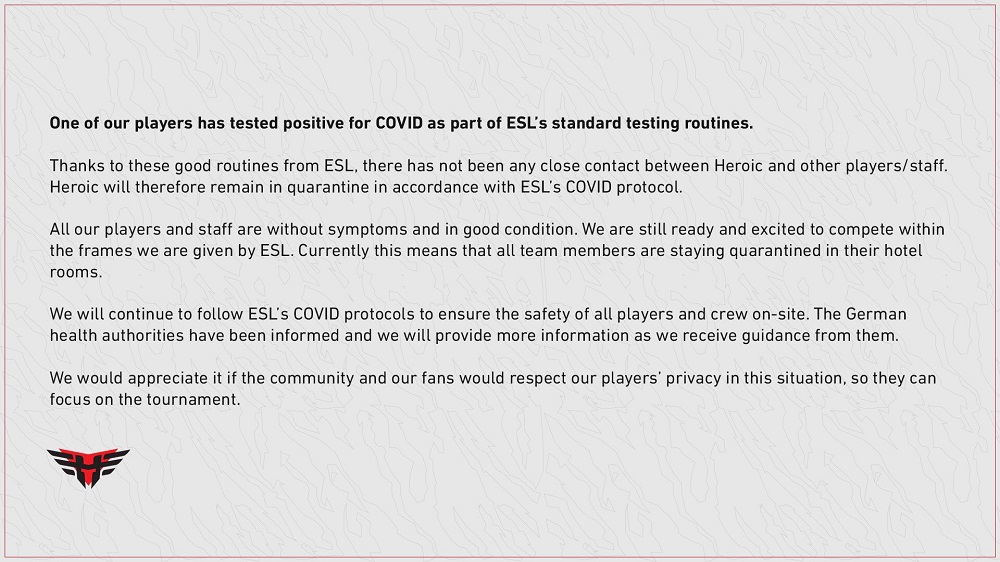 German health authorities have been informed of the positive COVID-19 test. The tournament organizer will provide CS:GO esports fans with updates as they become available.
We hope all players remain safe and healthy. Our thoughts go out to Heroic and their players, as this is a difficult situation to say the least.
At the time of writing, it appears Heroic will still compete from their hotel rooms in quarantine. Their first match of IEM Cologne 2021 is scheduled to take place on Friday, 9th July at 13:30 CET.
Don't forget to check out our dedicated CS:GO section for news, esports, patch notes and much more.
Header image via IEM/ESL.