Every so often, Valve releases a
CS:GO
beta depot update for players to test out, before pushing it to the live servers. For those who love testing stuff our before others, for example, a new anti-cheat system or performance enhancements, we've got you covered. Here's how you can access the CS:GO beta depot.
CS:GO beta depot - How to access
To access the CS:GO beta depot, and test out some unreleased updates from Valve, you need to follow several basic steps. Keep in mind you will also need to download the latest beta depot update, and you won't be able to play against those on live servers.
To access the CS:GO beta depot, follow the steps below:
Open the Steam client and navigate to your LIBRARY.
Right click on CS:GO and select 'Properties'.
Click on the BETAS tab.
Select the beta you would like to opt into through the drop down box.
You will be prompted to restart your client. After restarting, launch CS:GO to play the game with its Beta changes.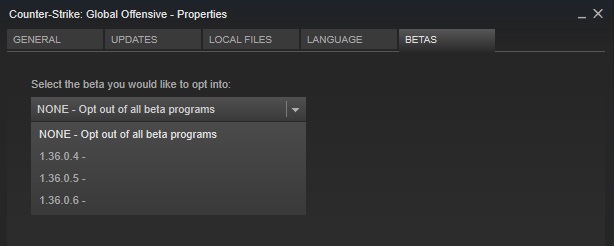 CS:GO beta depot options (Picture: Valve)
As you can see, accessing the CS:GO beta depot and testing out some unreleased updates is quite simple. When you are done testing an update and want to go back to the live version, you will need to select "NONE" in the drop-down box of the BETAS tab.
Then, you will be required to restart your client, and re-download files for the current live version of the game.
While you wait for Valve to release the next CS:GO Beta Depot update, spend some time watching the latest episode of our Crossfeed video series.
Ghost Of Tsushima & Mirynth Find A Bug In The Last Of Us Part 2 (29.06.2020)