Flashpoint Season 3 is once again in the eye of the hurricane, as during the confrontation between Ninjas in Pajamas and Anonymo Esports some of the members of the Swedish squad reported through their social channels certain problems that could have affected their performance in today's match.
This occurred during the day of Round 1 of the Upper Bracket of the tournament on 14th May, after Nicolai "dev1ce" Reedtz, the most recent signing of the NiP squad, highlighted that for his opening game within the tournament organized by FACEIT, they were forced to play with between 30% and 40% packet loss.
For those who do not know about this, packet loss affects resources such as sound, actions, and movements, making them seem delayed when playing a match, which in a game of such concentration and accuracy as CS:GO ends up being harmful.
After the end of the clash between both teams, where Anonymo Esports ended up taking the victory with a 2-1 sweep, NiP decided to release a statement announcing its part regarding the situation of the tournament, emphasizing the mismanagement the organizers have had, in addition to emphasizing the long wait for an answer suffered by both teams after the incident was reported.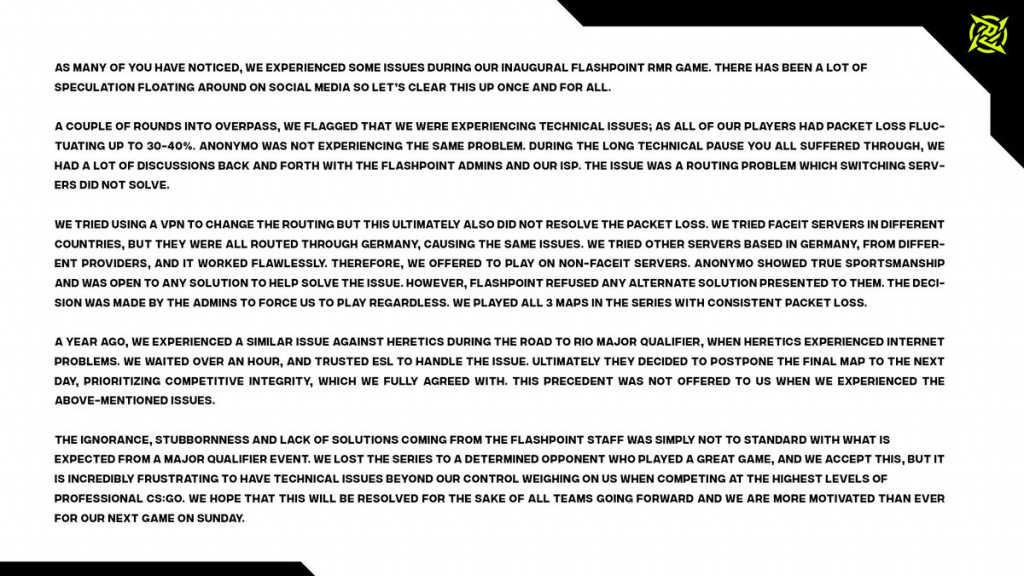 Likewise, they mention they tried everything necessary up to the point of using an external VPN and even quick modifications in their network infrastructure to facilitate a solution, which in the end could not solve anything so the team had to play "with consistent packet loss".
And while the Swedish team claimed that Anonymo Esports had a great competitive spirit, agreeing to play outside of the FACEIT servers where these problems did not occur, their recent comments have left them a little badly off by making fun of this situation after their victory on Twitter.
So far, both the Flashpoint account on Twitter and the organizers have not responded in this regard, while the Ninjas in Pajamas have been relegated to fighting for their survival against HYENAS this 16th May, and Anonymo will face FPX on 20th May.