ESL Pro League Season 11 was initially supposed to be an offline event from the get-go, but due to COVID-19 concerns, it was canceled and moved online.
Last night, second-round matches were played, and BIG managed to beat NaVi, placing the Russo-Ukrainian team at the bottom of their group. But the real highlight of the evening was NaVi's phenomenal s1mple. And you would understand why if you just look at the stats.
(source: hltv.org)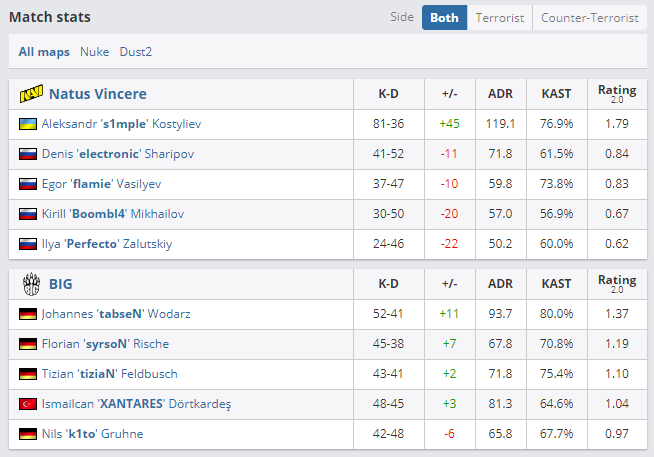 With +45 KD score and 1.79 overall ratings, this is probably the highest score a player has achieved in a 0-2 series. At least when it comes to professional CS:GO scene at the highest level of play. Some fans mentioned Kenny's 50 kill OT loss to Fnatic with a 1.59 rating as the closest score to this.
People already started joking that "someone should check his PC" and that he's "abusing glitches" since the games were played online, but that's, of course, a joke. 
Though, surely there are some who don't like him and would like to spread that kind of rumors, always pointing on his history with cheating and ban evasion from 2014, which had him banned for two years from all ESL tournaments. That's all far in the past now, and for years s1mple is one of the best CS:GO players in the world, if not the best.
And surely the most fun to watch! Although, he still needs to mature and take more responsibility for his actions. Hopefully, that will come with the years.