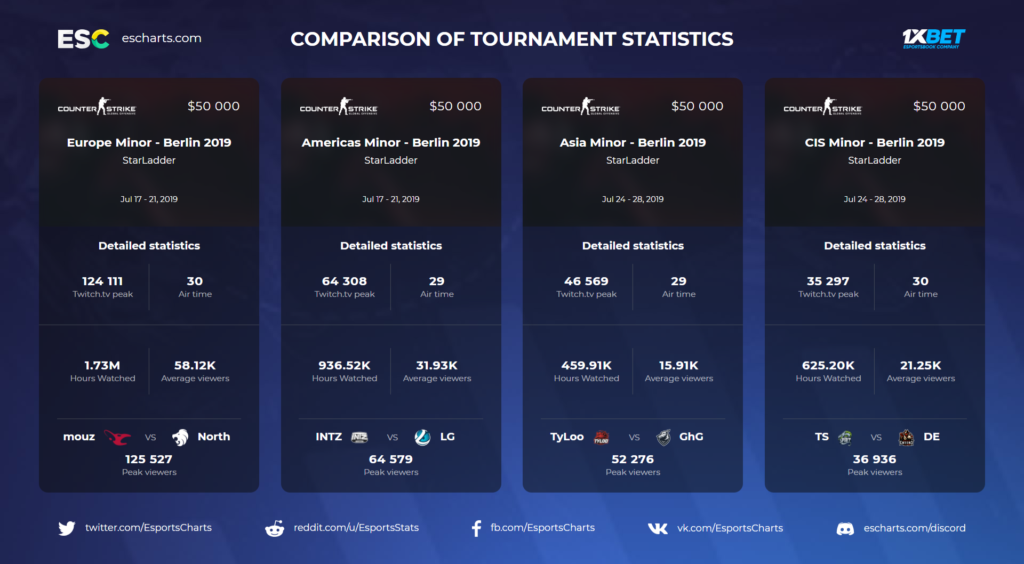 Looking across the four separate regional Minors, not including the Minor Play-In, there is a clear gap between EU and the other regions. With 58.12k average viewers and 125,527 peak viewers, this is close to double what the NA Minor had, nearly triple the Asia and CIS Minors.
The Europe Minor not only had the highest ranked CSGO teams and multiple fan favourites like mousesports and Fnatic, but came after a full month of top tier events as ESL One Cologne and IEM Chicago had preceded the Minor cycle. Scheduling put the two regions with the 'better' teams first, leaving the Asia and CIS Minors and possible viewership to trail off.
For NA and Asia, the teams that were set to make it through did so without too much trouble. NRG and FURIA were the two teams with the most experience in the Americas Minor. TYLOO and Grayhound were also favourites for Asia for similar reasons. While Renegades made Legends and thus opened the field up for Asian teams, none rose to the challenge.
The Minor Third Place Play-in saw three teams qualify due to Cloud9 forfeiting their slot in the New Challenger Stage after roster changes. While the statistics were not included for this 'fifth' Minor, there was very little at stake to draw in viewers to a short double-elimination bracket.
Viewership for teams from less developed regions is usually low, as there are usually bigger events running at the same time and rumours about match-fixing do not draw people in. Asian and CIS teams also tend to perform worse than the EU and NA teams once they make it to the Main Qualifier. Quantum Bellator Fire were the exception, making it from the CIS Open Qualifier all the way to a Legends spot at ELEAGUE Major Boston. The organisation has reportedly withheld money from that squad, according to a report by DeKay.
Some viewers that did count towards the Asia and CIS totals were not there to watch any of the matches. It was discovered that the StarLadder Twitch channel had '1989', referencing the Tiananmen Square Massacre, listed as a banned phrase. Attempts to post any message with the year in it would be automatically removed and tagging someone with 1989 in their name would give out a temporary chat ban. Many saw this as a challenge to find ways to mention the number and messages about the games were often drowned out by the game those chatting had made for themselves.