The design features a variant of the event logo, with a small 'Berlin 2019' banner underneath the team logos and signatures. Signatures appear like usual, but Holographic variants are given a thicker white outline and have the text in black to make them more distinctive.

Gold stickers have been given a more distinctive design too, with a bold black outline on the signature itself and a thin gold outline on the team logo in the background.
Before their release, DreamEaters player Svyatoslav "svyat" Dovbakh revealed the signature he wanted on his stickers. Between the 'sv' amd yat' of his name, he had added 'kabl', changing his name into a popular Russian gamer phrase with a less than PG translation.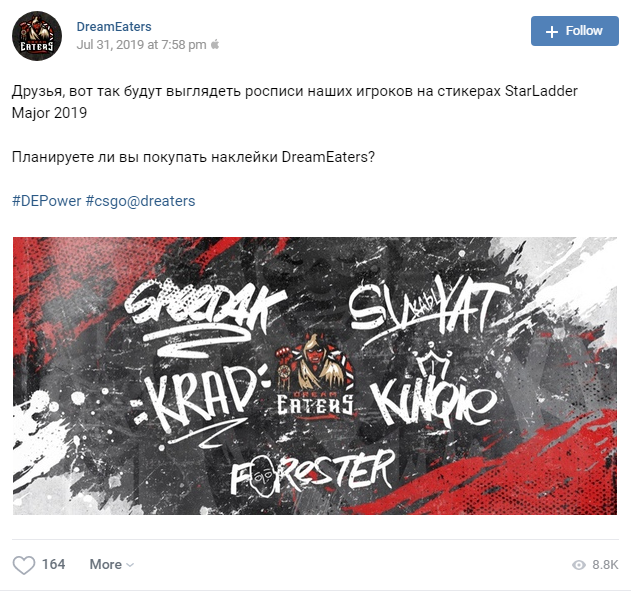 Sticker controversy is nothing new at Majors. Last Major, Oliver "DickStacy" Tierney had his sticker denied by Valve for obvious reasons, resulting in the final product simply saying 'Dick'. This only encouraged the purchasing of the sticker for the amusing combinations, including those featuring the logo sticker of German organisation BIG. 
The Viewer Pass was introduced for the IEM Katowice 2019 Major, replacing the old 'drop' system where a portion of viewers were awarded souvenir packages at random. It has been updated further for Berlin with new features.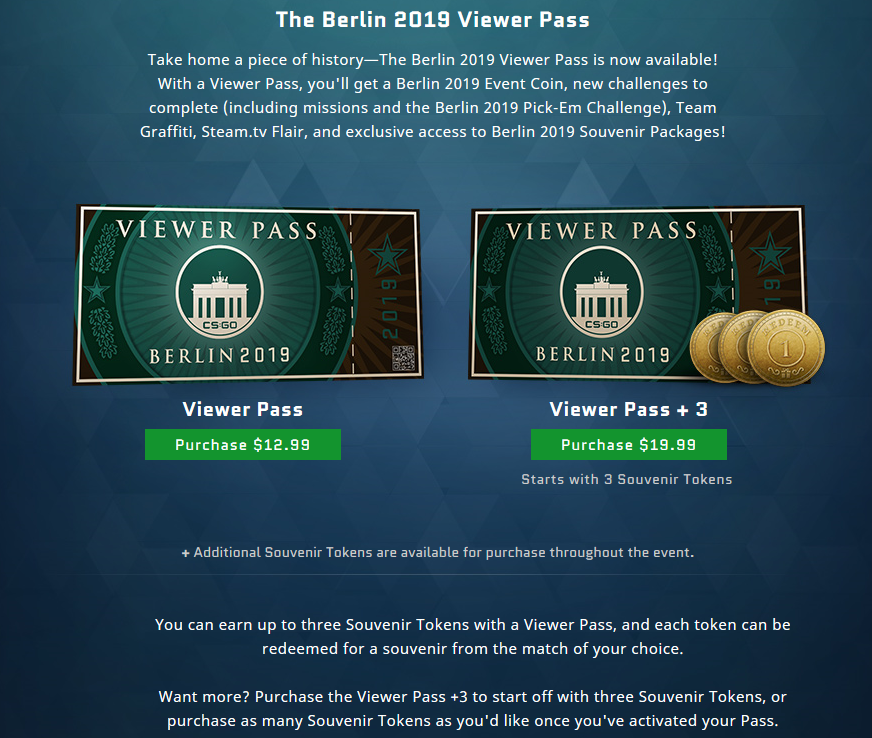 By watching matches throughout the event and making correct Pick'Em predictions, pass holders can upgrade their coin from bronze all the way up to platinum for more complete viewership and prediction records. These upgrades unlock an additional Souvenir Token at each tier, to be redeemed for a Souvenir Package from any previous match any time before 30th September.
A new option to purchase Souvenir Tokens has been added for Berlin, with another new addition in the form of mission challenges. These challenges involve players needing to win 10 rounds on each active duty map for further coin progress.
While the stickers and pass were announced earlier today by @CSGO, the post has since been deleted and the items were not added to the game. It is not known why, as the Berlin 2019 page on the official website remains up, but complaints from players about stickers not being updated for the release may be the reason.
The New Challenger Stage, previously the Main Qualifier, starts on 23rd August and will be the first time fans can watch all three Stages of a Major in person. The Verti Music Hall will host the initial two stages of the Major before the New Champions Stage playoffs move to the Mercedes Benz Arena.