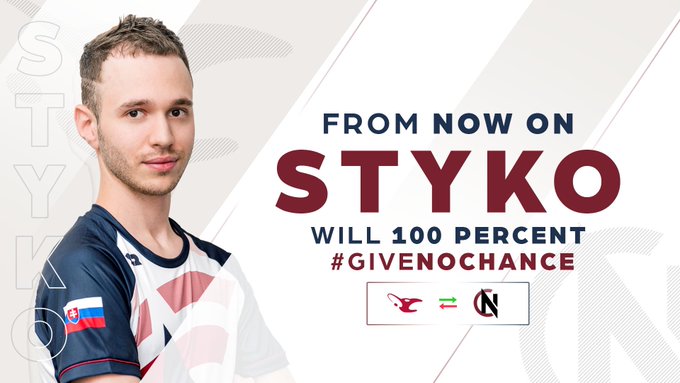 The Slovakian CS:GO player was benched by the German organisation for a second time in February, after he was brought back to replace his replacement from his first benching, Janusz "Snax" Pogorzelski.
Despite an offer from HellRaisers, an organisation STYKO played in earlier in his career, he declined in order to join a different project. NoChance have been using STYKO as a stand-in since March after fellow Slovak 16-year-old David "frozen" Čerňanský joined mouz in his place. There was hope that he would be released from the contract early if they had an offer.
The European mix had not received any offers that matched what they needed and the buyout figure on STYKO's head was possibly scaring away some organisations. The rumoured salary demands of the players was also extremely high for a roster that only had a spot in the immensely stacked Europe Minor to try impress orgs with.
STYKO got some short-lived revenge at the EU Minor of the StarLadder Major. A 16-14 victory over mousesports in the opening best-of-one was the highlight, as CR4ZY and mouz then beat NoChance in the best-of-threes, sending them out of the Minor in 5th-6th place.
While the team has no events online or on LAN officially scheduled, STYKO being a free agent improves the chances of NoChance finding an organisation willing to invest the salary and allow the team to try break into the HLTV top 30. This improvement would help see invites come their way for smaller events to maintain and strengthen their position as a team.
Another former mousesports player is currently inactive. Miikka "suNny" Kemppi, the #16 best player of 2018, remains on the mouz bench after the possibility of joining Finnish team ENCE seemed to pass. Europe has a number of other strong free agents including three-time Major champion Robin "flusha" Rönnquist and two-time Major champion Fabien "kioShiMa" Fiey, which means NoChance has options to upgrade and seek organisations with bigger names.