There is no doubt that the GOAT of CS:GO esports, Oleksandr "s1mple" Kostyliev, is the esports player of the year, winning both the Esports Awards 2021 PC player of the year and Best Esports Athlete of the year award. But who is the best esports rookie of 2021?
Looking at a slew of talent, from League of Legends star Kyle "Danny" Sakamaki to Valorant's Ayaz "NAts" Akhmetshin and Rocket League rookie Evan "M0nkey M00n" Rogez, we've decided on the best esports rookie of the year.
The short and sweet answer is, he's in the same team as s1mple. Yes, we are talking about 18-year-old Valeriy "⁠B1T⁠" Vakhovskiy, who absolutely crushed it in his first year of top-tier competitive CS:GO.
Who is B1T? The esports rookie of the year
With CS:GO slowly moving back to LAN for the biggest events, following an online era due to the COVID-19 pandemic, 2021 has been an incredible year.
In CS:GO, the pressure of LAN events break even seasoned pros at times, and rookies fall apart.
This did not count for Valeriy "⁠B1T⁠" Vakhovskiy, as he thrived under the pressure to not only win several big tournaments, but also complete the Intel Grand Slam with Na'Vi, lift the PGL Stockholm Major trophy, and at times, even outshined s1mple.
B1T joined Na'Vi Junior in 2019 when he was only 16 years old and quickly became the standout player. At the young age of 17, participated in his first event with the main Natus Vincere roster at BLAST Premier: Fall 2020.
Later, B1T officially replaced Egor "⁠flamie⁠" Vasilyev and became a part of the main Na'Vi roster.
Throughout 2021, B1T earned the most of any CS:GO esports rookie in a single year, by far. He won the PGL Stockholm Major as his first time ever playing in a major, won the Intel Grand Slam, the BLAST Premier World Final, and more.
B1T's tournament wins in 2021:
BLAST Premier: Global Final 2020
DreamHack Masters Spring 2021
StarLadder CIS RMR 2021
Intel Extreme Masters XVI - Cologne
ESL Pro League Season 14 (to win Intel Grand Slam S3)
BLAST Premier: Fall Groups 2021
PGL Major Stockholm 2021
BLAST Premier: Fall Finals 2021
BLAST Premier: World Final 2021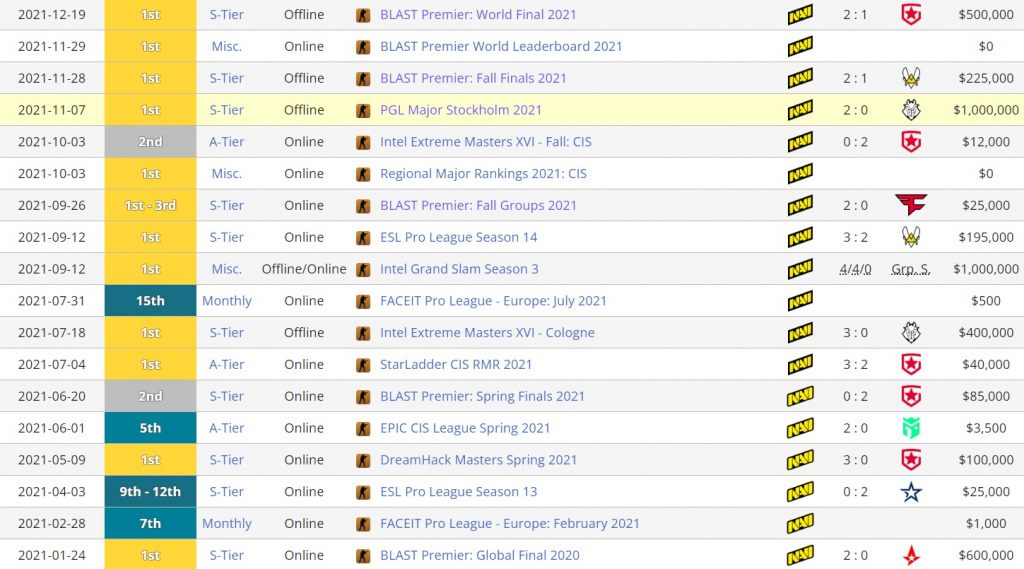 This list of achievements is incredible for even the top tier veteran CS:GO players. For an esports rookie, well, B1T simply has no equal in 2021.
Don't believe us? B1T won the Esports PC Player of the Year award from the Esports Awards 2021 as well, just so there's that.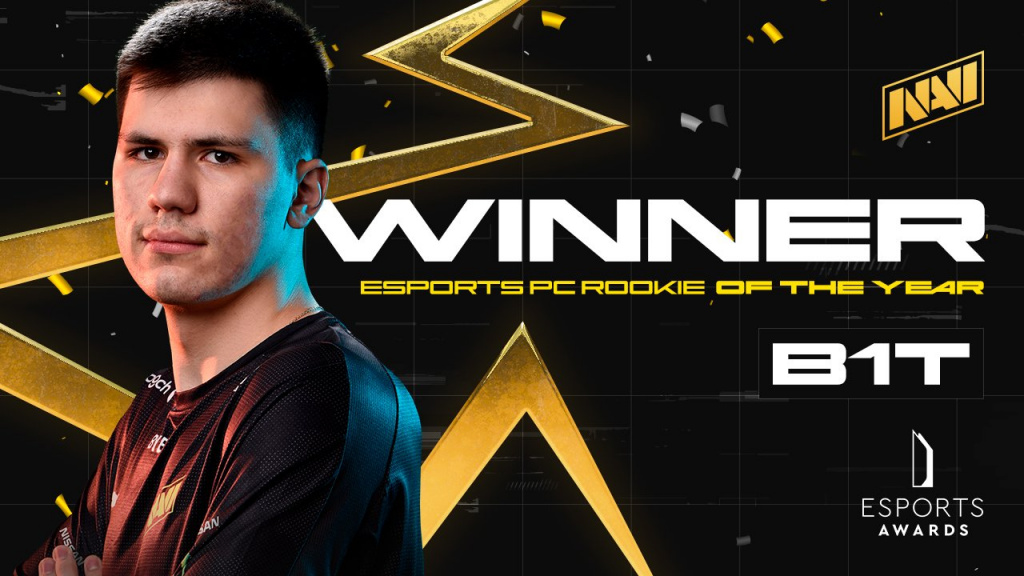 To make things even more impressive, B1T handled himself like a seasoned veteran during the LAN events. Instead of breaking under immense pressure, the young Ukrainian star thrived. 
CS:GO's headshot machine
How do you kill an opponent quickly in CS:GO? Well, it's really simple, you just click on their head.
Jokes aside, the ability to hit headshots in CS:GO does mean your enemies will die faster, and even some of the best players in the world struggle to consistently hit headshots.
B1T, on the other hand, is an enigma. With his insane control even under high-pressure situations, B1T has the highest headshot percentage of CS:GO pros this year against top 20 teams, as per stats from HLTV, the home of competitive Counter-Strike.
Who was the headshot machine of 2021? You may already know the answer

B1T tops the leaderboard with a 67.1% headshot percentage, knocking down Twistzz from first place for the first time since 2018 (vs. Top 20).

Will the Canadian star reclaim the throne in 2022? pic.twitter.com/LZ6sOvL9bQ

— HLTV.org (@HLTVorg) December 28, 2021
He sits at an insane 67.1 headshot percentage for 2021. What makes this even more impressive is that in certain situations, he is the secondary AWPer for Na'Vi, which should bring down his headshot percentage a bit over time.
In our opinion, B1T stands above the rest of the esports rookies in 2021 and was an integral part of Na'Vi's insane success in the CS:GO esports scene. 
At only 18 years of age, and competing alongside the GOAT s1mple, the sky's the limit for B1T and we can't wait to see what he does next.
Don't forget to check out our dedicated CS:GO esports section, filled with news, esports results, patch notes, guides and much more.
Featured image courtesy of Natus Vincere.