Valve announced a Workshop competition to celebrate Counter-Strike's 20th birthday back in June, asking for both skin and sticker submissions from the community.
The original deadline of 19th September has been extended until 7th October due to the 'phenomenal response' to the event and now we wait to see which designs Valve picks to enter the game through a brand new sticker capsule. With thousands of submissions, the maps, weapons, skins and iconic moments have inspired creators in a big way.
As we have already done a list for weapon skins, here are ten CS20 sticker collections that deserve their own capsule and at least a place in the CS20 capsule.
10. TARGETS - Sticker Collection by blossomalex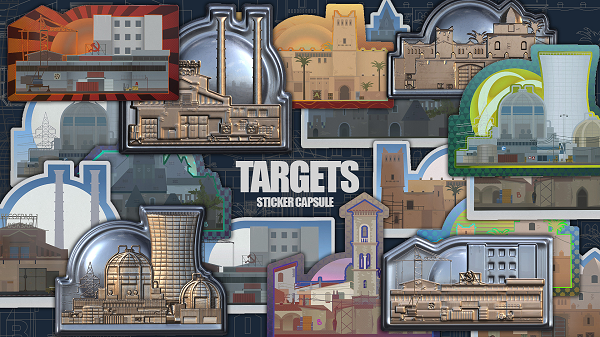 Giving players their own applicable postcards from their favourite maps, the TARGETS collection brings seven maps into sticker form.
Cache, Cobblestone, Dust, Inferno, Mirage, Nuke and Train are the maps in this collection and each gets a paper, holo and foil variant, with the latter embossing the design on the sticker and adding a metallic appearance.
While a few collections have taken the maps as inspiration, blossomalex represents the maps in all their character without them feeling overwhelming in a limited space.
9. Retro - Sticker Collection by SIR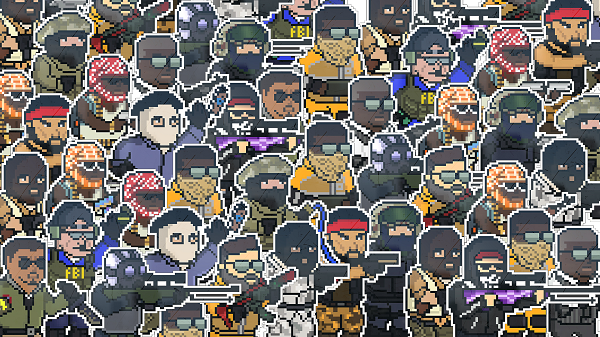 Not intended to be stickers, these retro 8-bit style CT and T models have been taken from a bigger skin design.
The sprites were originally designed by Satch and the skin encompassing all of these sprites is still upcoming.
With many people having their favourites as well as others barely known due to appearing on obscure maps, this collection is a nice way to celebrate both game's factions.
8. MY STYLE IS... - Sticker Collection by hexeth
With a fade-inspired theme, these MY STYLE IS... stickers have something for everyone.
Most of these stickers have a variant with text behind the design, mimicking the knife sounds or matching the design with a quote.
Hexeth turns a simple idea into a versatile concept that provides some of the most eye-catching designs on this list.
7. TWENTY - Sticker Collection by daniDem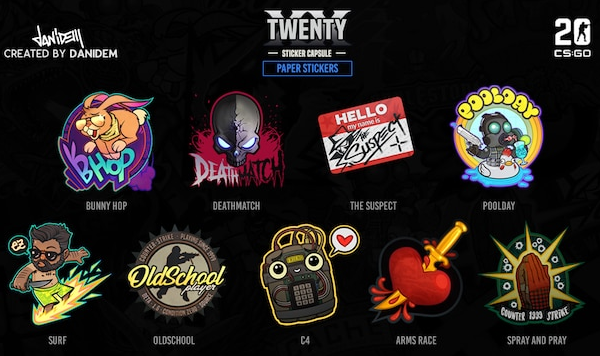 A previous capsule called Skill Groups Capsule was designed by daniDem and once again they have designed creative and detailed stickers for CS20.
Paper stickers were designed to represent CS culture, holographics to represent maps and the three foils feature iconic imagery of the Dragon Lore skin, T and CT sides and the Howling Alpha rank symbol.
It would be a huge surprise to not see at least one of these stickers in the CS20 Sticker Capsule with Valve having previously hand-picked daniDem to design stickers in the past.
6. Patchwork Sticker Collection by Hoxton
Hoxton's unique aesthetic gives a woven effect to their CS20 collection of stickers.
Featuring references to the infamous Phoon video, the act of 'ecoing' and the Phoenix Connexion faction, there is a lot for Counter-Strike fans to love.
As Valve has allowed more creative sticker designs in recent times, a sticker with 'texture' would be a welcome addition.
5. Monster Map - Sticker Collection by Baddrock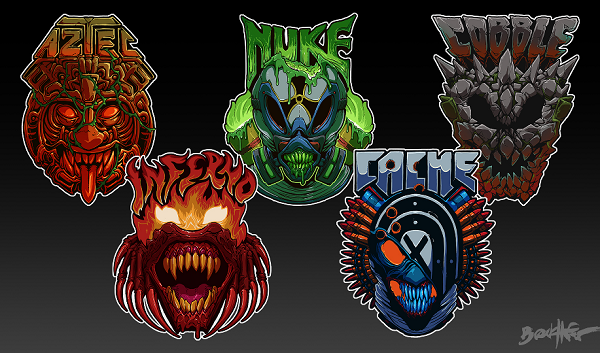 With only five stickers in this collection, Baddrock has gone for quality over quantity.
Five maps have been converted into appropriately themed monsters, with Inferno featuring a hellish buring demon, Nuke a radioactive gas mask zombie and Cobblestone represented by a stone goliath.
There is an old-school comic book vibe to these stickers and the holographics really highlight the best features of each one.
4. Good Times - Sticker Collection by Team Occult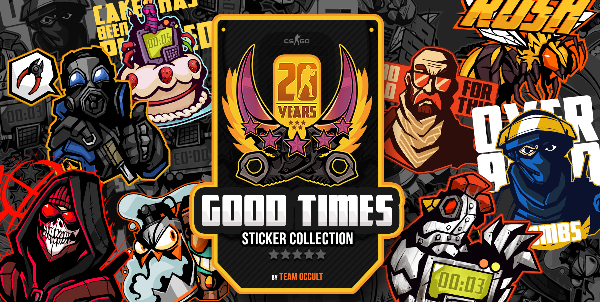 Each sticker in the Good Times collection exudes personality, with a stylised flashbang and smoke grenade and rush B(ee) are particularly special. 
In a propoganda-style design, the 'Too Old For This' sticker featuring one of the Elite Crew is a clever nod to the CS franchise in paper, holo and foil form.
Without going overboard, these stickers have the perfect amount of flair and detail to make great additions to a CS20 Sticker Capsule.
3. Virtues - Sticker Collection by Puffin
Virtues is not a new collection and was released all the way back in 2016, but it remains visually impressive and fits the CS20 theme today with a tarot twist.
Encapsulating case openings, the VAC ban hammer and 'carrying' teammates among other concepts, this Virtues collection deserves some time in the spotlight.
The holographic stickers in this collection are not a seering rainbow sheen but small areas of the sticker that enhance and highlight the clever designs.
2. Echo Capsule - Sticker Collection by Apel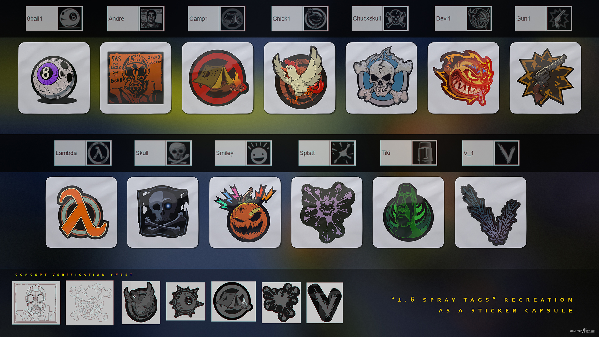 A true throwback, Apel has sought to bring back classic 1.6 spray tags as stickers for Global Offensive.
With personal tweaks to make the stickers different from just copies of the old sprays, a total of 13 stickers have been made with inspiraton from Game of Thrones, Dota 2 and the Halloween holiday.  
This idea is a good fit for the CS20 Sticker Capsule but could also see additions through the in-game store as one-off purchases too in the future thanks to their origin.
1. Animaniac - Sticker Collection by kosear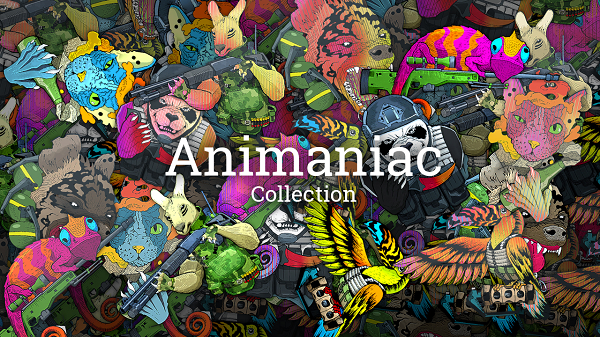 A truly beautiful set of stickers, kosear includes six animal-themed designs in this Animaniac collection.
With a molotov-wielding cat, a panda with a karambit and 'hyenade', these stickers are not typical stickers and that is what makes them great.
If CS20 wishes to celebrate the whole community, any of kosear's animals would provide something differet from usual styles found in most capsules.
Do you agree with our list? Is there a collection you know that you want to see in the CS20 Capsule? Let us know in the comments below!