The Glock-18 is your initial weapon at the start of every T round in CS:GO. It will accompany you through the majority of rounds unless you choose to upgrade it.
As your companion through fifteen rounds of firefights and bomb plants, you will be looking at this gun relatively frequently.
To give yourself something more interesting to look at beyond the plain weapon, here are five creative Glock skin and sticker combinations for less than $15*.
*Prices are estimates from the Steam Marketplace for field-tested skins and the sticker itself rounded to the nearest value in USD. Due to the uncertainty following the key trade/sale ban, they may drop or rise following this article's publication.
Wasteland Rebel + Rage ($8.00 + $4.00)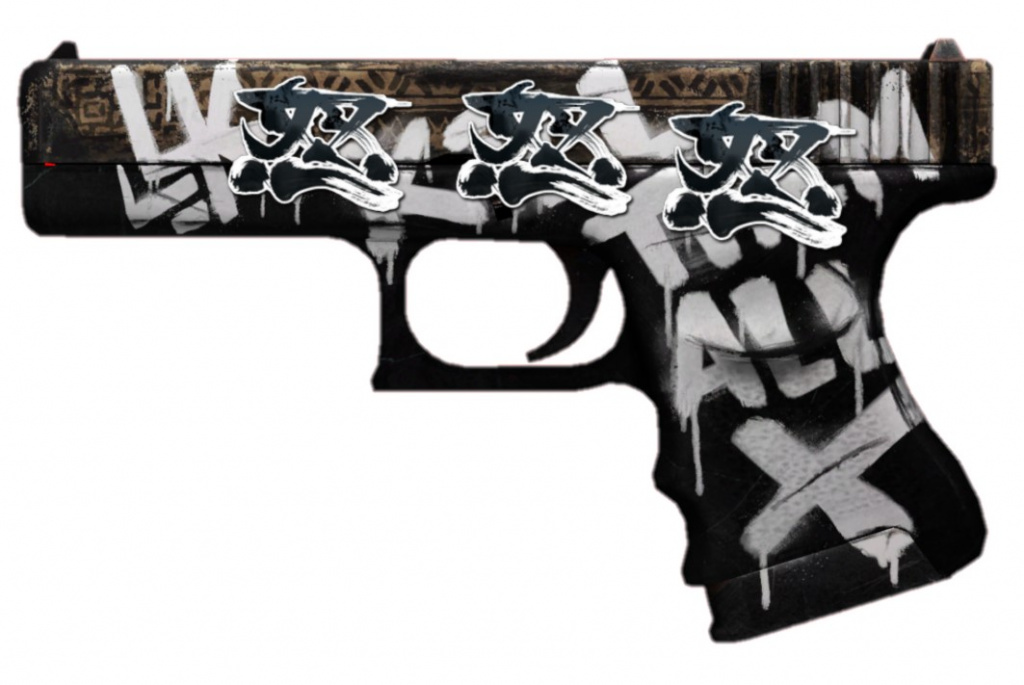 The Rage sticker is underused in crafts despite its aesthetic fitting many skins. The Perfect World Sticker Capsule 2 is not all that popular as it lacks flashy foils. 
As Wasteland Rebel skins already have graffiti depicting words and symbols, Rage fits perfectly with its own artistic flair.
AK-47 match:
This Glock can be matched with an AK-47 | Wasteland Rebel if you want a particular theme for your in-game loadout, with plenty of other post-apocalyptic and anarchy-inspired skins to complete the set.
Nuclear Garden + Nuke Beast ($5.00 + $1.00)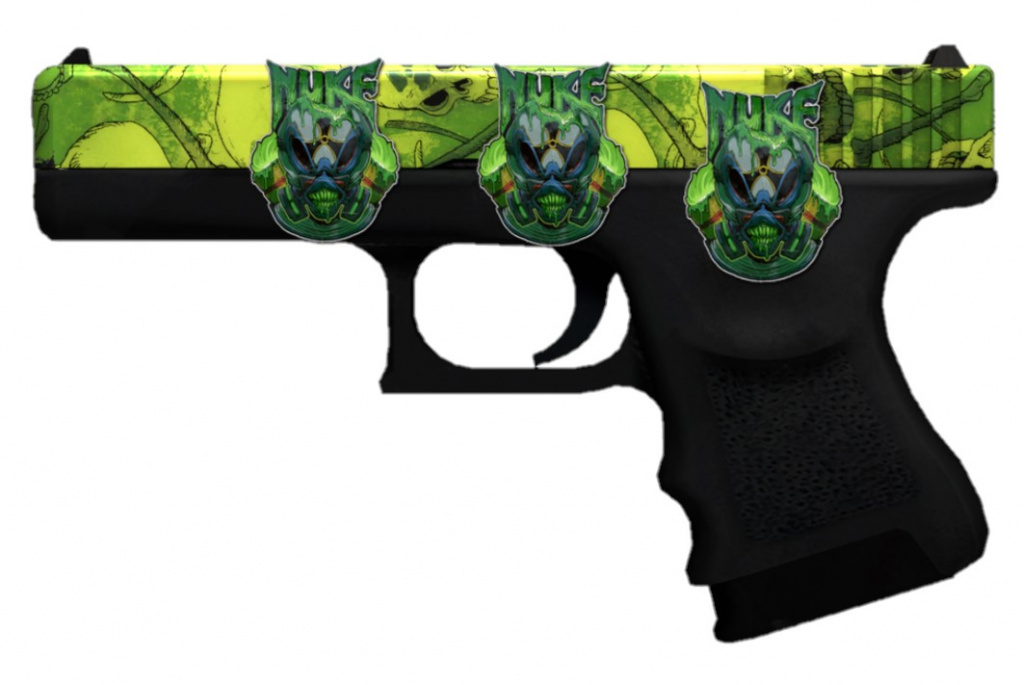 Many Glocks are dull and dark, but Nuclear Garden is bright screen with toxic skulls across the slide.
With the release of the new CS20 Sticker Capsule came a sticker called Nuke Beast which depicts a radioactive zombie figure wearing a gas mask.
This combination is fitting whether you play Nuke or any other map in the game but want to bring some radioactivity wherever you go.
AK-47 match:
If you are going for a bright loadout, the AK-47 | Neon Revolution is neon, as the name would suggest, with some green highlights to compliment this Glock. For a consistent green theme, the AK-47 Hydroponic is the better fit.
Moonrise + Lurker (Foil) ($1.00 + $5.00)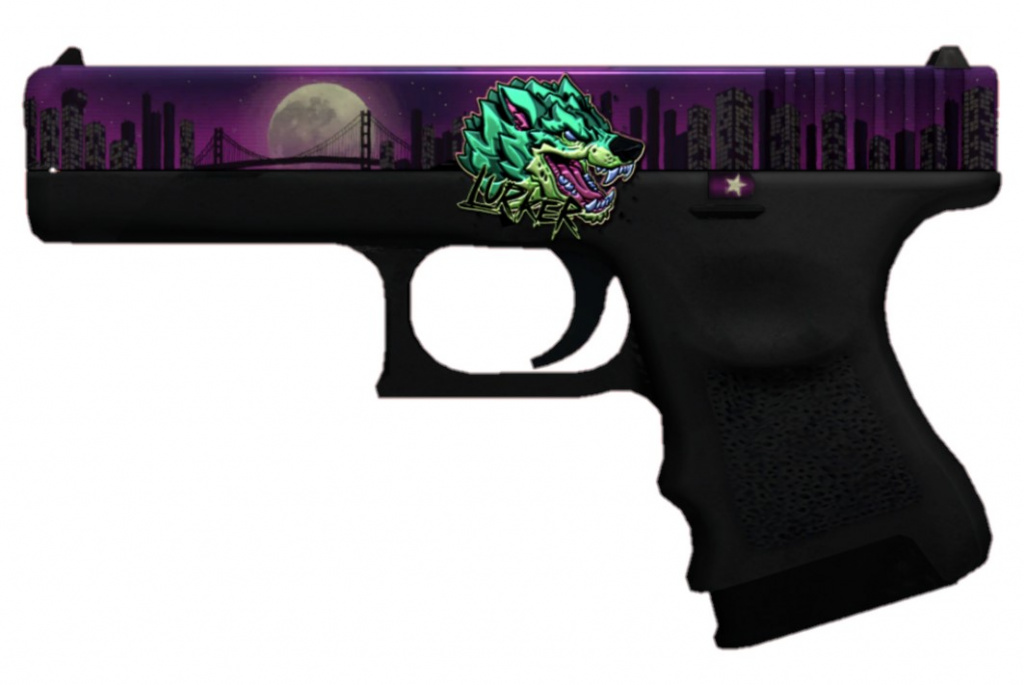 The full moon and the wolf are a pairing that have been together throughout human history. With this combination, you can bring them together once more.
Within CS:GO, teamwork is key and you too must work with your back and communicate, although howling might not be the best strategy for that.
Moonrise features a prominent moon in a purple sky and the Lurker sticker's foil variant is an interesting contrast that makes for a unique craft with the sticker value above the skin itself.
AK-47 match:
The AK-47 | Neon Rider is the only AK in CS:GO with enough purple to help great a matching duo with the two weapons. If you wished for a more abstract link, the AK-47 | Jetset links the city skyline to travel.
Water Elemental + Keshandr Signatures ($5.00 + ~$3.00)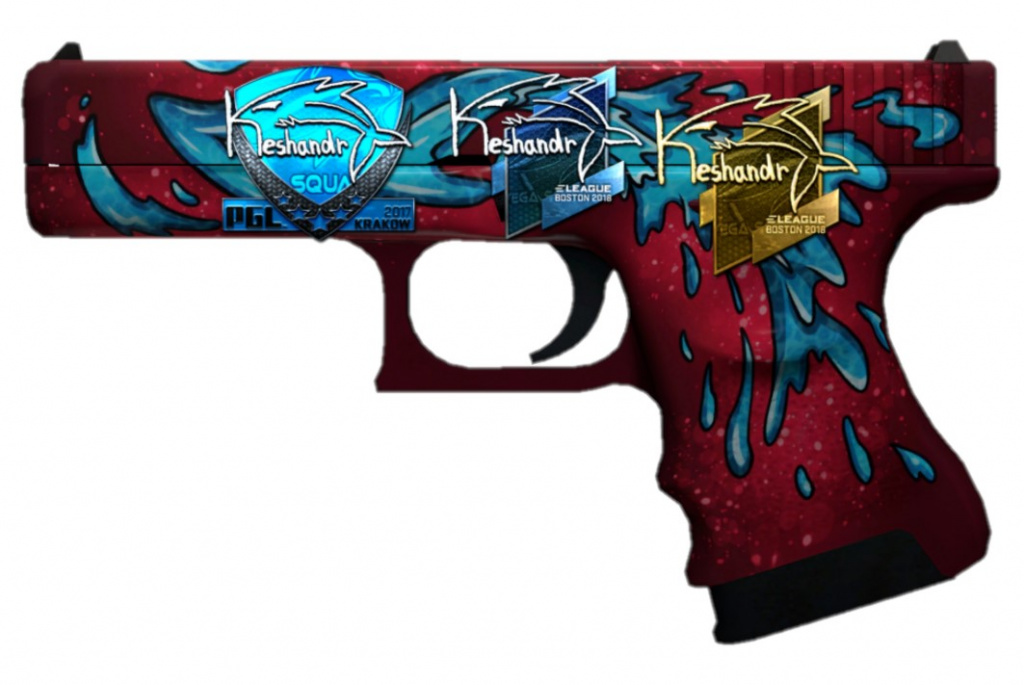 Keshandr encorporated his organisation into his signature by adding a shark representing Vega Squadron.
Scratching the stickers can leave the shark outline and enhance the look of this combination, but do so at your own risk as this can remove crucial parts of the design.
This signature is particularly special as Vega Squadron has put their CS:GO aspirations on pause so it might be a while until we see another sticker quite like this.
AK-47 match:
The AK-47 | Aquamarine Revenge is an aquatic skin with elegant dolphins on it which would be perfect for a nautical inventory. The AK-47 | Point Disarray is a close colour palette match with a dash of chaos to its design that would also compliment this Glock.
Weasel + Flash Gaming Boston 2018 (Holo) ($1.00 - $12.00)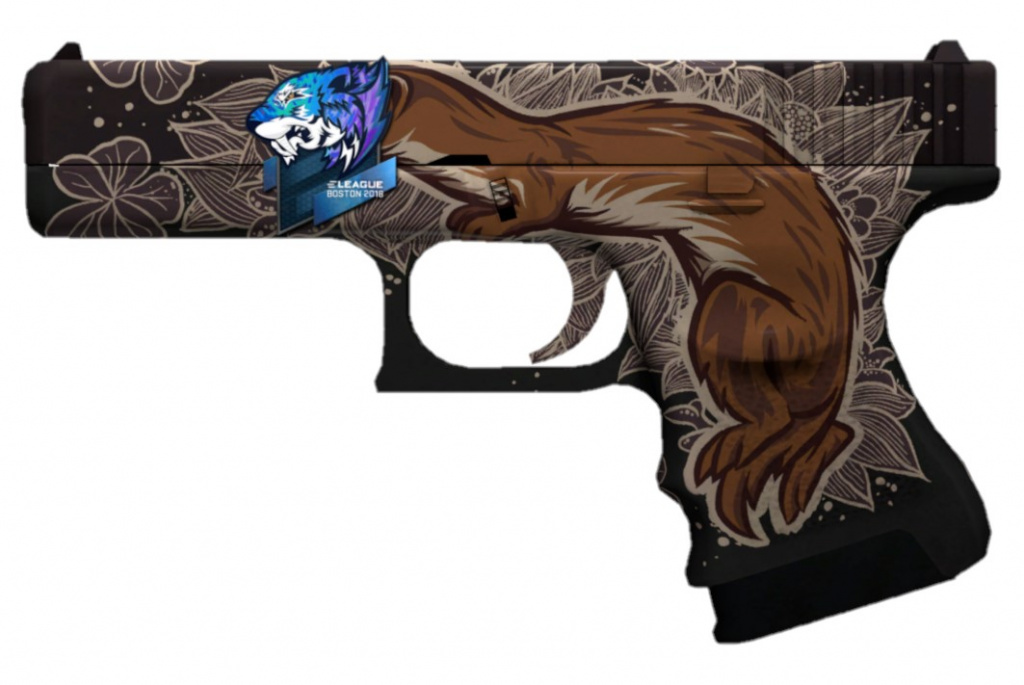 There are many stickers that can replace the head of the Weasel including the iconic iBUYPOWER Katowice 2014 and North Krakow 2017 stickers.
Flash Gaming's only appearance at a CS:GO Major occurred in a mist of controversy and the aesthetic of this sticker sees the holo fetch a high price, but the original sticker is less than a dollar for tighter budgets.
AK-47 match:
This style of combination is similar to the 'pink panther' that is created when you add the iBP sticker to an AK-47 | Jaguar, which would make a loadout between the two compliment each other nicely. You might want to choose a less expensive sticker than the iBP unless you have a lot of money to spare on a virtual sticker.
What do you think of these Glock crafts? What stickers do you currently have on your own? Let us know in the comments!