If you are a CS:GO esports fan, and you are looking for something a bit different, then the Twitch Rivals CS:GO Showdown might just be for you. This is a three-day event featuring Twitch content creators in some CS:GO esports action. Here's everything you need to know about the Twitch Rivals CS:GO Showdown, including how to watch, the schedule, prize pool, format and more. 
Prize pool
There's a total prize pool of 25,000 USD for teams to fight for at the Twitch Rivals CS:GO Showdown tournament.
The prize pool distribution is:
1st place - $10,000
2nd place - $7,000
3rd place - $4,000
4th place - $4,000
This is definitely a decent-sized prize pool for players to fight for.
Players and teams
A total of 20 players will compete in the Twitch Rivals CS:GO Showdown event. At the time of writing, the participants have not yet been revealed.
(Picture: Valve)
However, we do know the 20 players will be split into four teams of five during the first day which is called the Draft Phase. This brings us to the tournament format, which is quite unique when compared to traditional CS:GO esports tournaments.
Format
The three-day event will kick off with the drafting phase, where the 20 players will be split up into teams for the event. Nearly one week later, Day 2 will commence with a Round-Robin best-of-two format to determine the top two teams who will face each other in a best-of-three final on Day 3.
Check out a breakdown of the Twitch Rivals CS:GO Showdown format below.
Day 1 player draft format:
Four (4) players will be selected as Team Captains
The draft order of the Team Captains will be randomly determined
Four (4) rounds of draft. In each round, Team Captains take turns picking one (1) player from the draft pool
Snake Draft (1-2-3-4, 4-3-2-1, etc.)
Day 2 round-robin format:
4 Teams; 20 Players Total
Each team players everyone other team in a Best-of-2 Series
Standard competitive settings (First to 16 Rounds)
After all matches in the Round Robin are played, teams are ranked by Match W/L. Top 2 teams advance to Finals.
Points will be awarded based on the result of the best of 2 series.

Victory: 3 points
Draw: 1 point
Loss: 0 points

In the event of a tie in Match W/L record, the tie will be broken by:

Overall Round Differential
If still tied, tiebreaker map
Day 3 finals format:
Top 2 teams from Round Robin will compete in the Finals
In the finals, teams will play a Best-of-3 Series
First team to 2 game wins, wins the tournament
While the format might be a bit unique, the same competitive CS:GO maps just like with other top tournaments will be used.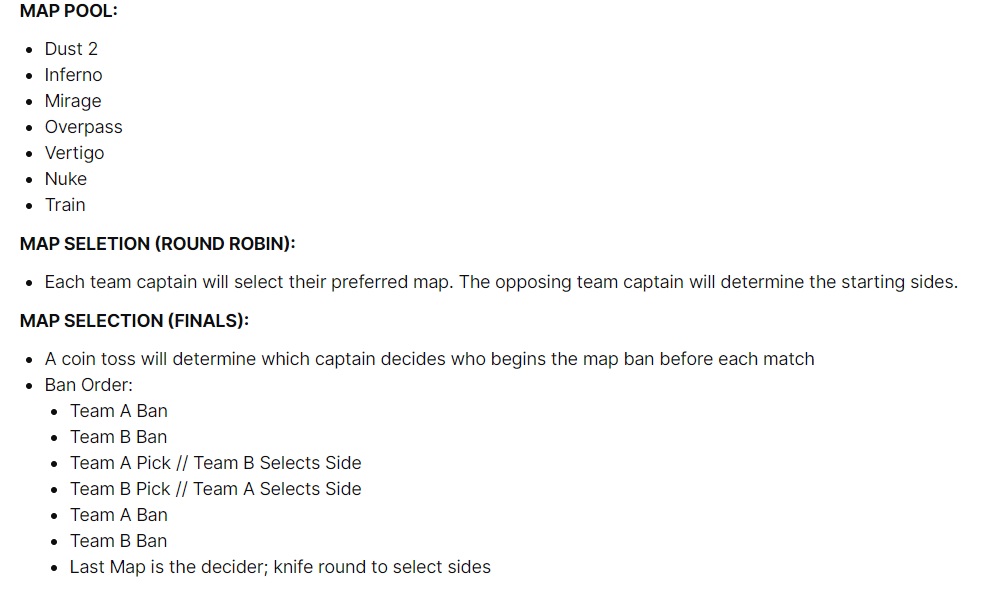 (Picture: Twitch Rivals)
It will be exciting to see if some pro players get invited to participate, and who the team captains will be.
Schedule
As outlined in the previous section, this is a three-day event, which will kick off on 14th December with the draft phase, which will start at 22:00 GMT.
The Round-Robin phase will take place on 19th December at 22:00 PT, which is 06:00 on 20th December GMT time. 
The finals will take place on 20th December at 20:00 GMT, so mark your calendars and set your alarms for the Twitch Rivals CS:GO Showdown tournament.
Twitch Rivals CS:GO Showdown: How to watch
The event will be broadcasted on the official Twitch Rivals channel, so you can tune in to watch all the action following the schedule in the previous section.
You should also be able to catch all the Twitch Rivals CS:GO Showdown action by jumping into the streams of one of the participants after they've been announced.