The world of Cyberpunk 2077 is a future of ruthless capitalism and megacorporations, where money and power will open you any door you want.
For the power, you will have to make your way to the top on your own, but when it comes to money, that's where we can help you.
If you are having trouble to have enough money for all the things you would like to buy and do in Cyberpunk 2077, it turns out that there is currently one exploit that can make you unlimited eddies.
With this method, you can farm eddies without any restrictions and it is a rather easy thing to do as well.
If you want to have unlimited money in Cyberpunk 2077, here's what you need to do.
How to have unlimited money in Cyberpunk 2077
There's no cheat code or some kind of bug that will get you unlimited money in Cyberpunk 2077 instantly, but there's is currently a balance overlook in the game's economy which will allow you to trade components for huge profit almost non-stop.
By using this exploit, you can earn enough eddies to always have large amounts of money, more than enough to buy anything you want from the very start of the game.
So, how does this exploit work?

Some crafting perks are needed for maximum efficiency(Picture: CD Projekt RED)
First of all, make sure to have a few perk points spend on the right perks.
In the Technical Ability attribute, select Crafting skill tree, and make sure to have at least level 1 Mechanic and level 3 Workshop.
These perks are not required for this to work but are strongly recommended in order to make the most out of this method and for a maximum profit.
The Mechanic perk will give you more components when disassembling things, which is great for this exploit, and level 3 Workshop will give you 15% to get a free component of the same quality as the disassembled item.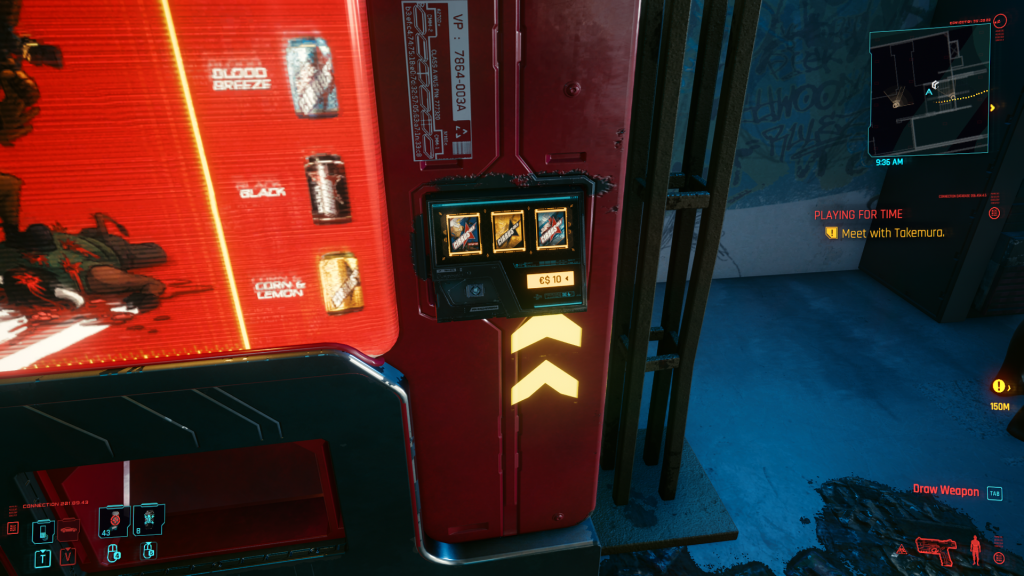 Make sure to collect all the cans from the ground when you buy them (Picture: CD Projekt RED)
Go around the city and find ALL vending machines and buy all soda cans available, until they are sold out.
They cost 5 and 10 eddies.
Cans will not go directly into your inventory, they fall on the ground in front of the vending machine, so make sure to pick them up.
Disassemble cans and upon disassembling them, you will get common and uncommon crafting components.
You can sell these crafting components for 5 to 10 times more money than what you have paid for the cans.
Head to a vendor or drop station to sell them.
Vending machines usually refill after 24 in-game hours, but you can bypass this, to make the process even faster.
Simply manually save the game after all these steps above, and then load that save, and all vending machines will be full again.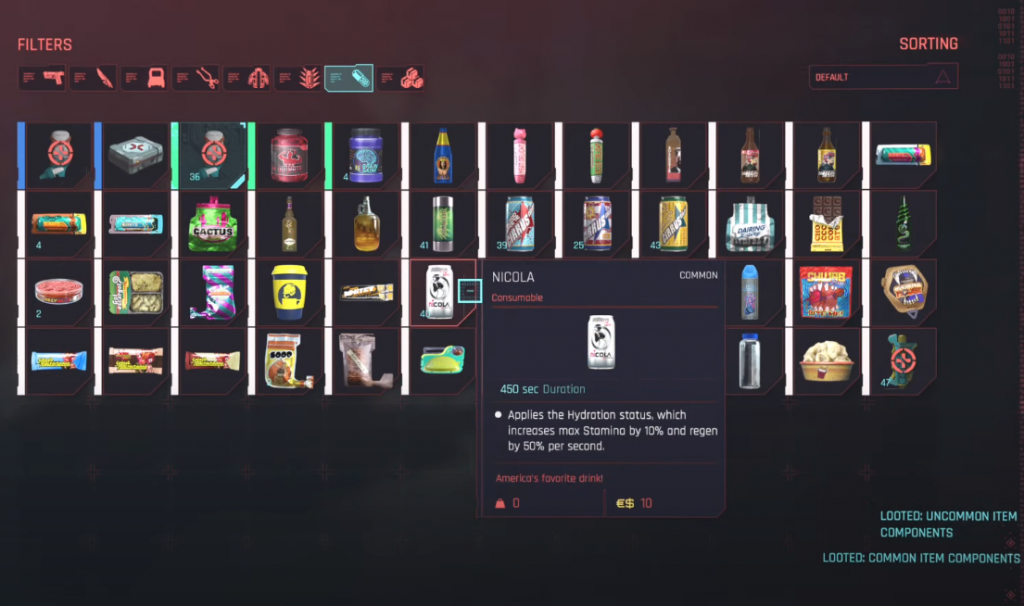 (Picture: CD Projekt RED)
With this exploit, you have a relatively fast and easy way to have unlimited money in Cyberpunk 2077.
Additionally, you can make even more money if you use the components you have obtained to craft uncommon weapons (they appear green in the inventory) and then sell them for even more money.
This will not only get you more money but you will also gain crafting XP for crafting these weapons, which means unlimited crafting XP as well.
And there you have it, enjoy your unlimited eddies in Cyberpunk 2077!
We are not sure for how long will this be possible because CD Projekt RED will at some point probably patch this exploit, but given just how much problems Cyberpunk 2077 currently has, this probably won't be their priority, so you will have enough time to become the richest resident of Night City.
If you are running into issues when playing Cyberpunk 2077, check out our guides to fixes for known Cyberpunk 2077 issues below.
---
News & Updates - Cyberpunk 2077 1.7 Patch News | Cyberpunk 2077 Phantom Liberty Release Date News | When Will Cyberpunk 2077 Get New Game Plus | Cyberpunk 2077 Project Orion News
Edgerunners - Edgerunners Season 2 News | All Cyberpunk Edgerunners Easter Eggs | How To Get David's Edgerunner Jacket
Build Guides - Best Melee Katana Build | Best Kiwi Netrunner Build | Best Netrunner Build | Best Solo Build
Weapon Guides - Cyberpunk 2077 Weapons Guide | How To Get Rebecca's Shotgun | How To Get Jackie's Pistol | How To Get Your Gun From Wilson | How To Get Johnny Silverhand's Arm | How To Get Lizzie's Pistol | How To Get Dexter Deshawn's Plan B Pistol | How to Get Satori Katana | How To Get Mantis Blades For Free | How To Get Ashura Smart Sniper Rifle | How To Get Monowire For Free | How To Get Chaos Pistol | How To Get Skippy Pistol |
Game Guides - Is Cyberpunk 2077 Worth Playing In 2022 | How To Get Samurai Jacket | How To Get You Own Pet Cat | How To Farm Eddies For Unlimited Money | Cyberpunk 2077 Fastest Car Location | Best Cyberware To Use |