The Vow of the Disciple Destiny 2 World First raid race has come to an end dramatically, as Clan Elysium has claimed back-to-back belts beating the six-man activity before anyone else.
The raid race, which was marred by some massive connection issues early on, came down to the wire, with several teams reaching the final boss at similar timeframes.
In the end, Elysium managed to clutch it out with popular streamer Datto and his squad coming in second by mere minutes. Unfortunately, the heartbreak also hit Clan Ascend, as they had to wipe when the boss had but a smidge of health.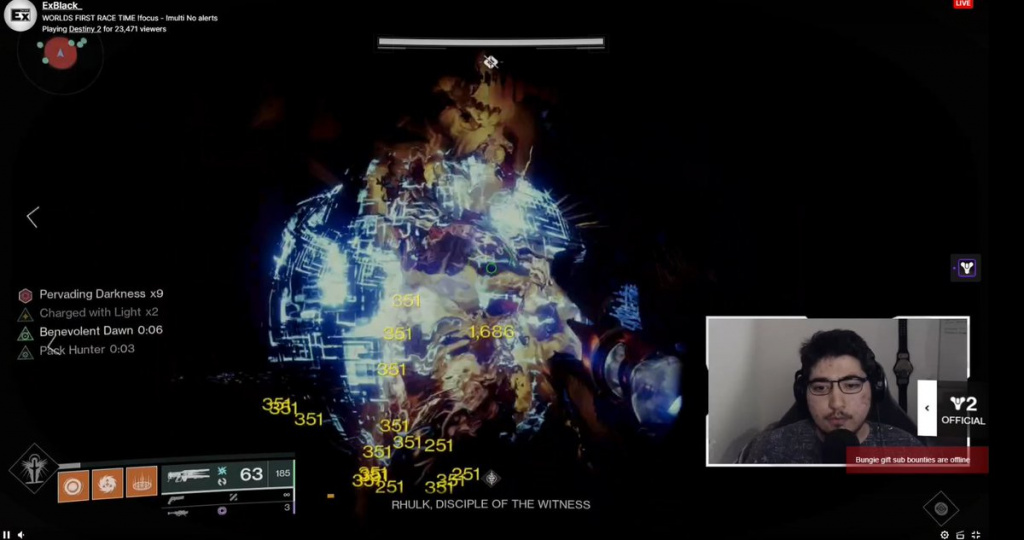 Datto heartbreak as Elysium claim Vow of the Disciple win
Clan Elysium had made a name for themselves last year, beating the returning Vault of Glass before anyone else. This time, all eyes were set on them as many peoples' favourites to take home the gold belt. 
Overcoming connection issues and the nuanced mechanics of the Vow of the Disciple raid, Saltagreppo and the rest of his teammates hit a wall against the final boss of the activity. 
Similarly to other fireteams competing, figuring out the attack patterns and how to trigger DPS phases became the biggest struggle of the raid, with some like Ascend coming extremely close to victory.
After an excruciating seven hours of competition, Clan Elysium managed to take down The Witness' Disciple to take home their second raid belt, with Datto congratulating them for their success on social media. 
Missed it by that much. 2nd place. GGs @SaltagreppoD2. And GGs @Bungie for another great raid. We are still contenders. pic.twitter.com/KUM2Mki0Pf

— Datto (@DattosDestiny) March 6, 2022
Take a look at Clan Elysium's triumphant moment from Saltagreppo's point of view below.
Even if you're not interested in raiding, you should know that there will be plenty of content launching now that the Worlds First raid race has come to an end.
We'll keep you updated on all the new stuff you'll be able to find the next time you log in to Destiny 2.
As for Clan Elysium, congratulations are in order. Becoming Worlds First champs is one thing, but back-to-back winners? Now that's something else!
Featured image courtesy of Bungie.
---
For more Destiny 2 news, be sure to check out our dedicated section or take a look at some of our Guides & Tutorials just below:
Weekly Updates - Destiny 2 Weekly Reset | Destiny 2 Weekly Challenges | Destiny 2 Xur Location This Week | Destiny 2 Trials of Osiris Map & Rewards This Week | Destiny 2 Lost Sector Rotation |
Upcoming Updates - Destiny 2 Season 19 Release Date | Destiny 2 The Dawning Event 2022| Destiny 2 Lightfall Release Date | Everything We Know About 'Destiny 2 The Final Shape'
Exotics, Catalyst & God Rolls - Alter of Reflection Catalyst Quest | Austringer God Roll | Calus Midi Tool God Roll | Dead Man's Tale God Roll | Fixed Odds God Roll | Hawkmoon God Roll | How To Get Come To Pass | How To Get Dawn Chorus | How To Get Omnioculus | How To Get Star-Eater Scales | Mechabre God Roll | Osteo Striga Catalyst | Riptide God Roll | Queens and Worms Quest
Game Guides - Destiny 2 Redeem Codes | How To Unlock All Subclasses | Memories of Ruin Puzzle Solution| Strikes Guide | Where To Farm Cabal | Where To Farm Fallen | Where To Farm Hive | Where To Farm Scorn | Where To Farm Vex | How To Get 100k Nightfall Score | 
Raid Guides - Master King's Fall Totem Challenge Explained |