Destiny 2 is about to enter its new era with Beyond Light, with Bungie revealing almost a complete overhaul to how the FPS will work moving forward.
As a newcomer, or maybe a player that returns after a long absence, seeing every tidbit of information spread around might be a turnoff, so, in order to help those looking to get into Bungie's looter shooter, we've put together all the information necessary to enjoy a first-time trip to Europa, new exotics, and all the content coming up with Destiny 2 Beyond Light.
Destiny 2 Beyond Light - Release date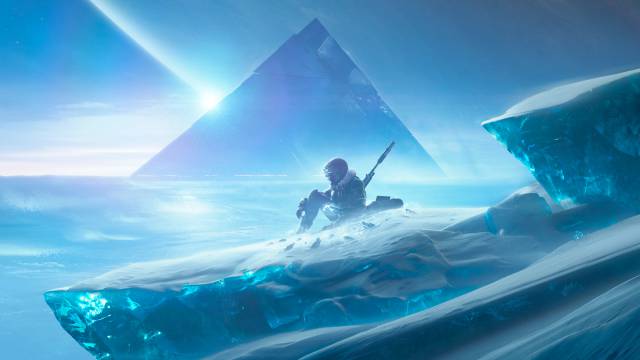 (Photo: Bungie)
First thing's first, Destiny 2's latest expansion, Beyond Light, is set to be released this upcoming 10th November for Xbox One, PS4, PC, and Google Stadia.
A free upgrade for users that get an Xbox Series X or a PS5 will be available on 8th December, so keep your eye on that if you're one of the people moving to next-gen hardware.
Destiny 2 Beyond Light - Preload and file sizes
PlayStation
Beginning on November 8 after 8 PM PST (0400 UTC), users can start pre-downloading Update 3.0.0.1 by:
Navigating to Destiny 2
Pressing the "Options" button
And selecting "Check for Updates"
In an effort to decrease server load, some PlayStation Plus users may be able to pre-download Update 3.0.0.1 starting on November 7 after 8 PM PST (0400 UTC).
Xbox
Pre-load for Xbox will be available shortly after Destiny 2 is taken offline for expected maintenance at 7 PM PST (0300 UTC) on November 9. 
PC
Pre-load for PC will be available shortly after Destiny 2 is taken offline for expected maintenance at 7 PM PST (0300 UTC) on November 9. Update 3.0.0.1 should automatically be put in the Steam download queue once it is available to pre-load.
Below are the updated storage requirements for Beyond Light:
Xbox Series XIS and Xbox One: 65.7gb
PS4: 171.68gb
PS5: 70.78gb
PC 186.2gb
While the install size is much smaller, PS4 and PC users are required to have the current version of Destiny 2 installed on top of the pre-load file.
Bungie has mentioned that once Beyond Light goes live, the file size will become smaller on these platforms to line up with the rest.
Destiny 2 Beyond Light - Cost
There's plenty of ways players can get ahold of Destiny 2's Year 4 expansion. First off, the standard edition of Beyond Light will set you back $40, or the equivalent depending on your region. This price does not include the Season Pass for Season of the Hunt, the first one of Year 4, but more on that later.
There is also a Deluxe Edition of Beyond Light, priced at $70. These will give you the following perks:
4 Season Passes that will cover the entirety of Year 4
Freeze Tag Exotic Emote
No Time to Explain Exotic Pulse Rifle
No Time to Explain Exotic Catalyst
Any Other Sky Exotic Sparrow
No Time to Explain Exotic Ornament
For hardcore collector's, there is a special edition that grants you all the benefits of the Deluxe Edition plus a statue of the Exo Stranger, the mysterious character that didn't have time to explain why she didn't have time to explain back in the original Destiny that's finally making her return after six years.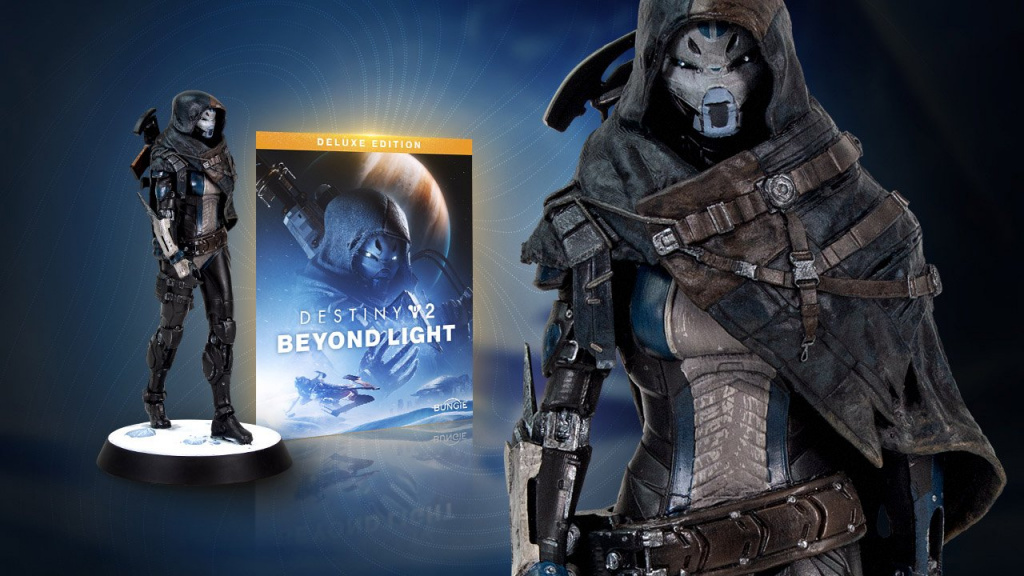 (Photo: Bungie)
This special statue will set you back $129.99, and you can get your hands on it via Bungie's site. 
Oh, by the way, if you're a Game Pass owner, you'll get the expansion for free! (You'll still have to pay for the Season Pass, though...)
We mentioned Season Pass a lot there, didn't we? Well, now it's time to look at...

Destiny 2 Season of the Hunt 

(Photo: Bungie) 
Season 12, or Season of the Hunt, will be available alongside the release of Beyond Light, featuring both premium and free tiers for players to grind. 
The story of the Season follows Xivu Arath, the sister of the Hive god Oryx, and her quest to build a corrupt army using Hive Cryptolyths.
A cool thing Bungie has confirmed that will start with Season of the Hunt is that none of the activities or gear set to make their debut during this time will be removed at all during Year 4, leaving players the opportunity to jump at a later date and experience everything the game has to offer.
Some interesting pointers that were revealed in the roadmap are:
The new strike, Glassway, and Empire Hunts will be available on launch day
Adept Weapons will be added to PvP's Trials of Osiris on 13th November.
Season Mission and Wrathborn Hunts begins on 17th November
The new Deep Stone Crypt raid is available on 21st November
Remember that if you only buy the standard edition of Beyond Light, you'll have to fork out an extra $10 to get the Season Pass.
I see something at the bottom of the roadmap image caught your eye, and yes, Bungie already revealed all the exotics coming initially with the Beyond Light expansion, so let's take a look at them.
Destiny 2 Beyond Light - New Exotics
Bungie has confirmed a total of 12 new exotics are coming to Destiny 2 with the initial release of Beyond Light.
For those that purchase the Season Pass, the No Time To Explain Exotic Pulse Rifle and its Catalyst will be available right from the get-go. However, if you don't acquire it, you'll have to wait until the Season ends to earn it.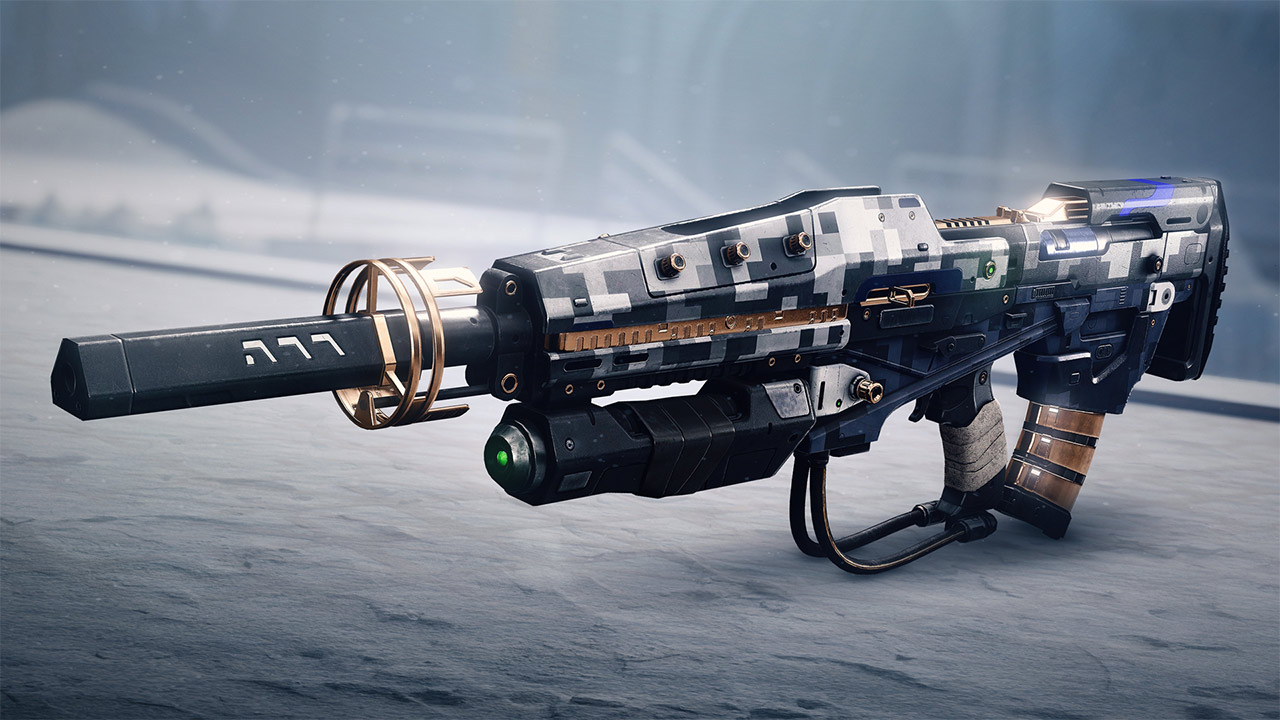 (Photo: Bungie) 
Other Exotic weapons revealed include the Cloudstrike Sniper Rifle or The Lament sword. Here's the full list down below:
Hawkmoon
Cloudstrike
No Time to Explain
Duality
Salvation's Grip
The Lament
Icefall Mantle
Mask of Bakris
Athyrs's Embrace
Dawn Chorus
Necrotic Grip
Precious Scars
Check out a more in-depth look at some of them as well as requirements for how to unlock them right here!
New gear is not the only new thing that's coming to Destiny 2, we have new subclasses!
Destiny 2 Beyond Light - Stasis
Titans, Warlocks, and Hunters will gain access to a new subclass that feeds from dark energy, a first in Destiny's history. Each class will boast different abilities and supers that take advantage of these new stasis power. 
Here's a quick rundown of all three subclasses:
Warlock - Shadebinder
Melee: Penumbral Blast - Fire Stasis energy from your staff and freeze opponents in their tracks.
Super: Winter's Wrath - Summon a powerful Stasis staff whose projectiles instantly freeze their targets. Detonate the staff's crystal to send a shockwave of destruction towards your frozen foes, shattering them in the process.
Hunter - Revenant
Melee - Whithering Blade: Hurl sharp-edged shuriken into the fray. These Stasis-powered projectiles bounce off multiple foes, damaging and slowing them.
Super - Silence  & Squall: Channel Stasis shards to form a deadly pair of Kama blades. Throw the first blade towards enemies and freeze them in place. Follow it up with the second blade which detonates on impact and creates a Stasis storm that hunts down stragglers
Titan - Behemoth
Melee - Shiver Strike: Launch towards the enemy, summon your Stasis gauntlet, and do what Titans do best: smash.
Super - Glacial Quake: Forge a mighty Stasis gauntlet and even the odds, one fist at a time. Slam the gauntlet into the ground, sending shockwaves of Stasis crystals that freeze nearby enemies. 
Destiny 2 Beyond Light New Location - Europa
The new location players will be able to visit is the snowy Europa, a frozen moon that hides secrets from humanity's Golden Age and a whole new threat for Guardians of the Light (and Dark) to overcome.

(Photo: Bungie) 
The Points of Interest of Europa in Destiny 2 Beyond Light include:
Eventide Ruins
Asterion Abyss
Cadmus Ridge
Charon's Crossing
Beyond
Destiny 2 Beyond Light - Content Vault
With all this new content, Bungie is preparing for a purge of old one with the introduction of the Content Vault that will take a way a huge portion of the game's current activities, which according to the developers, are just eating up at player's hard drive.
So, which content and currencies are leaving? Take a deep, and we mean DEEP breath, and get ready for the full list down below:

(Photo: Bungie) 
Destinations
Mercury
Mars
Titan
Io
The Farm
The Leviathan
Activities
Gambit Prime (merged with Gambit)
The Reckoning
Escalation Protocol
Black Armory Forges
Zero Hour
The Whisper
Crucible Game Modes: Supremacy, Countdown, Lockdown, Breakthrough, Doubles, Momentum Control, and Scorched will no longer be available for private or playlist matches.
Nightfall (replaced by Nightfall: The Ordeal)
Niobe Labs
The Menagerie
Prophecy Dungeon
The Tribute Hall
Campaigns
The Red War
Curse of Osiris
Warmind
Seasonal Narratives
Season of the Forge
Season of the Drifter
Season of Opulence
Raids
The Leviathan 
Eater of Worlds
Spire of Stars 
Scourge of the Past
Crown of Sorrow 
Exotic Quests 
Relics of the Golden Age
Sight, Shoot, Repeat.
Rat King's Crew
Legend of Acrius
Nodes and Protocols
Nascent Dawn
Cayde's Will
The Cleansing
A Butterfly's Grace
A Giant's Might
A Mysterious Box
The Essence
Bearer of Evil's Past
A Scrap of Paper
The Other Side
Strikes
A Garden World    
Tree of Probabilities    
Savathûn's Song
Pyramidion    
Festering Core    
Strange Terrain    
Will of the Thousands
Vendors
Ada-1
Benedict-66
Werner 99-40
Ana Bray
Sloane
Asher Mir
Brother Vance
Visage of Calus
Items and currencies
Advanced Paradox Amplifiers
Adventure Tokens
All Bounties and Quests from Season of the Forge, Season of the Drifter, and Season of Opulence
All Ritual and Pinnacle Weapon Quests (the gear will become available in our Monument to Lost Lights Exotic Archive)
Black Armory Schematic Consumables
Boons of Opulence
BrayTech Schematic
Cayde's Odds and Ends
Concentrated Radiolarian Culture
Dance Party Keys
Expired Ramen Coupons
Faction Wars Materials
Faded Card
Five of Swords Challenge Card
Forge Polymers
Imperials
Letter Fragments
Loot-a-Palooza Keys
Lost Memory Fragments
Modulus Report Consumables
Motes (Weak, Middling, Powerful): Collector, Invader, Reaper, Sentry
Notes From Cayde
Obsidian Accelerators
Obsidian Radiance Temper Effect (including those applied on weapons)
Override Frequencies
Paradox Amplifier
Radiant Matrix
Radiolarian Culture
Rasputin Armory Codes
Resonate Stem Consumables
Runefinder
Synths: Collector, Sentry, Invader, Reaper
Tokens: Dead Orbit, Future War Cult, New Monarchy
Transcripts
Treasure Maps: EDZ, Titan, Io, Nessus, Mercury, Hellas Basin (Mars)
Wealth of the Emperor Buffs
Now, don't fret, as some of these things might be available in the...
Destiny 2 Beyond Light - Monument to Lost Lights Exotic Archive 

(Photo: Bungie)  
Here, players may acquire various Exotics and Legendary Pinnacle/Pursuit weapons that were once available through now-retired quests. As many of these Exotics were tied to lengthy quests or difficult objectives, Bungie wanted to make sure their prices reflected those previous efforts.
No information regarding which specific quests will make their way to the Archives as of yet.
We hope this guide has everything you need to jump into Destiny 2 Beyond Light.
Stay tuned for more Destiny 2 content in the future!
---
For more Destiny 2 news, be sure to check out our dedicated section or take a look at some of our Guides & Tutorials just below:
Weekly Updates - Destiny 2 Weekly Reset | Destiny 2 Weekly Challenges | Destiny 2 Xur Location This Week | Destiny 2 Trials of Osiris Map & Rewards This Week | Destiny 2 Lost Sector Rotation |
Upcoming Updates - Destiny 2 Season 19 Release Date | Destiny 2 The Dawning Event 2022| Destiny 2 Lightfall Release Date | Everything We Know About 'Destiny 2 The Final Shape'
Exotics, Catalyst & God Rolls - Alter of Reflection Catalyst Quest | Austringer God Roll | Calus Midi Tool God Roll | Dead Man's Tale God Roll | Fixed Odds God Roll | Hawkmoon God Roll | How To Get Come To Pass | How To Get Dawn Chorus | How To Get Omnioculus | How To Get Star-Eater Scales | Mechabre God Roll | Osteo Striga Catalyst | Riptide God Roll | Queens and Worms Quest
Game Guides - Destiny 2 Redeem Codes | How To Unlock All Subclasses | Memories of Ruin Puzzle Solution| Strikes Guide | Where To Farm Cabal | Where To Farm Fallen | Where To Farm Hive | Where To Farm Scorn | Where To Farm Vex | How To Get 100k Nightfall Score | 
Raid Guides - Master King's Fall Totem Challenge Explained |